New York City is one of the most culturally rich urban centers on the planet. It's impossible to experience all its arts, entertainment and historical attractions in one short visit. Narrowing down the list into a prioritized itinerary depends on your personal interests, of course. To help steer you in the right direction, though, here are 11 cultural must-dos in New York City. If you can't squeeze them all in, you'll just have to come back again.
1. Metropolitan Museum of Art
As one of the largest museums in the world, the Metropolitan Museum of Art is an illustrious venue that showcases everything from art and antiquities to period furniture and historic clothes. Established in 1870, the MET attracts more than 5 million people each year. There seems to be something for every interest on display here. If you only visit one museum during your stay in New York City, you'll want to make it this one. However, it's such a colossal institution with multiple wings and floors, don't expect to see more than a fraction in one visit.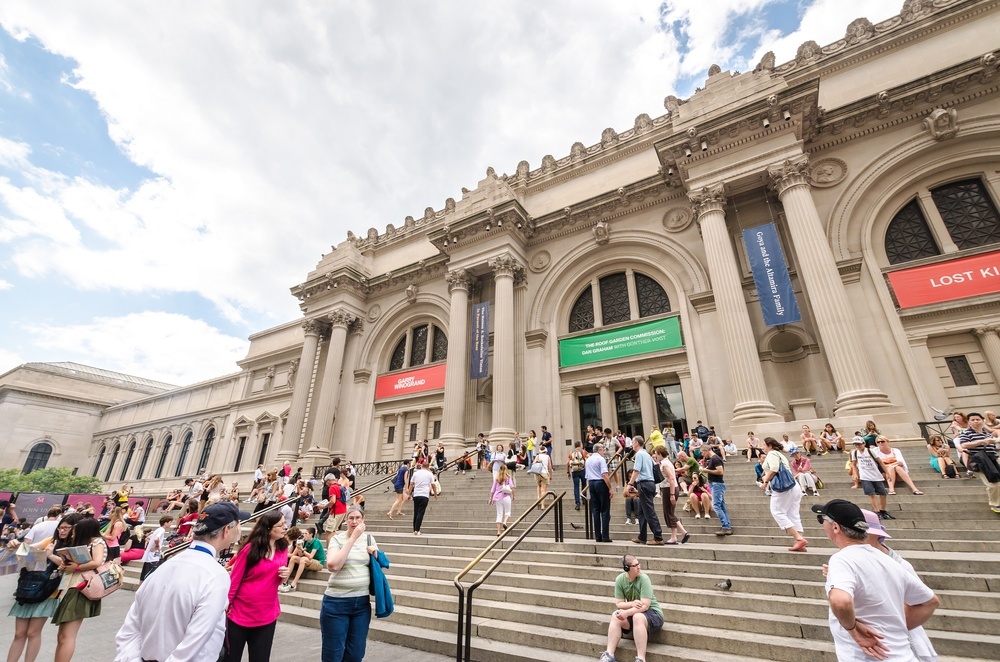 2. New York Public Library
The main branch of the New York Public Library is located in Fifth Avenue's Bryant Park, and dates back to 1911. The celebrated Rose Reading Room is an attraction all in itself. It's a quiet oasis in the middle of bustling Manhattan. As a U.S. National Historic Landmark, the flagship library building is a great place to check out historic sculptures, art works and rare books. It also has a full roster of events, programs and classes to inspire you. Whether you're a bibliophile or not, the architecture of this building alone is worth a stop-in.
3. Museum of Modern Art
Founded in 1929, the celebrated Museum of Modern Art showcases modern and contemporary art at its Midtown Manhattan location. You'll find exhibitions of painting, sculpture, drawing, photography and many other artistic mediums. The museum contains some of the most celebrated artists of the 20th century like Salvador Dali, Andy Warhol, Frida Kahlo and Piet Mondrian, to name a few. Anyone interested in modern art could happily get lost for the entire day at MoMA.
4. Brooklyn Bridge
When visiting New York City, you have to cross the celebrated Brooklyn Bridge. Afterwards, spend some time in Brooklyn Bridge Park to photograph this famous American landmark. The bridge connects Manhattan and Brooklyn boroughs and dates back to 1883. Its construction was a major engineering feat and cultural leap forward for its era and it continues to be one of the must-dos in New York City.
5. Radio City Music Hall
Part of the iconic Rockefeller Center, Radio City Music Hall is a legendary city landmark that was constructed in 1932. Its Art Deco style makes this a distinctively glamorous venue. Seeing a performance here is to take part in a cultural tradition that spans decades. As one of the most renowned live entertainment theaters in the country, Radio City Music Hall is the ideal place to catch a concert whenever you're in town. If you happen to be in the Big Apple over the Christmas season, the renowned high-kicking Rockettes put on a spectacular show that is one of the must-dos in New York City.
6. Central Park
No matter what the season, Central Park is the perfect place to people watch and to enjoy the city's most expansive green space. There are often park events like special music performances and festivals going on. Within its 843 acres you'll find Bathesda Terrace, the Loeb Boathouse, Strawberry Fields, Belvedere Castle and many other landmarks. Ride a bike, climb the rocks, paddle a boat or just sit on a bench and enjoy the peaceful respite from the NYC hubbub. No visit to the city is complete without spending some time exploring this grand park.
7. New York City Historical Society
New York City boasts a long and intriguing history. In fact, it makes sense to begin your tour of the city here so you can learn about some of its most important landmarks and attractions. The historical society collects a wide array of relics like artworks and photographs that help preserve the city's history. If you're interested in New York City's storied past, this is a fascinating and enlightening venue.
8. Times Square/Broadway
Manhattan's Times Square is a major New York City hub that is one of the busiest areas of the city. Known as the "Crossroad of the World," it's the junction of Broadway and 7th Avenue stretching between 42nd and 47th Streets. It is celebrated for its theaters and entertainment venues and is a slice of New York you have to experience. Day or night, it's always bustling with tourists gawking at the flashing neon, street performers and eccentric crowds. Most native New Yorkers stay away from the place, but this vibrant nexus is one of quintessential Big Apple sights to see for any visitor.
9. The Guggenheim
Established in 1937, the Guggenheim is famous for its collections of modern and contemporary art from 19th century to the present. It also owns a substantial collection of impressionist art. Located in an iconic building designed by Frank Lloyd Wright, the museum is exciting to browse as you wind down the spiral concourse. The building is as big an attraction as the art itself. When visiting, check out the masterpieces by artists like Paul Klee, Vincent van Gough, Alexander Calder and Amadeo Modigliani.
10. Lincoln Center
Chances are, anytime you visit New York, there will be something appealing going on at Lincoln Center. Showcasing dance, music, theater, film, opera and more, there's something for all ages and all artistic tastes. Among its 30 indoor and outdoor performance facilities, the complex includes Avery Fisher Hall, the David H. Koch Theater, the Julliard School and the Metropolitan Opera House. Check out the choreographed fountain in the plaza when you stop by.
11. Statue of Liberty
Perhaps the most famous landmark in New York City, the Statue of Liberty is definitely a key attraction that everyone should visit at some point. The sight of the statue has inspired throngs of immigrants to make new lives in the country, and continues to serve as a symbol of American freedom. Be sure to set aside some time to pay homage to Lady Liberty during your tour of the city, with a stop at historic Ellis Island too.