Santa Catalina Island is only 22 miles from the coast of Los Angeles, but it's a world away from the city. Its natural beauty and laid-back vibe make for a great escape. Getting there is an easy hour ferry ride from Long Beach, San Pedro or Dana Point. Upon arriving it's impossible not to be charmed by the quaint tile-lined streets of Avalon or the isthmus village of Two Harbors. Whether you come for a day trip or spend a night or more, here are some of the fun things to see and do in Catalina.
1. Strap Up For the Zip Line Eco Tour
Active adventurers can get a birds-eye view of the island's unspoiled nature on a two hour zip line eco tour. Experienced guides lead you on a thrill through Descanso Canyon 500 feet above the sea level, reaching speeds up to 40 mph. One of the lines is 1,100 feet long! Stop at five eco-stations along the way to learn about Catalina's rich history, topography and lore.
2. Hang Out at the Descanso Beach Club
There are plenty of beaches around Catalina's coast, but the Descanso Beach Club is the premier spot. The Avalon venue is casually elegant with an old-world charm, and offers the only on-beach bar and restaurant on the island. As a private club, you can enjoy a cocktail with your toes in the sand. You can take part in an abundance of water activities here including kayaking, standup paddle boarding and Snuba. If you're planning to stay the day, why not splurge on a private cabana that includes a personal concierge and free Wi-Fi. They also offer evening beach parties if you're looking for nightlife.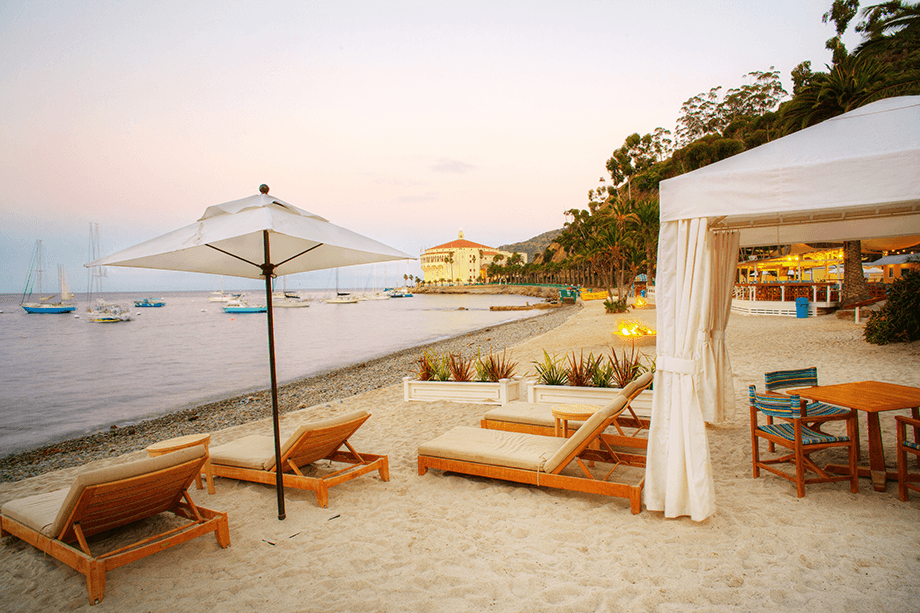 3. Check Out the Catalina Casino
The Catalina Casino is the most recognizable building in Avalon, but it is not, as you might expect, a gambling spot. The world casino also means a gathering spot for entertainment. The iconic round building includes a ballroom, theater and a museum, and is a great place to watch a movie in style. It's fun to take a tour to get all the inside details about the casino's history, and listen to stories that go back to its introduction in 1929. The casino was first built under the direction of William Wrigley, Jr (of Wrigley gum fame), who owned the island at one point.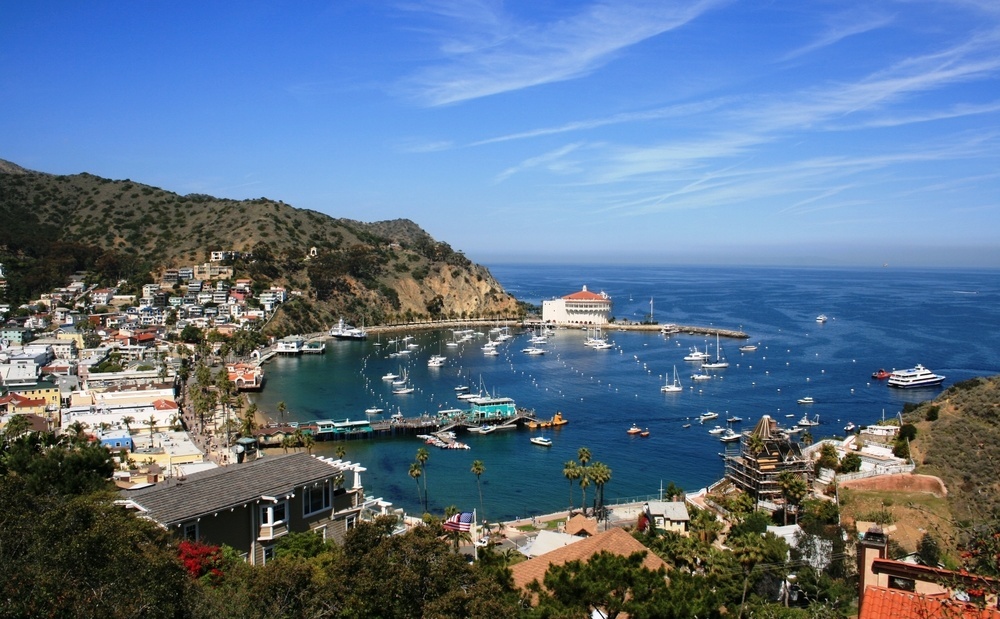 4. Go for a Snorkel or Dive
Catalina is actually considered an awesome snorkeling and dive spot, thanks to its rich kelp forests and unique wildlife including the bright orange Garibaldi fish. You can easily rent gear on the island if you don't bring your own. The waters around the Two Harbors area has easy access and clear views for visibility from 40 to 100 feet. Try Lover's Cove or just jump in near the Casino. The water temperature varies between 55 and 72 degrees.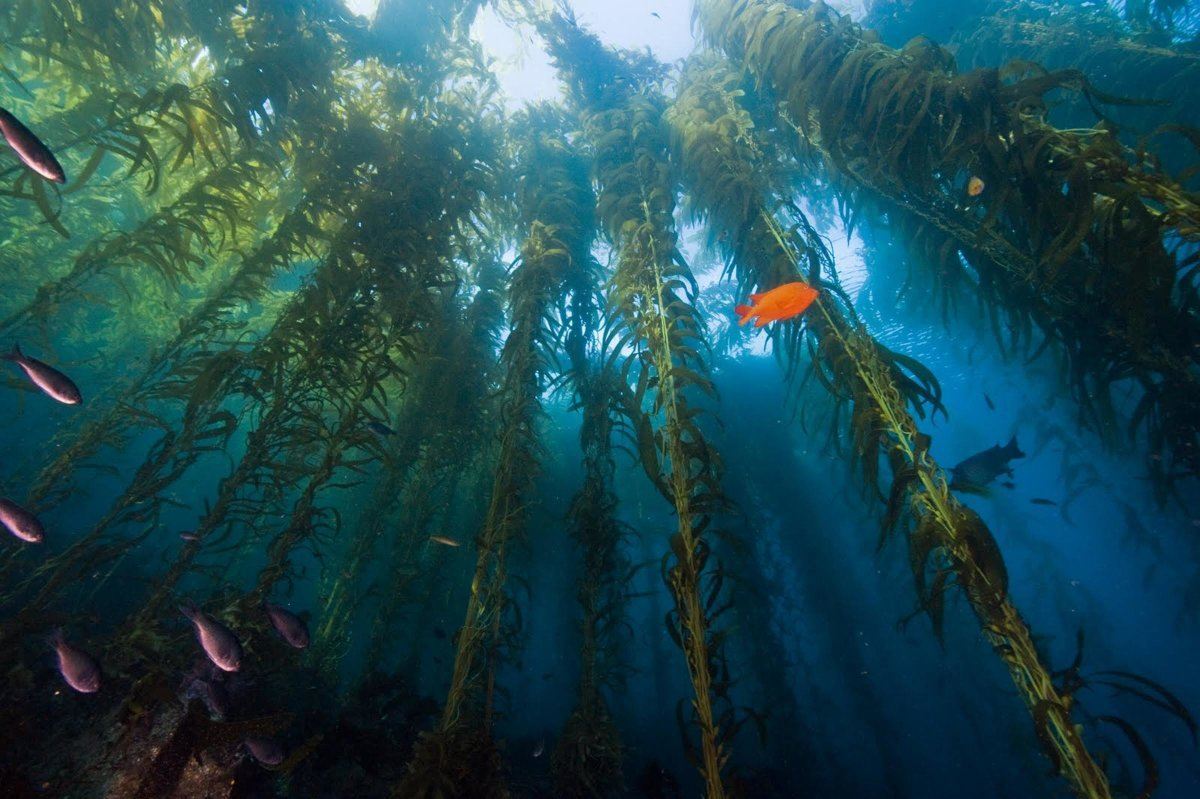 5. Ride a Glass Bottom Boat
If you want to get a look under the sea but don't actually want to get wet, a glass bottom boat tour is a great option. The seating is comfortable and the rides last about 40 minutes. Keep your eye out for flying fish as well as the action under the water. It's suggested that you make a reservation, as these are popular. Night trips can also be arranged, which offers a whole different experience. If you want to venture even further underwater, check out the Nautilus semi-submarine tour.
6. Eat, Drink and Snack
Naturally there is a lot of great seafood on the island. Grab some fish and chips along the pier or in one of Avalon's many casual restaurants. There are also plenty of vacation type treats like Big Olaf's giant ice cream cones and salt water taffy. Fortify yourself with a hearty breakfast or slice of pie at Original Jack's. There's even a spot by the golf course that serves $1 tacos and $5 margaritas at happy hour. Make sure you try Catalina's signature cocktail, Buffalo Milk, at Luau Larry's which is essentially a spiked milkshake. You won't go hungry or thirsty on Catalina, is what we're saying.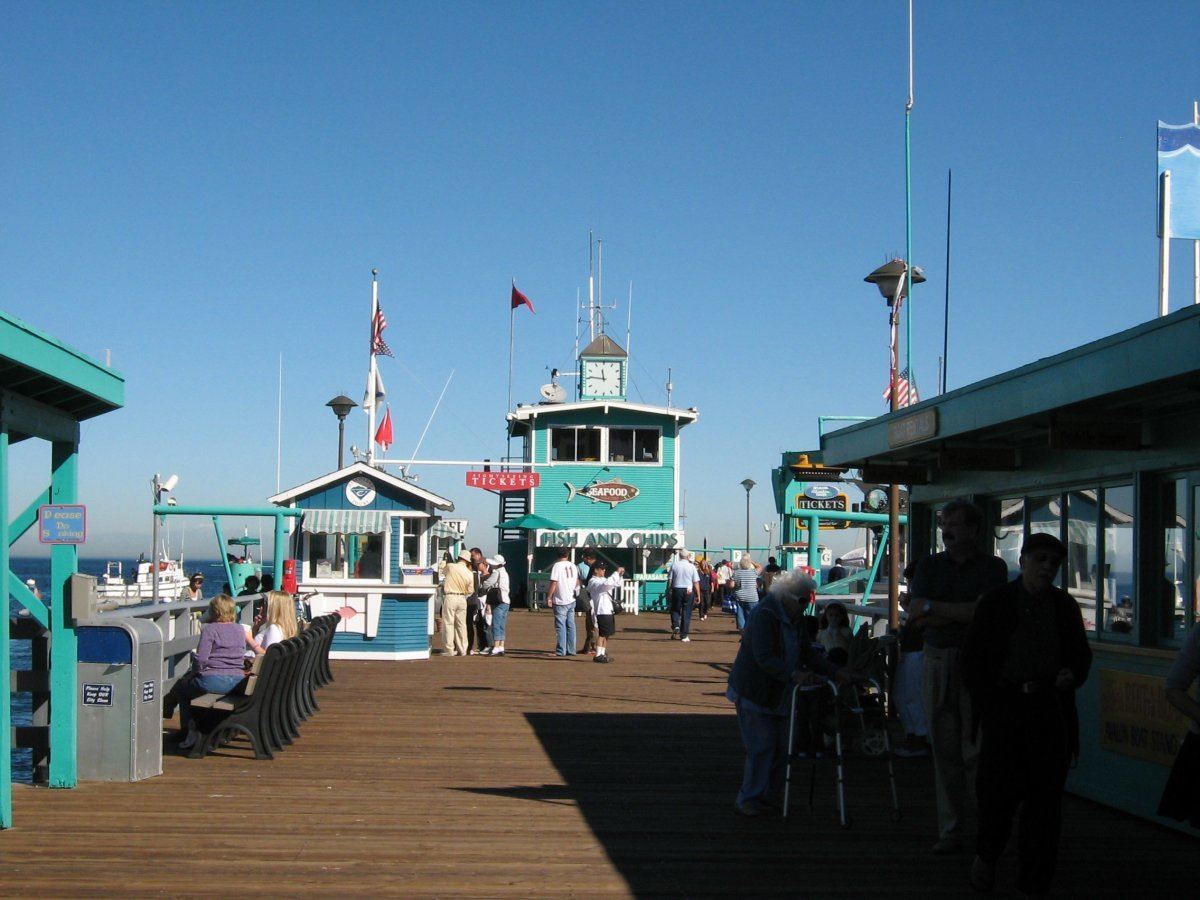 7. Check out the Buffalo
There are free roaming buffalo on the interior of Catalina Island. They were originally brought here for a movie shoot, but it was considered too expensive to remove them. So, left to their own devices, the population grew. There were once 600 of them on the island, but today it has settled closer to 150. It's rare for visitors to encounter them, but you may have some luck on the Safari Island Adventure tour. You might also spot some deer, wild boars, wild turkeys, bald eagles or the endangered Catalina Island foxes. Visit one of the island's nature centers to learn more about this natural wonderland.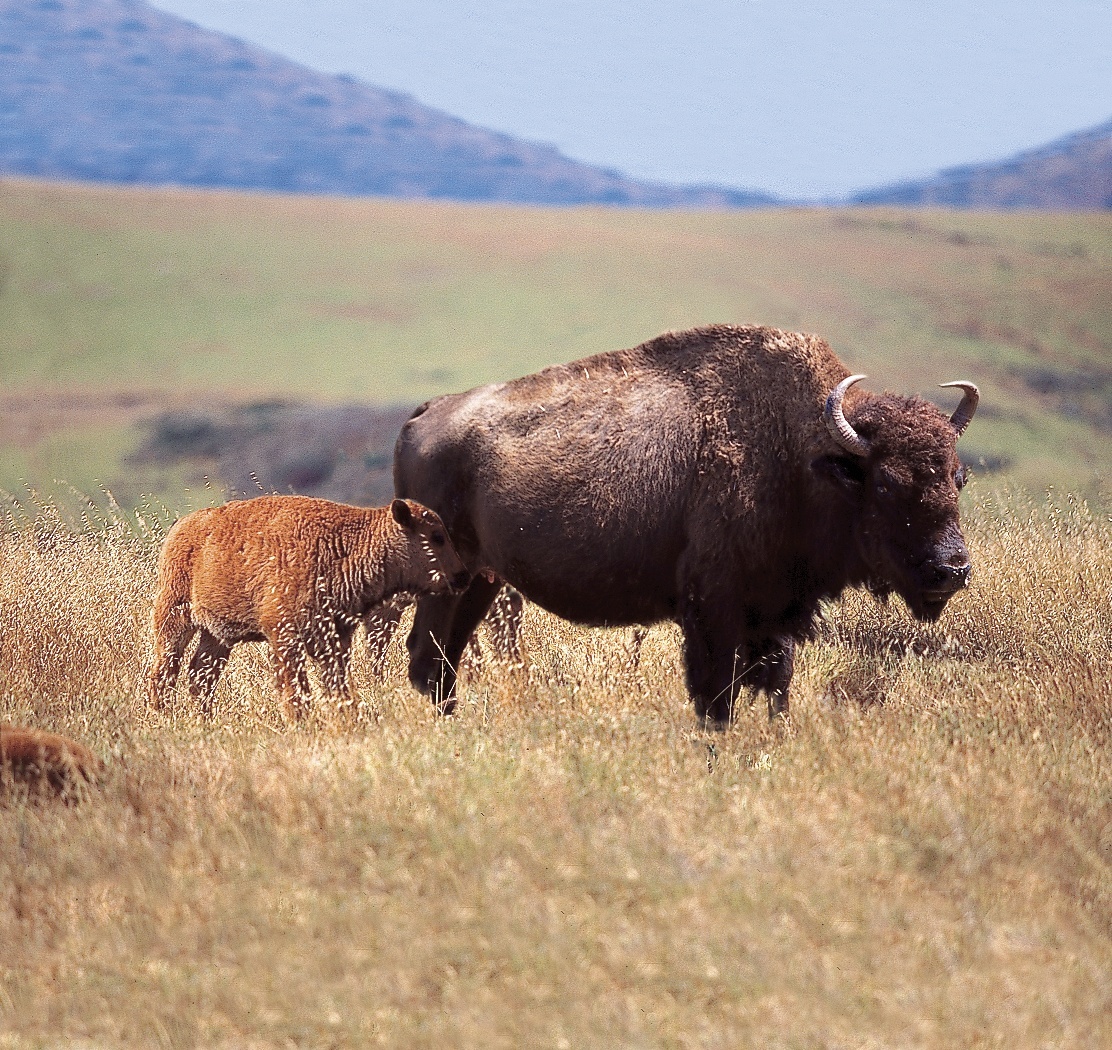 8. Spot Some Dolphins
You might imagine a dolphin spotting boat tour to be a mellow outing, but not this time. For this Ocean Runner trip you'll literally saddle up so you can hold on during the hour long fast paced quest. High speed plus waves means catching air in the best way, if you're a fan of that sort of thrill.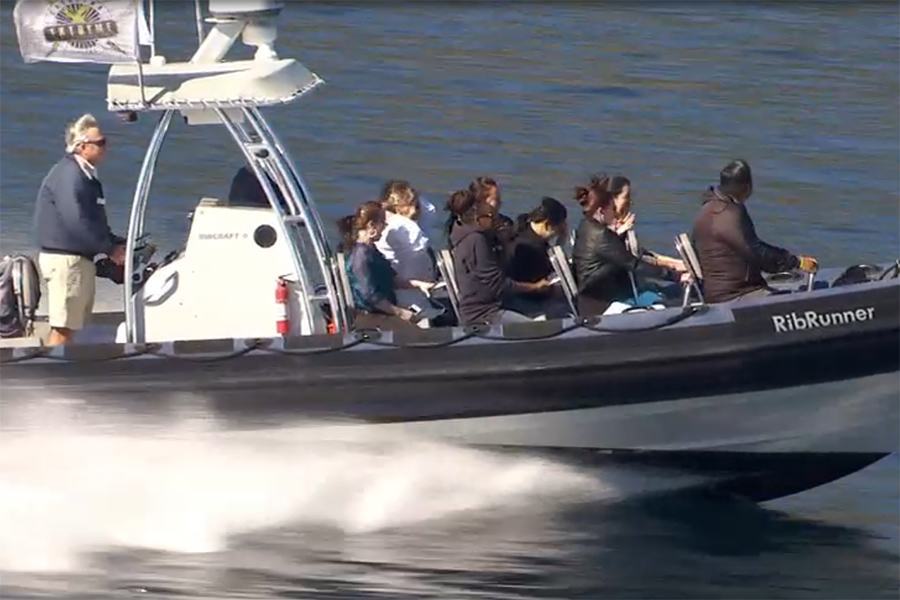 9. See the Views from the Wrigley Memorial and Botanic Garden
A 30 minute stroll up Avalon Canyon from the center of town takes you to this must-visit attraction. William Wrigley Jr. loved this island and was instrumental in much of its development and conservation. The botanic garden features many rare Channel Island endemic plants. The views over Avalon Harbor are truly spectacular from up here. If you're feeling energetic after checking out the memorial and garden, set off for a hike along the Garden to Sky trail from here (permit required).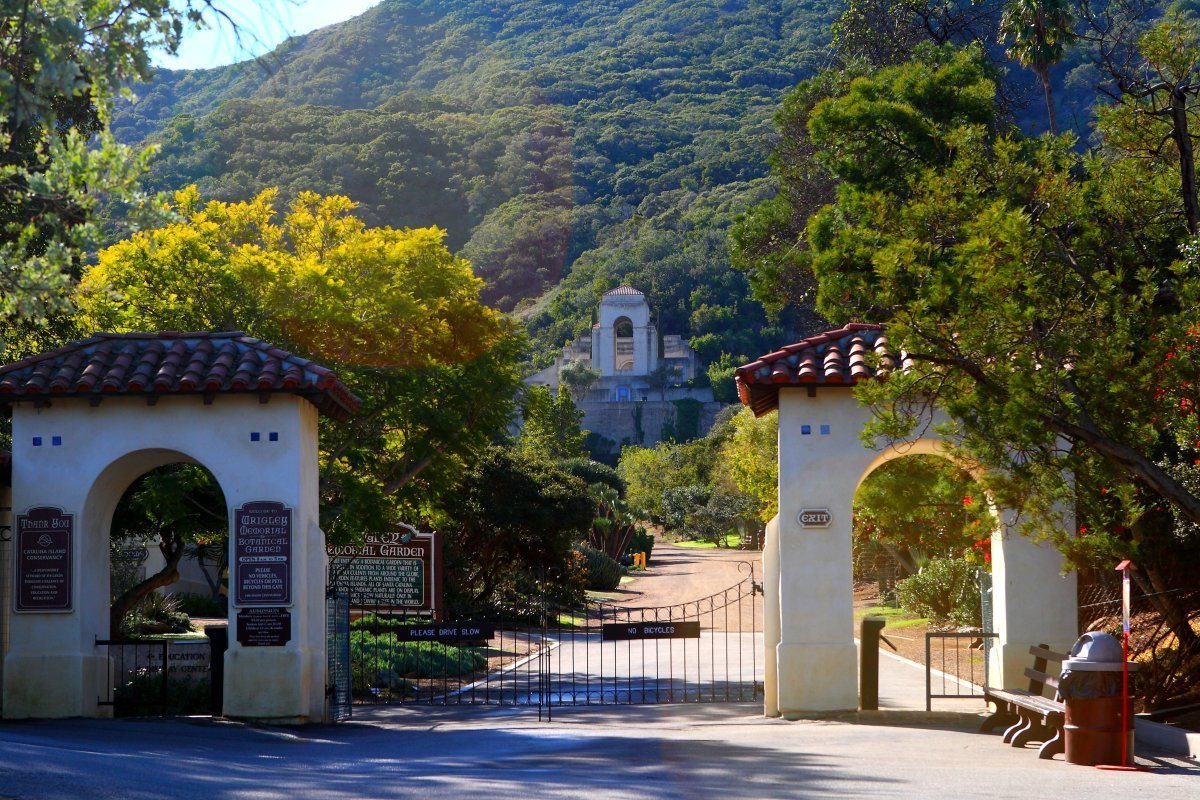 10. Take an Island Tour
One of the best ways to get an overview of the island is to hop on the Avalon trolley or take one of the bus tours. That's where you hear interesting facts about the colorful locals and historical details. For example, who would guess that there is a limit to how many cars are allowed on the island at any given time? There's a waiting list but life there is pretty centralized anyway, so most residents just drive golf carts when they aren't walking or biking. There are so few drivers in fact, that a representative from the DMV comes out just once a year to handle any necessary paperwork or driver's tests.