Las Vegas is known as Sin City, a playground for anyone over the age of 21. What you might not know, however, is this city is also an ideal destination for families and kids. The bright lights, the non-stop entertainment and the surprises around every corner make Vegas the ultimate kids' wonderland. Candy stores, roller coasters, child-friendly museums, shows and fabulous fountains are just a slice of what youngsters can look forward to. In fact, some say that there's as much fun to be had for the under 21s as there is for the adult revelers. Here are 10 fun things to do in Vegas with kids.
1. Tournament of Kings: Excalibur
This popular dinner show is the perfect way to keep the kids entertained while taking in a famous Vegas show. This medieval extravaganza has knights on horseback, jousting lance fights, dancing maidens and indoor fireworks. In true medieval fashion, you must eat with your hands and are encouraged to bang your cup on the table – what kid wouldn't delight in that? This show is truly suitable for all ages and those under three are free, provided they sit on an adult's lap.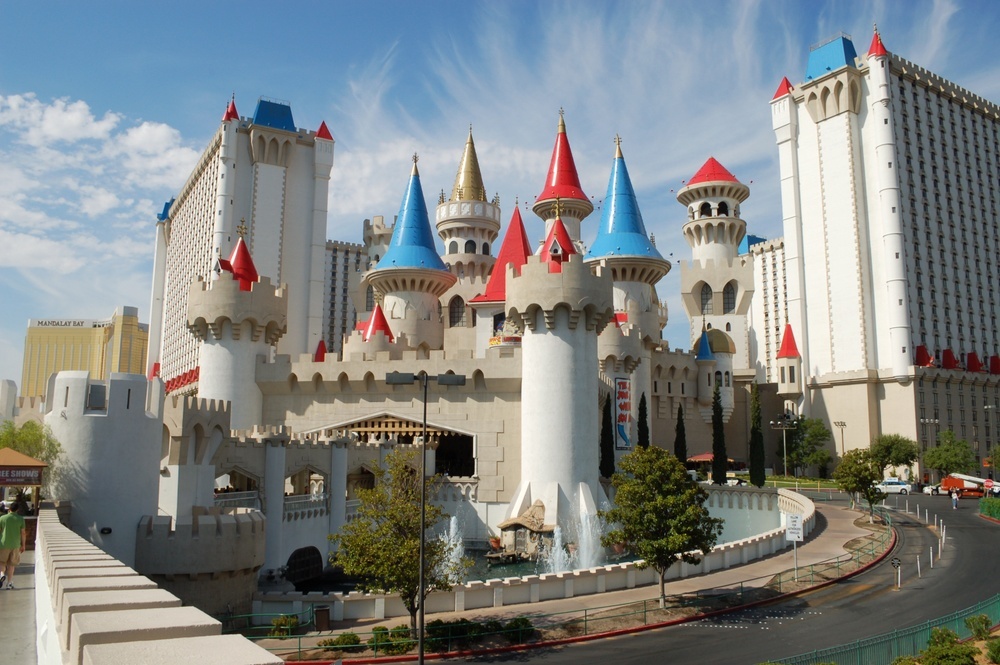 2. Siegfried & Roy's Secret Garden and Dolphin Habitat
This oasis was created by legendary magicians Siegfried & Roy, and if you are lucky they might be there greeting guests. This is your chance for the whole family to get up close and personal with bottlenose dolphins, white tigers, white lions and leopards. The baby dolphin habitat is perhaps the most popular, and kids will delight in seeing this majestic creatures swim in the shallow pool. Located at the Mirage Hotel, there are also plenty of free sights to check out here. Don't miss the volcanic eruptions in the front yard of the hotel that start at 7pm, or the 53 ft long aquarium inside the lobby. Kids over 13 can sign up to be a trainer for the day, and actually swim with the dolphins.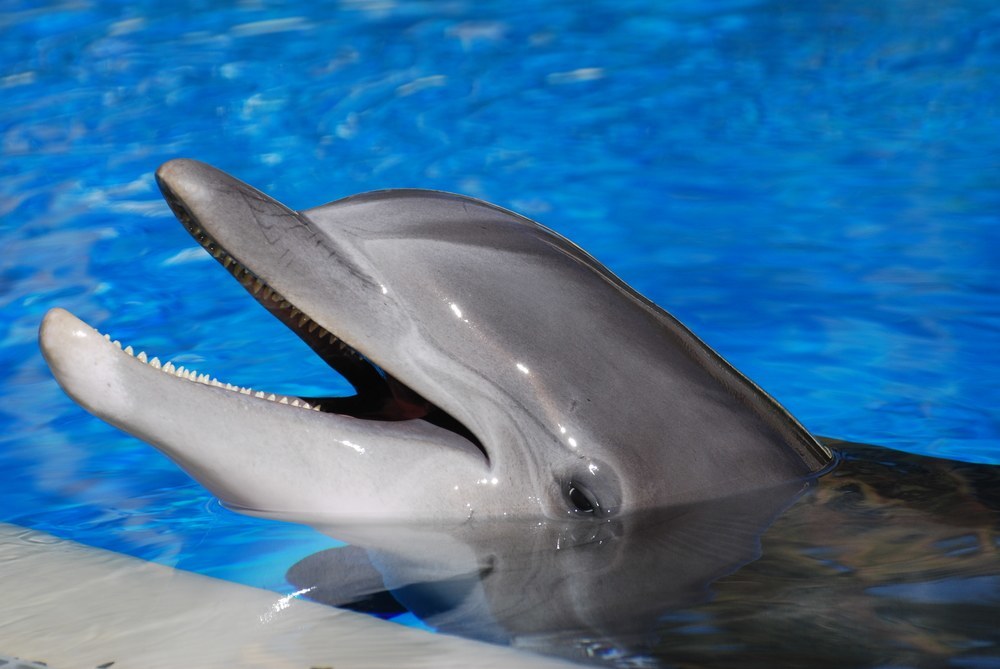 3. Shark Reef Aquarium of Mandalay Bay
This aquarium is an experience for the whole family. More than 2,000 animals call these tanks home, including over 100 different marine species and 15 kinds of sharks. This interactive aquarium lets visitors get up close with a variety of crabs, sharks and rays via the touch pools. Shark Reef has over fourteen breathtaking exhibits including a shipwreck with a tunnel which gives visitors a 360 degree view of sharks, fish and other marine life. The kids will love the eight foot long Komodo dragon, the sea turtles and the golden crocodiles. Kids four and under can visit for free.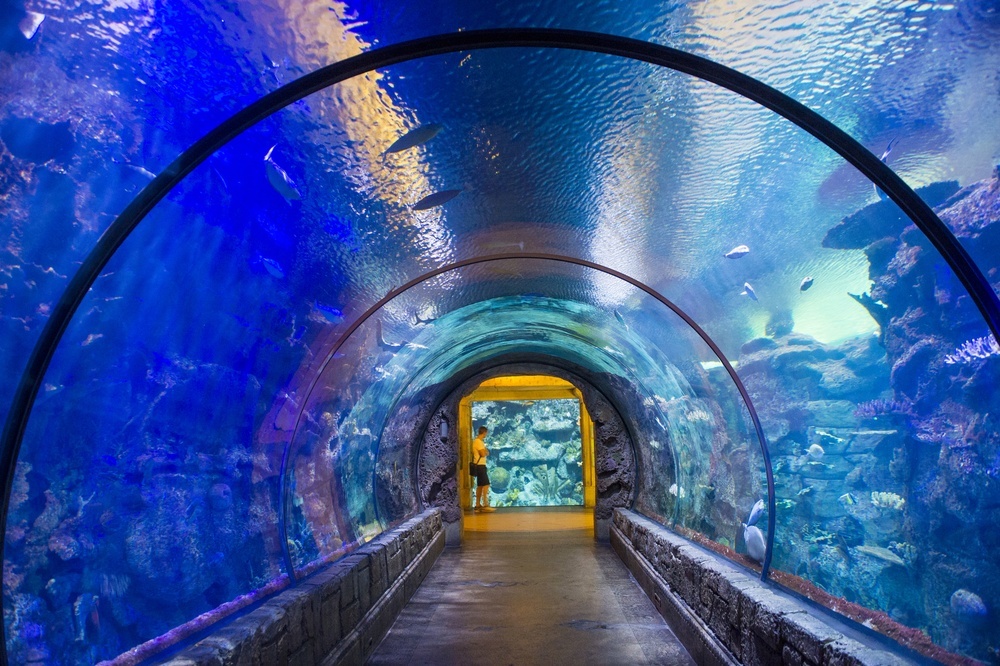 4. M&M's World
The best way to describe this experience is simply four floors of chocolate heaven. Not surprisingly, this place is a huge hit with the kids. Just make sure not to visit before bedtime! This massive emporium features all things M&M including colors you have never seen before, a station where you can personalize your chocolate treat and more souvenirs than you will be able to fit in your suitcase. Kids will love the free interactive 3-D movie which has the M&Ms off on a thrilling adventure. The walls are full of movie posters with M&Ms posing as the characters. The music and ambiance is upbeat, making delicious fun for the whole family. Just don't forget to get a treat for yourself as well.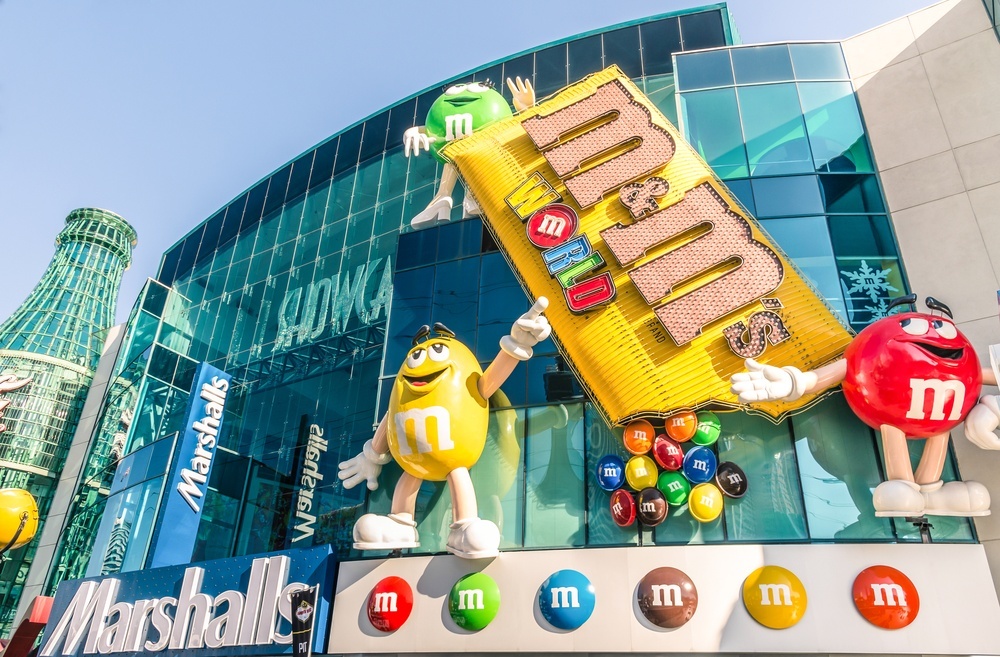 5. The Adventuredome
Five acres of indoor amusement await families at Circus Circus. This theme park offers rides, bumper cars, arcade games, clowns and thrilling roller coasters. It also features rock climbing, indoor bungee jumping, miniature golf and mini-bowling. The kids will love the FX theatre rides with favorite characters such as Dora, Diego, Happy Feet and SpongeBob. The best deal here is the all day ride pass which allows you to pay a set price per person and gives you unlimited access to all the rides.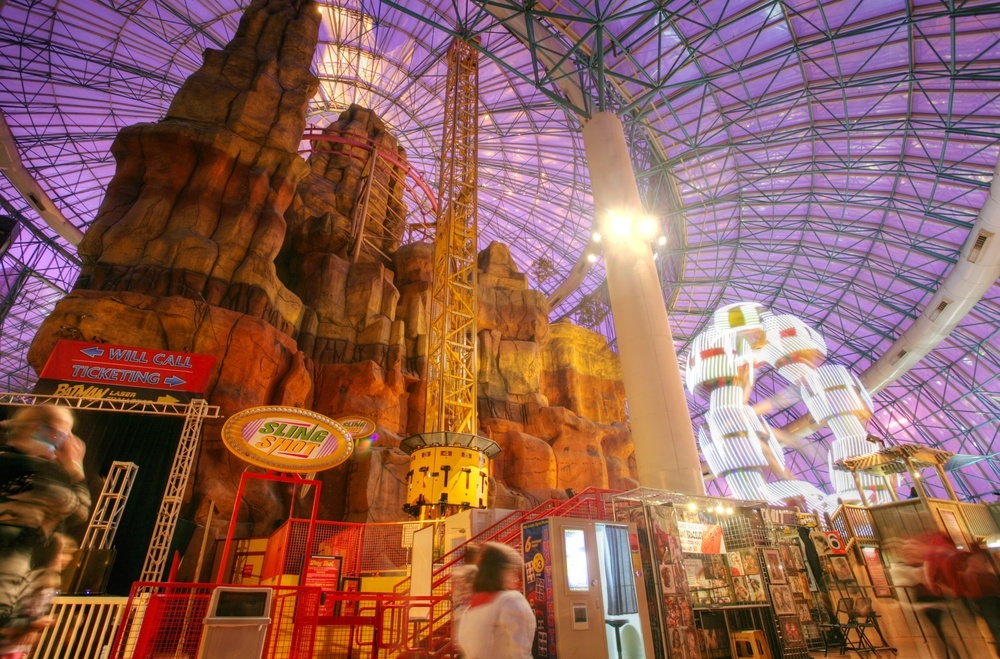 6. Gondola Ride at the Venetian
It may be cheesy, but taking a gondola ride at the Venetian Hotel is the closest you might ever get to the real Venice. Although the boat rides are mostly indoors, it does feel like you are riding through the canals of Venice, especially when your gondolier starts serenading you. Each gondola seats four people and kids two and under can ride for free by sitting on an adult's lap. Little ones love to peruse the open waters and parents can sit back and imagine they are on a romantic ride through a beautiful Italian city.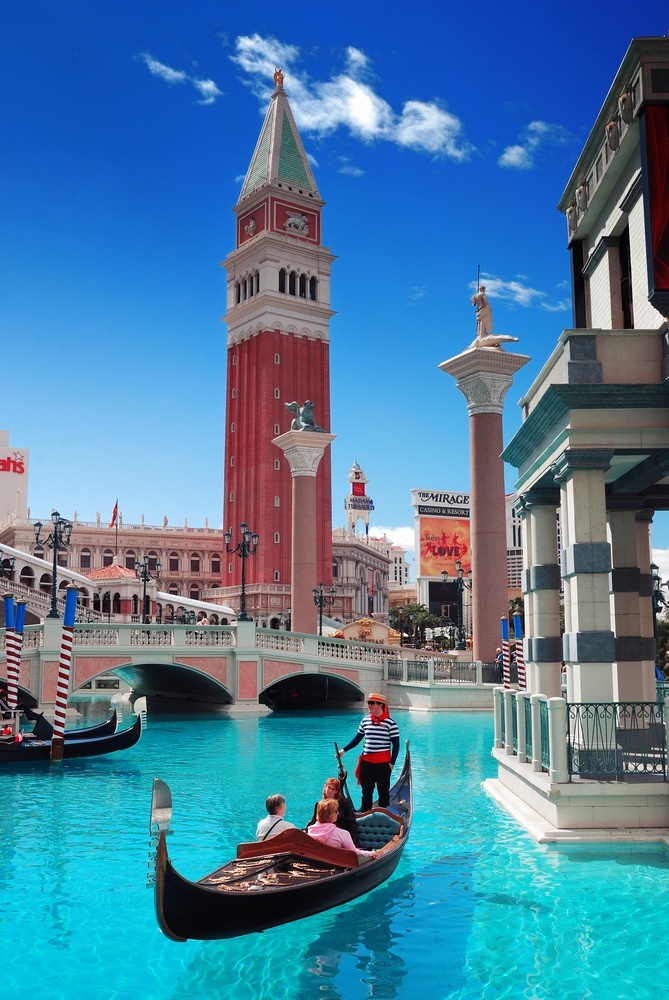 7. Shark Tank Waterslide at the Golden Nugget
Another fun thing to do in Vegas with kids is this close encounter with sharks. It's a rare opportunity to take a slide down a three story waterslide through a shark tank. As long as your kids are old enough to swim and not too scared, this waterslide is truly an unforgettable experience. After you swoosh through the glass tube, you can then swim in the pool alongside these beautiful creatures (safely behind glass), lounge at the tank-side waterfalls or rent one of the cabanas so the whole family can relax together in the shade. For an extra experience, take one of the shark tank tours where you will go behind the scenes to learn more about the 200,000 gallon aquarium that the creatures call home.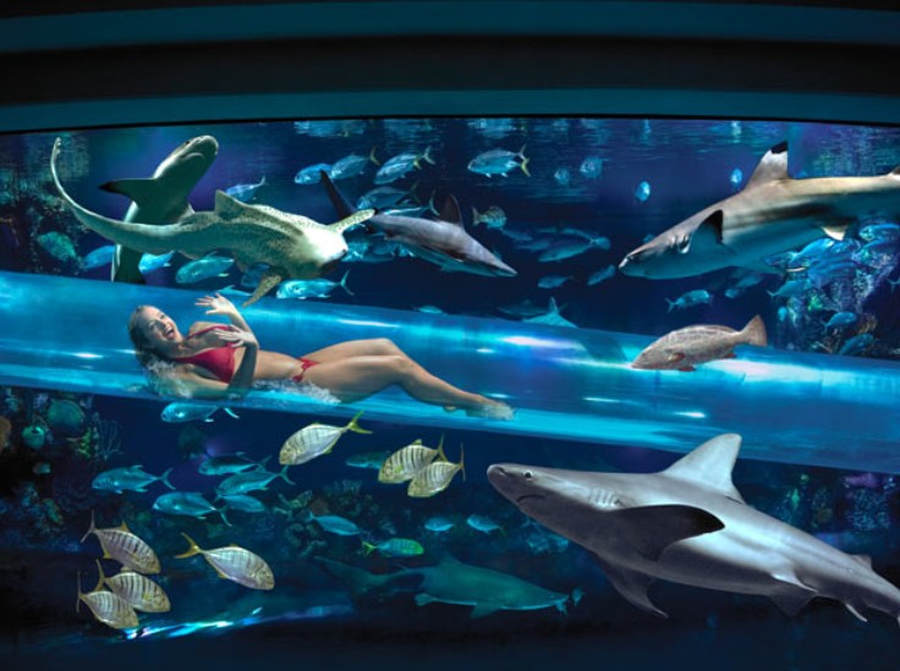 8. Madame Tussaud's Wax Museum
This two story, thirty thousand square foot museum is a perfect thing to do in Vegas with kids. Here they will find replicas of their favorite celebrities and superheroes. This wax museum is super kid friendly, even allowing you to gently touch the wax figures. There is plenty of room to pose with the figures and a cool 4D movie at the end. The youngsters will revel in posing by some of their favorite celebs such as Spiderman, The Incredible Hulk and Katy Perry. Check online for the best ticket prices. Kids under four visit for free.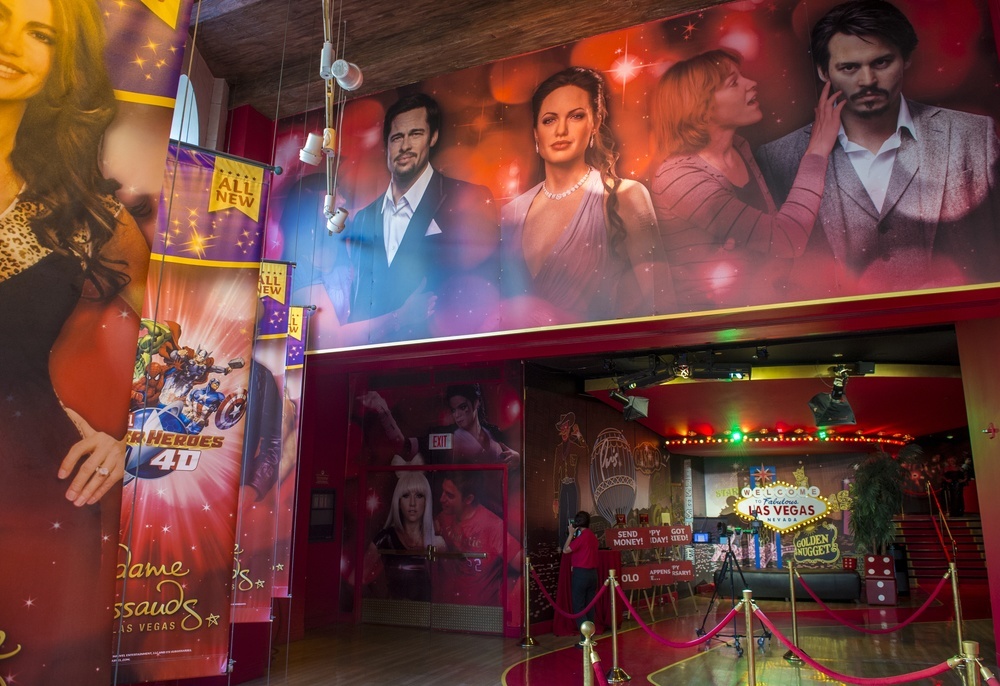 9. Streetmosphere at the Venetian
One of the favorite free things to do in Vegas with kids is to take in the "Carnevale di Venezia" which happens at the Grand Canal Shops at the Venetian. This production plays throughout the day and it's best to arrive early with the little ones to snag a good seat. The performers include jugglers, opera singers, stilt walkers and living statues. They interact with the crowd, love to get the kids involved and if you stick around after you can even snag a picture with them. As an added bonus, you can use this performance to bribe your kids into letting you enjoy a bit of shopping afterwards.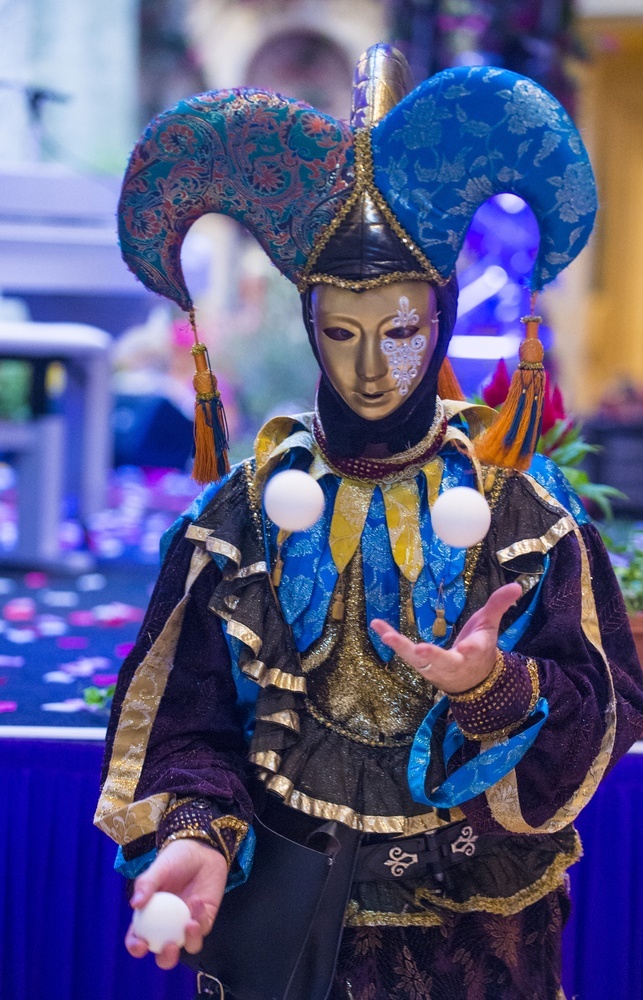 10. Las Vegas Natural History Museum
If you want to try and squeeze a little educational fun into your family trip to Las Vegas, visiting the Natural History Museum is a must. It is located just five miles off the strip and is surprisingly affordable for families. Lifelike replicas of dinosaurs, mounted wild animals, a 3,000 gallon aquarium and a live animal exhibit will make this exciting for all ages. An interactive kid's zone offers plenty of things to see, do and touch, which is a welcome change for any youngster who can't keep their hands off. This is one of the well-kept hidden gems of Vegas, and families can easily spend a few hours exploring it.