Whether you're in a park, a Wat (a Buddhist Monastery or Temple) or the Kingdom of Buddhism, encountering a Buddha while traveling through Southeast Asia is akin to seeing a tree in a forest. Tiny or large, old or new, stone or gold, the diverse Buddhas you will see provide a glimpse into a rich history of Buddhism in the countries of Southeast Asia. Here are some of the best Buddahs to check out when you're in the region.
1. The Sleeping Buddha
It's hard not to break out into a smile when you first see the Sleeping Buddha in Nha Trang's Long Sơn Pagoda in Vietnam. Upon closer inspection of this resting Buddha, you may notice an infamous symbol on the soles of his feet. Engraved long before this symbol became associated with evil, a local guide informed me that, in this case, the symbol means 'good luck.'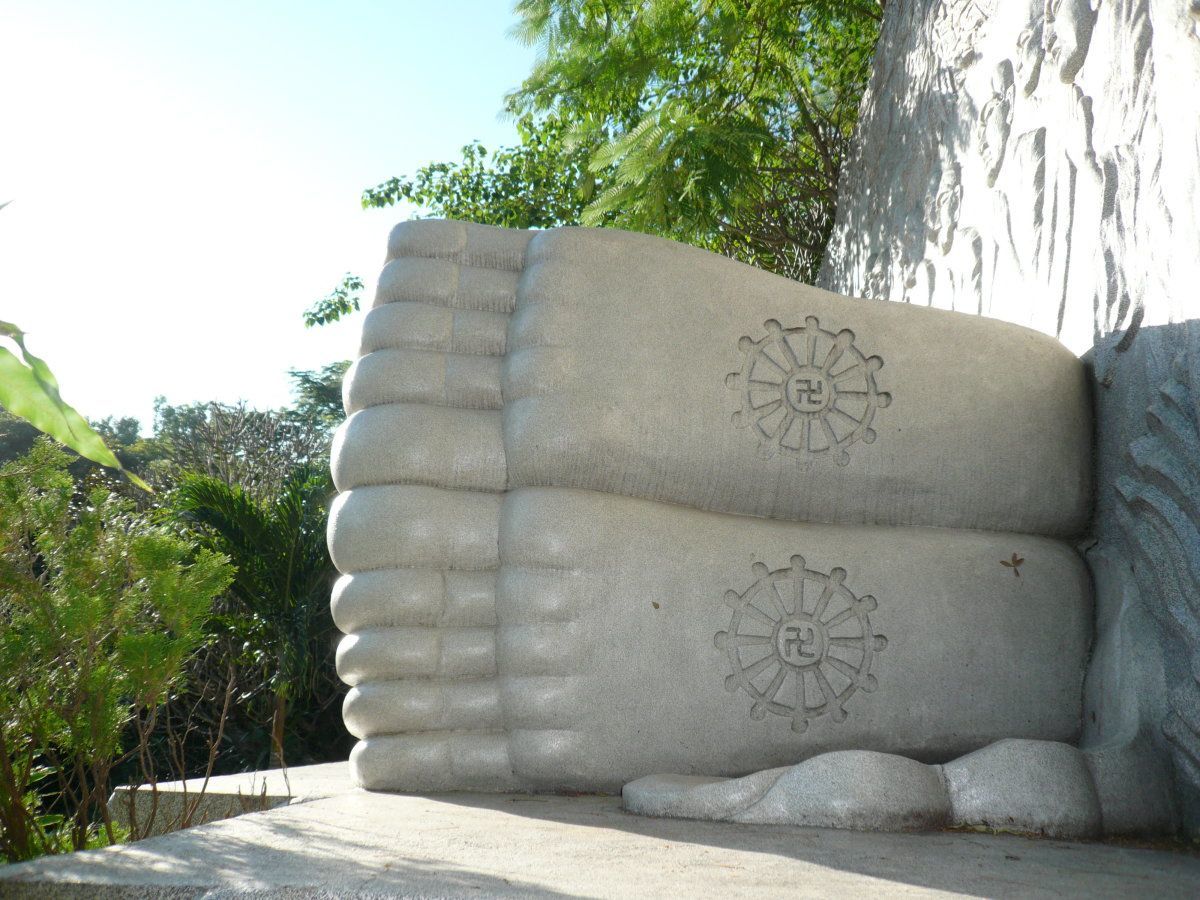 2. The Buddha in the Sky
Also located in Nha Trang's Long Sơn Pagoda, the Buddha of Long Sơn meditates in the clouds and is visible from most parts of this beach community located on Vietnam's south central coast. This Buddha in the sky sits 79 feet (24 meters) tall and 152 steps up from the entrance of this pagoda. This Buddha is the Gautama Buddha, who was believed to have lived in India sometime between the 6th and 4th Centuries BCE.
3. The Natural Buddha
This moss-covered Buddha is one of over 200 statues found in Laos' Buddha Park, also know as Wat Xieng Khuan. The government operates this park along the Mekong River, 25 km southeast from Vientiane, Laos, and it features Hindu and Buddhist statues typically made from reinforced concrete. While technically not a Wat or Temple, the name of this park "Xieng Khuan" means "Spirit City."
4. The Reclining Buddha
Also found in Xieng Khuan, this reclining Buddha lays 130 feet long (40 meters). Traditionally, Buddhas can be found in one of four positions: sitting, standing, reclining and walking. When a Buddha is reclining, this typically represents the state of enlightenment before its death, which is also known as mahāparinabbāna.
5. The Standing Buddha
You can find this standing Buddha in Wat Chedi Luang within the old city of Chiang Mai, Thailand. Wat Chedi Luang is comprised of three Wat's: Wat Chedi Luang, Wat Ho Tham and Wat Sukmin. When a Buddha is standing with its right hand facing outward and its left hand to its side, this typically symbolizes the Buddha's return to Earth from teaching the Dharma in Heaven.
6. The Ceramic Buddhas
Wat Si Saket is the oldest standing Wat in Laos' capital city of Vientiane. Surrounding this Wat is a cloister wall that houses over 2000 silver and ceramic Buddha's. This Wat was built in 1818, and was restored twice by the French Government in the early 20th Century.
7. The Ornate Buddha
In Thailand's northernmost city of Chiang Rai lies the striking Wat Rong Khun, which is also known as the "White Temple." The design of this ornate sitting Buddha reflects the overall aesthetic of this privately owned art exhibit that exists in the style of a Buddhist Temple. After weathering damage from an earthquake in 2014, the White Temple was reopened and remains open to the public after an engineering team found no signs of structural damage.
8. The Buddha in Red
The official colors of Buddhism are blue, black, white, red, green and yellow, and each color holds a different meaning. Red, for example, symbolizes fire and preservation. Red is also a protective color in Buddhism. Yellow – or saffron – is the color that is most commonly associated with Buddhism as it is the color of a monks' robe, and it symbolizes humility a grounded nature.
9. The Sitting Buddha
Many of the Buddha's that you will encounter across Southeast Asia – and particularly in Thailand – will be sitting with its left palm facing up in its lap and its right hand draped over its knee. This pose is known as "Calling the Earth to Witness," and it represents the moment the Buddha became enlightened.
10. The Buddha Only Half of the World Can See
Only men can enter this particular temple at the Wat Inthakin, but that did not stop this woman from removing her shoes and kneeling to pray outside. Wat Inthakin lies inside Chiang Mai's old city, and Inthakin is the name of the city pillar, which was built in 1296 CE by King Mangrai.