If you still have the notion that cruises are for shuffleboarding seniors and bingo-playing retirees, think again. First of all, plenty of "seasoned citizens" are as active and adventurous as any generation. Second of all, the latest cruise ships have gone overboard with innovative bells, whistles, attractions and amenities that get hearts of all ages beating faster. Rest assured, these ships have lots of opportunities for relaxation and low-key recreation, if that's what you're after. But if you are in the mood to get out of your comfort zone, push your limits or try something outrageous, some of the thrills on the high seas will astound you. Check out these 12 ultimate adrenaline rushes to experience on a cruise. Yesterday's Love Boat never had it so good.
1. Defy Gravity
Have you ever had one of those epic flying dreams? Well, you can make it a reality while you're sailing over the ocean. Royal Caribbean's mega-ships Quantum of the Seas and Anthem of the Seas both offer groundbreaking skydive simulators for their passengers to lift off right on deck. RipCord by iFly puts passengers in a glass wind tunnel so they can experience what it feels like to float on air. A little instruction, and you're airborne. Are you up for it?
2. Walk the Plank
There's no greater pirate pirate fantasy than walking the plank, and now on some Norwegian Cruise Line vessels you can do just that. Face your fear of both heights and sharks as you brave the platform jutting 8 feet off the ship right over the raging waters 180 feet below. There's a camera at the end of the beam ready to take a pic of your terrified-yet-loving-it face. Just because there's a safety harness on you doesn't means it's not a kickass thrill.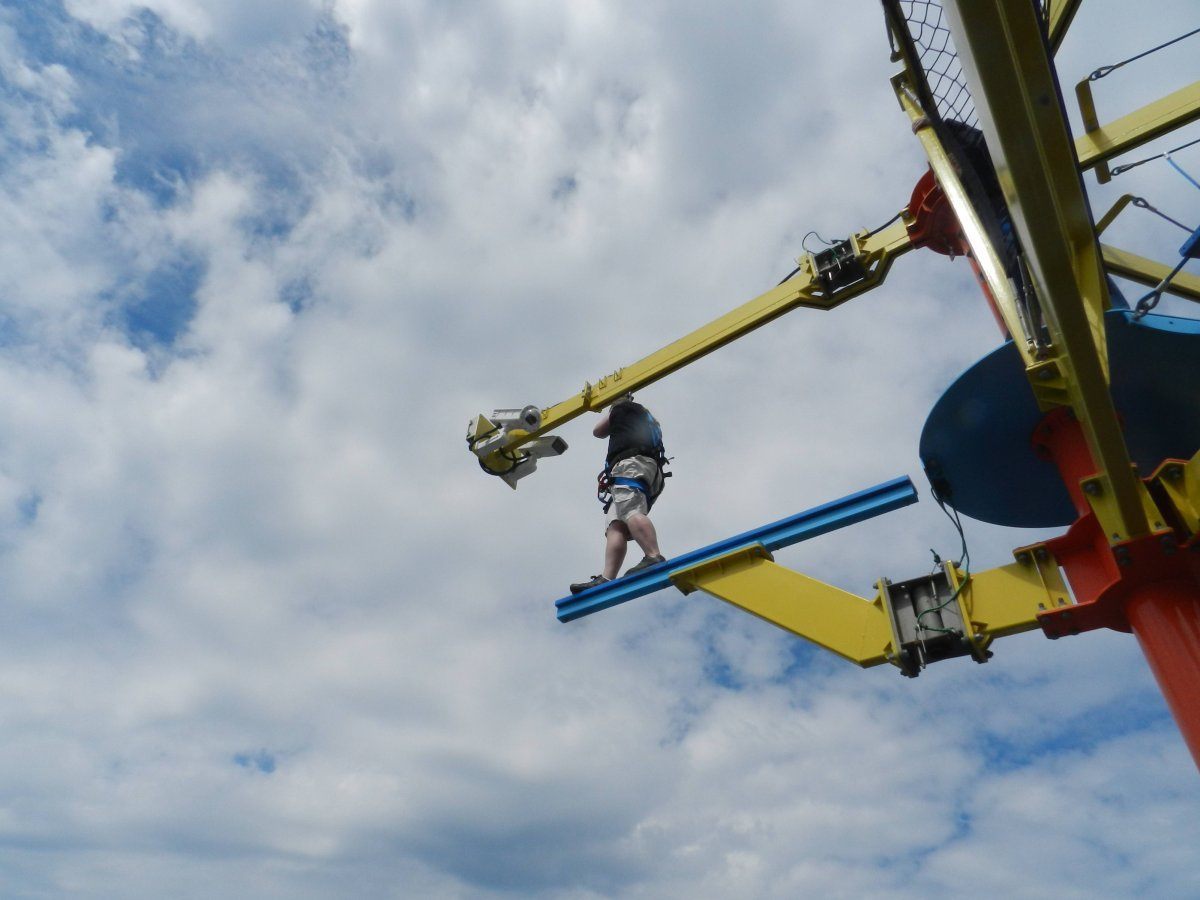 3. Ride the Waves
You don't have to jump ship to catch a wave. Royal Caribbean's FlowRider surf simulators will have you on board in no time. It doesn't take long to get the hang of this artificial wave, and from all reports its a blast for all ages. Master the basics, and then try some surfer dude tricks like sitting, the 180 degree turn, the drop knee, the basic ollie or the pop shuvit. Best of all, the popular surf simulator is a complimentary perk for passengers, not an add-on expense.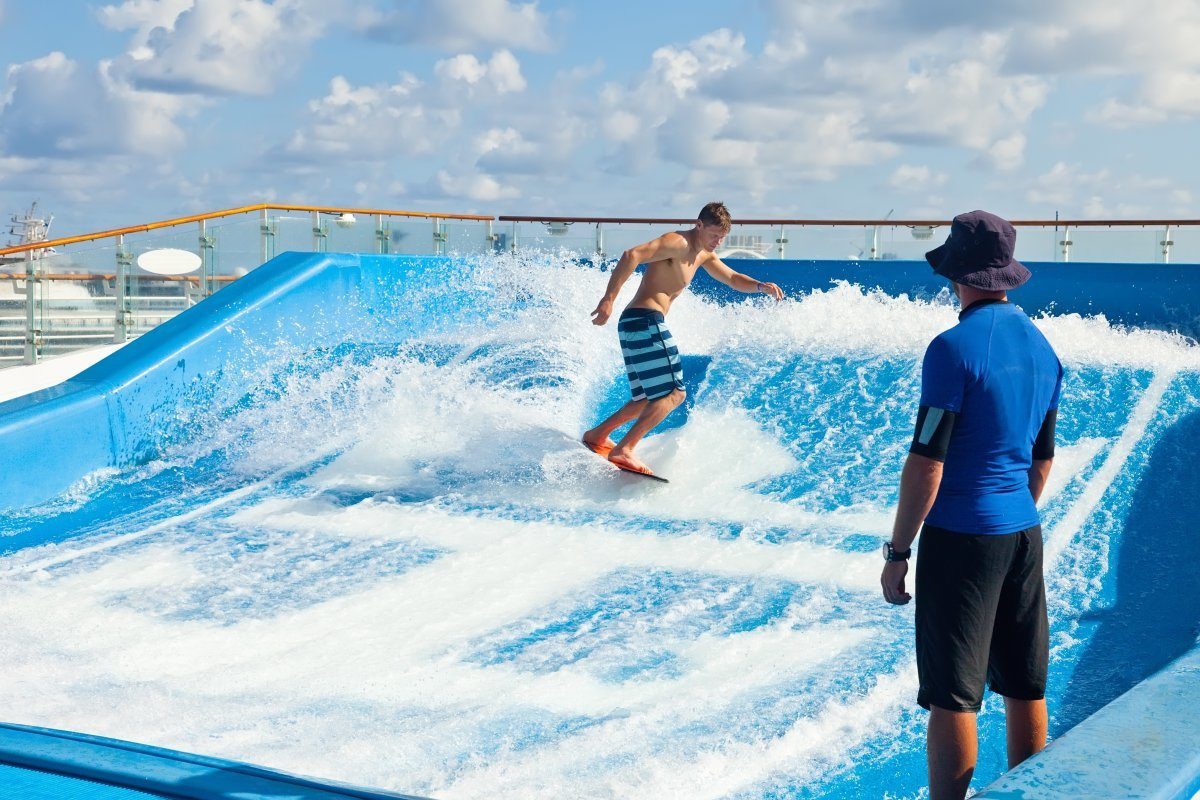 4. Swing From the Ropes
Carnival keeps upping the ante on their family-friendly activities, and now they have a ropes course on some of their cruise ship. Naturally, safety harnesses are worn by all ages, but that doesn't take the challenge out of balancing (or dangling) on the beams, bridges and wires. As you make your way around the multiple tracks and elements of the SkyCourse, stop to enjoy the sea breezes and views along the way. Norwegian Cruise Lines also has a challenging ropes course onboard.
5. Scale the Wall
Royal Caribbean pretty much pioneered adrenaline rushes to experience on a cruise. When they introduced rock climbing walls back in 2002 it ushered in a new era of shipboard diversions, each line trying to outdo the other with their outlandish offerings. Now lots of lines let you climb the walls. While no longer a cutting-edge novelty, it's still a thrill to shimmy up a 200 foot vertical wall, gecko style, and rappel back down while floating on the high seas.
6. Get a 360 View
One of Royal Caribbean's latest enticements is their sky-high glass observation pod that soars on a mechanical arm high above the Quantum of the Seas. This North Star capsule is modeled after the London Eye, taking 14 passengers over 300 feet above the ocean and beyond side of the ship, offering an adrenaline-pumping birds-eye view. What will they think of next?
7. Go Extreme Sliding
Water slides are a popular feature on lots of cruise ships, but some lines have taken things beyond the basic level. For example, Disney's AquaDuck clear acrylic water slide is four decks high and extends beyond the ship's edge. Norwegian's Epic Plunge takes sliders on a loop-de-loop into a funnel with a grand splash. It also has the Whip which lets sliders race each other in side-by-side tubes, and the Free Fall – the fastest vertical drop-slide at sea. Carnival's dizzying Twister lives up to its name, while The MSC Preziosa has the long and winding Vertigo water slide with a glass tube swooshing sliders off the side of the ship.
8. Zip Across Deck
Zip-lining is all the rage in some jungle canopies on land. It was only a matter of time before someone added this heart-pumping adventure to a cruise ship roster. Royal Caribbean's Oasis of the Seas offers an 82 foot (25 meters) zip line that is suspended nine decks above the Boardwalk. Whiz from platform to platform across the Sports Zone for some daring shipboard excitement.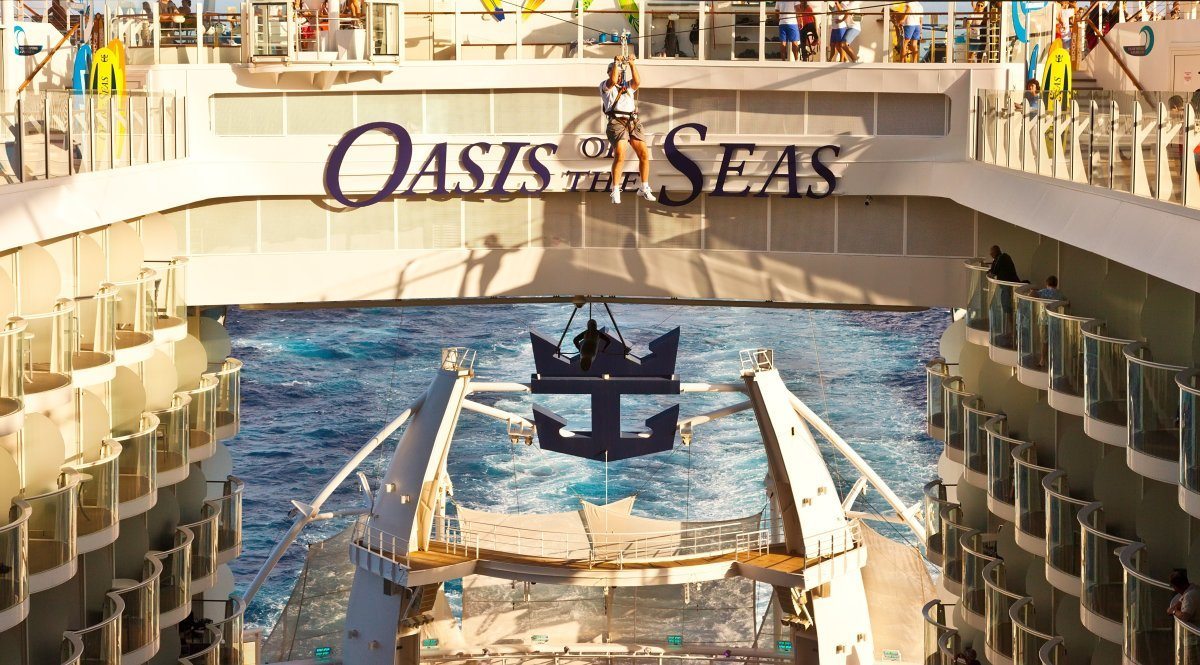 9. Go Overdrive
P&O Cruises have V8 Supercar simulators onboard, in case you feel like hitting the road while you're out at sea. Three wrap-around screens display the race circuit, making it feel as close to the real thing as possible. Swerve, shift and screech your way to the finish line on famous tracks like Bathurst's Mt Panorama, Phillip Island, Eastern Creek and more. The MSC Divina also has a state-of-the-art Formula One Race Car Simulator on their ships, so you can put your pedal to the metal in a Ferrari while you're cruising along.
10. Chill Out Over Cocktails
It may not be an adrenaline rush per se, but it is a chilly sub-zero thrill to sip drinks on a shipboard ice bar. Your heart will be pumping just to stay warm. Several Norwegian ships feature a SVEDKA/Inniskillin Ice Bar that accommodate 25 guests bundled up in hooded coats and gloves. This artic-like igloo chamber is kept below 17 degrees Fahrenheit, and even the glasses are made of ice. This is definitely the coolest bar on the ocean.
11. See Some Heart-Stopping Shows
Onboard entertainment has come a long way since those cheesy musical reviews of yore. Some of the top lines feature elaborate performances that rival anything offered on land. You can see the Blue Man Group or take in a Broadway show like Chicago, Hairspray, Cats or Aladdin. Laugh along with Second City comedians, and even take in a figure skating show on a shipboard rink (how do they manage a double axel on a rocking ship?). There are also AquaTheatres featuring high diving antics and aqua-acrobatics. Celebrity Cruises wows audiences with Cirque du Soleil performances. You can't help but feel your adrenalin rushing along with these extraordinary performers.
12. Have Fun in the Zone
Today's cruise ships are more like theme parks at sea, and Royal Caribbean, in particular, has taken this idea to the extreme. Their Quantum of the Seas and Anthem of the Sea's have a SeaPlex, featuring an enormous indoor multi-deck fun zone – the largest indoor sports and entertainment complex at sea. It boasts bumper cars, a rollerskating rink, a regulation-sized basketball court and even a circus school with a flying trapeze, among other recreational offerings. This two-level carnival-like play space also features cruising's first food trucks, because you just gotta grab a dog after spin on the bumper cars.
Check out our video summary…
12 Adrenaline Rushes To Experience On a Cruise