Any person who has ever wandered out of their house on a nice evening only to find themself at a bar with a cool drink in their hand can understand the very simple motivation that got them there. When we head to a bar, we're looking for three simple things: some human contact, some smooth cocktails, and a change of scenery from our living room. When it comes right down to it, those first two factors are pretty much a given no matter where you decide to grab a beer. People are people and drinking is fun, which is why bars can thrive pretty much everywhere. That third element, the "change of scenery" is an all-too important factor that can make the difference between a place with booze, and a one-of-a-kind drinking experience. When you're traveling the world and you need some respite from the city streets, just swing through one of these amazing rooftop bars for a change of scenery you will never forget.
1. Hotel Bagués, Barcelona
Even if you can't afford to spend the night at the Hotel Bagués, no trip to Barcelona is complete without taking the time to have a drink on La Terraza del Bagués, the hotel's beautiful rooftop bar that offers panoramic views of the city.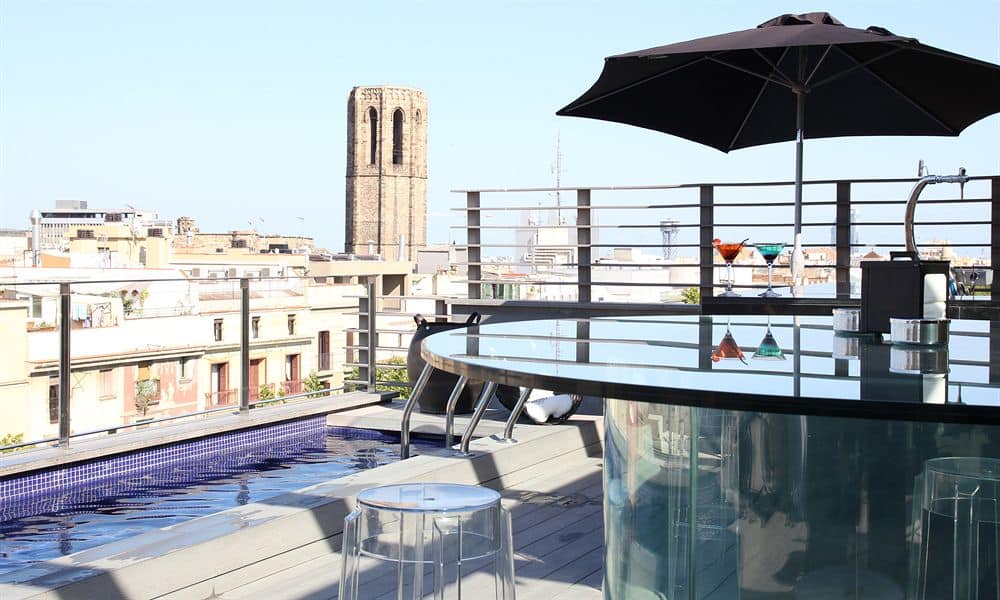 2. AER, Mumbai
Sprawling across the entire roof of the Four Seasons hotel in Mumbai, AER is a sleek, modern open-air lounge on the 34th floor of the hotel. AER is open year-round, even during India's monsoon season.
3. Long Island Summer Lounge, Frankfurt
If you find yourself in Frankfurt during the summer months, then be sure to hit the Long Island Summer Lounge, which offers amazing views of the German city. You'll need to pay an entry fee to visit, but the moderately priced drinks and beautiful scenery more than make up for it.
4. Sky Bar at Sirocco, Bangkok
The faint of heart need not apply to Sky Bar located inside the world famous Sirocco restaurant. The bar is built on top of a precipice which hangs more than 820 feet in the air. Thanks to its fantastic views and unique cocktails, Sky Bar has become a much revered destination for the glitterati.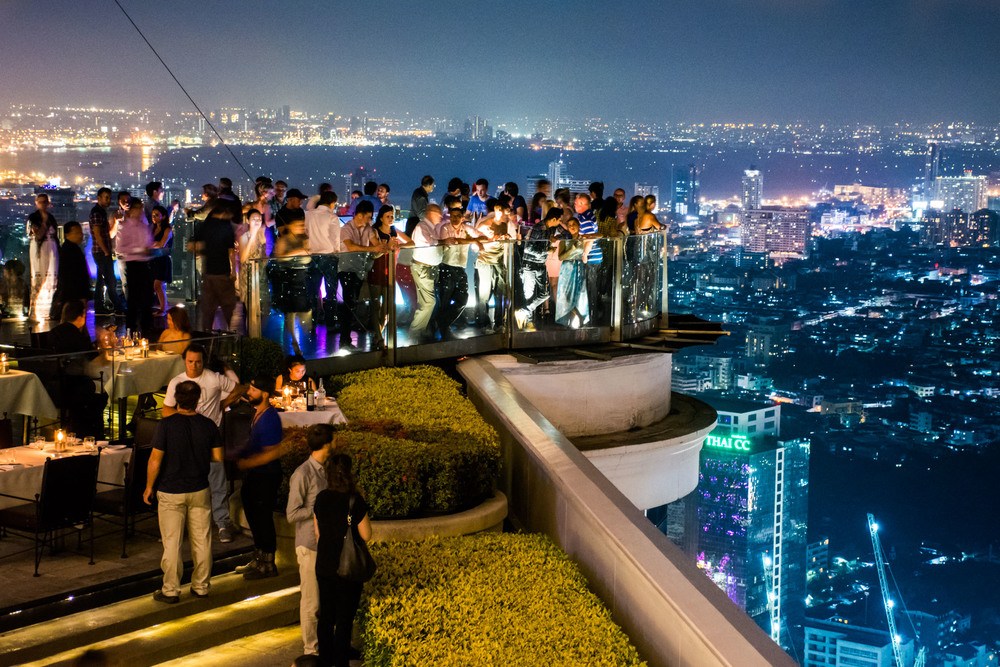 5. Rock Bar, Bali
Set nearly 50 feet above the Indian Ocean, Rock Bar is maybe the best place in the world to simply sit, drink, and watch a sunset. You won't miss the city for a second when you're soaking up the natural world that surrounds this expansive, but comfortable rooftop bar.
6. Radio Rooftop, London
The skyline of London stands as one of the most consistently fascinating features of the historic city, and you can see everything its got to offer from Radio Rooftop in London's famous ME hotel.
7. Ce La Vi, Singapore
The subject of an exhaustive recent renovation and name change, Ce La Vi was built with the phrase "adult playground" in mind. One visit to the bar will explain exactly why.
8. La Dolce Vitae, Barcelona
Just in case the beautiful view of Barcelona's skyline wasn't satisfying enough, the owners of La Dolce Vitae also hired a world famous muralist, Philip Stanton, to spruce the place up. One of the world's rare rooftop bars that also afford the opportunity to take a dip, La Dolce Vitae really is a special bar experience.
9. Hotel Excelsior, Naples
Located at the top of Naples' charming Hotel Excelsior, the rooftop bar provides breathtaking views of surrounding Capri and Vesuvius, as well as the vast oceans.
10. Ozone, Hong Kong
Visitors to Hong Kong's Ozone rooftop bar have nothing but nice things to say about the establishment. Whether discussing the attentive service, the solid drinks, or the gorgeous views of surrounding Hong Kong, the reviews are universally glowing.
11. Flair, Shanghai
Located on the 58th floor of the Ritz-Carlton in Shanghai, Flair caters to both diners and loungers alike. If you're just their to grab a drink, then you'll be treated to come wonderful views on the bar's comfy couches.
12. Room 09, Santiago
If you want to catch some incredible sites, but you're not much of an "al dente" dining person — if you're not sure what that is, then you probably aren't an al dente dining person — then you might like Santiago's Room 09, a speakeasy-style bar that delivers not only awesome views, but truly incredible service. Their bartenders are actually famous.
13. Le Bain, New York
Stunning scenery isn't enough for Le Bain, a night club that sits atop The Standard Hotel in New York's Meatpacking District. The famous hotel is also known for its impressive guest DJs who turn the rooftop hangout into a cutting edge dance club every week.
14. The Glenmore, Sydney
Enjoy a relaxed drinking and dining experience at the Rooftop on the Glenmore Hotel in Sydney, Australia. The hotel's drinks and cuisine alike are the reasons both travelers and locals flock to the beautiful location.
15. Skye Bar, São Paulo
Not to be confused with Bangkok's rooftop offering, the Skye Bar is a destination bar with an identity all its own. If you're visiting São Paulo and you want to experience both the beauty and culture of this truly interesting city, then the Skye Bar is a good place to start.
16. The Blue Room at The Ides, New York
Located in the world renowned Wythe Hotel in New York, The Blue Room at The Ides offers splendid views of the Manhattan skyline in a contemporary, inviting art-deco inspired bar.