Theme parks are getting bigger, better, faster and scarier all the time. Each one wants to outdo the other with their latest thrill rides. Besides the obvious meccas like Universal Studios and Disney, there are many adrenalin-pumping parks around the world. Death-defying drop towers, dizzying swings and even homespun kinetic coasters are just a few rides out there that will take your breath away. Dare to take the plunge on the world's tallest coaster. See if you're brave enough to ride the rails backwards or perhaps in the dark. Brace yourself for a serious rush and discover these 10 exhilarating theme parks that are not for the weak of heart.
10. Carowinds, North Carolina
This amusement park is actually part of both North and South Carolina. The newest ride is by far the most thrilling in the park. The Fury 325 reaches a height of 325 feet making it the tallest Giga Coaster in the world. Riders will reach speeds up to 95mph while zooming though both North and South Carolina state lines. Other epic rides include a sling shot that shoots riders 300ft into the air reaching speeds of 65mph, and the first stand up roller coaster in the South. A wonderful kid zone completes this awesome theme park that's fun for the whole family.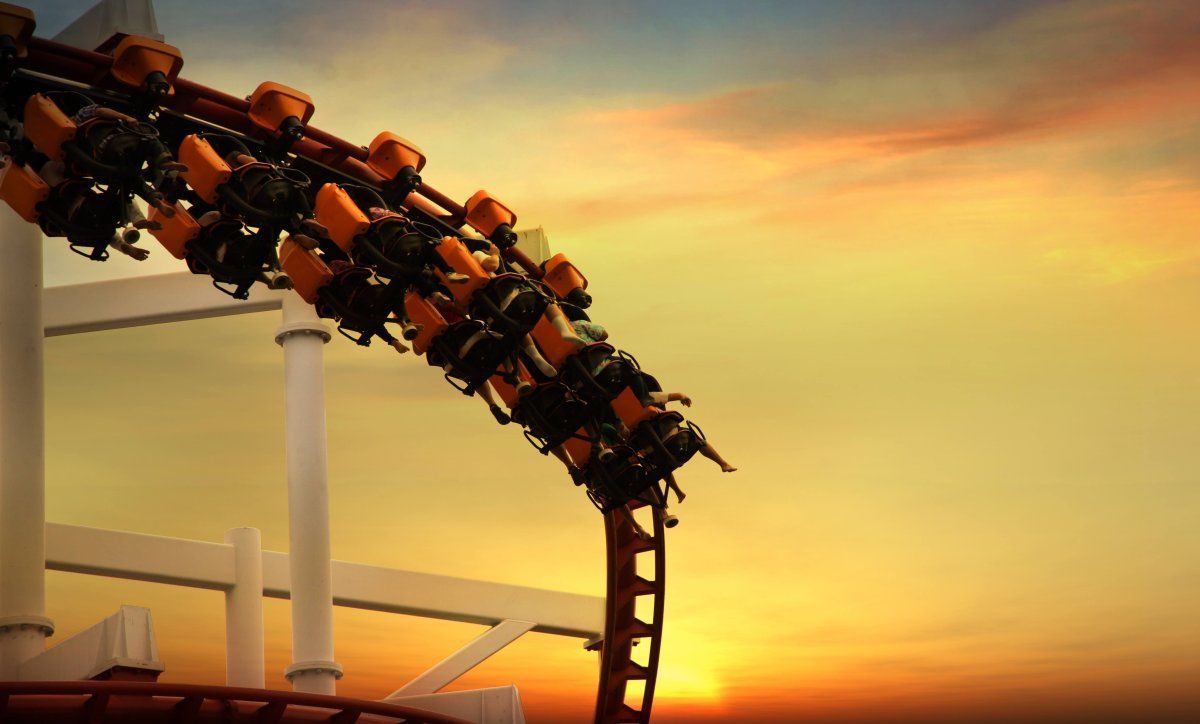 9. Kings Island, Ohio
This adventure center is full of record breaking rides, and is considered one of the most exhilarating theme parks in the world. Home to Banshee, the longest inverted roller coaster, along with the longest wooden coaster, this park is made for adrenaline junkies. Sadly, the one and only wooden coaster with a loop was shut down in 2012. With over 80 rides, a newly renovated waterpark, 14 spine-tingling coasters and a slew of family fun activities, this Midwest park is not to be missed.
8. Belantis, Germany
One of the youngest theme parks on this list, Belantis has only been around since 2003. Favorite thrills at this one include a log ride through a pyramid, and a super steel coaster that is among the world's tallest. Control your own destiny rides are a unique twist to this park with boats and airplanes being steered by the riders. You select how daring a ride you want to take. As this park continues to expand, expect to see even more envelope-pushing coasters and innovative rides.
7. Ai Pioppi, Italy
A whimsical playground constructed entirely by hand is what awaits visitors at Ai Pioppi. Built bit-by-bit to promote a restaurant, it has expanded into a unique amusement park over the past 40 years. These homespun motor-free rides include a giant tilt a whirl, hand powered swing set, rope swings and even a kinetic coaster that has you swooshing through the forest. They may not be the fastest, tallest or most thrilling rides, but there is an element of danger. There are no safety measures, no laws and no seatbelts here.
6. Ferrari World, Abu Dhabi, United Arab Emirates
Ferrari World claims to be the world's largest indoor amusement park and holds the record for the fastest roller coaster in the world in 2015. Formula Rossa flies riders through the air reaching speeds of 150mph and is designed to induce the same G force that Formula One drivers feel when they are at full throttle. Other attractions include go karts for adults and kids, a 4D speed of magic experience, state of the art racing simulations and a coaster based on a real GT course. Although it doesn't offer as many choices for rides as some other parks, Ferrari World is truly one of the most exhilarating theme parks in a land where everything moves faster.
5. Six Flags Magic Mountain, California
A whopping 19 roller coasters gives Magic Mountain the world record, and it doesn't disappoint in terms of excitement. Bigger and better is the motto here, and in 2015 a new wooden steel hybrid coaster will be the first of its kind. It will allow riders to race from start to finish on dueling tracks. Over half of their coasters are rated at the top of the thrill-o-meter, but that doesn't mean there is a lack of family activities. The park is separated into nine zones, each with their own distinct rides, attractions, and food service venues. There are 18 other Six Flags parks around the world, and all are sure to wow you.
4. Thorpe Park, UK
Home to the "World's Most Terrifying Coaster", Thorpe Park consists mainly of extreme tracks and thrill rides. The UK's first winged coaster is here and features a unique twist that allows riders to experience the coaster backwards. Other heart-pumping rides include a coaster that propels riders from 0-80mph in under two seconds and the Slammer, a 360 freefall experience. If you need to cool off, head to one of many water rides that offer big splashes and lots of laughs.
3. Tivoli Gardens, Denmark
Copenhagen's Tivoli Gardens isn't the most badass amusement park in the world, but it is definitely one to experience. Built in 1843, it's the second oldest theme park on the planet, and it's a heritage treasure. In fact, it was said to be Walt Disney's inspiration for his own whimsical worlds. Throughout the lovely landscaped gardens and exotic buildings are some decent rides. It boasts one of the oldest wooden roller coasters and tallest carousels anywhere. Beyond these classics, there are some modern thrill rides that rival other exhilarating theme parks anywhere. The Demon roller coaster features loops and a zero-G roll, and the Aquila ride is a giant spinning swing with 4G centrifugal force.
2. PortAdventura, Spain
The largest theme park in Spain is full of stomach-dropping roller coasters, towering waterslides and home to the future Ferrari World. The park is divided into six different themes complete with coasters, family rides, shows and restaurants. For those brave enough to try the Shambhala: Expedición al Himalaya, expect to whip down at 83 miles per hour on the tallest hyper-coaster in Europe. Head to the water park where the tallest free fall waterslide sits at a whopping 31 meters tall. Parades, fireworks and incredible shows round out this awesome theme park.
1. Cedar Point, Ohio
Known as the roller coaster capital of the world, it is no surprise this amusement park offers much in the way of fun and adrenaline. It has won numerous awards and set many records for having the most coasters over 200 feet, most visited seasonal amusement park in the US and more. Eleven out of their sixteen coasters are rated at the highest thrill level including the tallest and longest steel wing coaster in the world. Drop towers, screaming swings, log flume rides and upside down twisty thrillers are all part of the dizzying appeal here.