We all like to complain about air travel these days, what with the reduced leg room, lack of meal service, cranky flight attendants, security hassles and constant nickle-and-diming. Today's consumers definitely have some legitimate gripes, especially when compared to the glamorous "golden age" of air travel of the 1950s and '60s. But were things really all that great back in the vintage days of commercial aviation? Let's take a look back through time to do a reality check on what was really going on up in the air, and highlight some of the good and bad aspects of this often glorified era.
1. Flying Was Crazy Expensive
Before you start complaining about Ryanair and EasyJet, remember that back in the 1950s and '60s, an airline ticket was significantly more costly than today's flights. For example, a 1955 round-trip ticket from Chicago to Phoenix on TWA cost $138, which, adjusted for inflation, equates to $1,168 today. However, factoring average salaries in the '50s compared to now, what costs about 1 per cent of an annual income today used to amount to 5 per cent of an annual income then. Would you really want to go back to a time when a short flight could put you back a month's salary?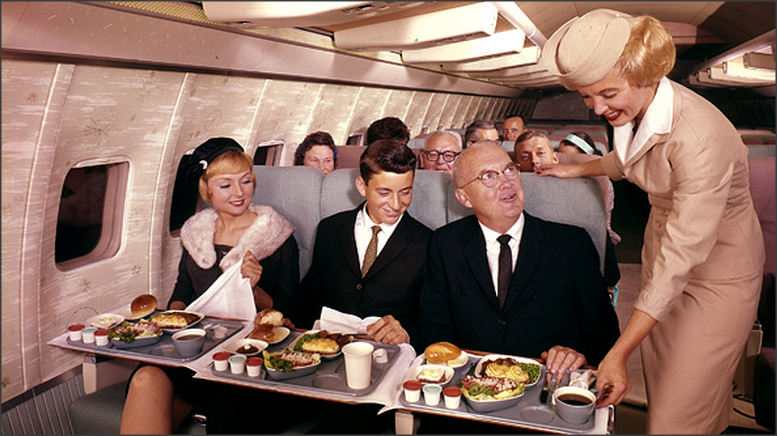 2. Flights Were Five Times as Risky Back Then
No only did you pay about five times more for your tickets back in the day, you had five times greater odds of being injured or killed, too. Statistically speaking, there were plenty more airplane crashes and accidents in that so called golden era. Today, flying is one of the safest forms of travel, with only 1.33 fatalities per 100K hours of flight. Back in 1952, that number was 5.2 fatalities, even considering that the amount of passengers on American airline carriers is up 42 times over the past 60 years. Back then, landing in fog was hazardous. Mid-air collisions happened relatively frequently. Engines dropping off of airplanes was shockingly commonplace. Turbulence caused more injuries (including neck snapping!) due to lower cabin ceilings and inferior seat belts. Glass dividers that once separated economy from first class could shatter. Even airplane bathroom design was full of sharp edges and safety snafus that wouldn't cut it in today's strict standards. Maybe we should stop and appreciate all the little advancements we've made over the years rather than whine about not getting peanuts anymore.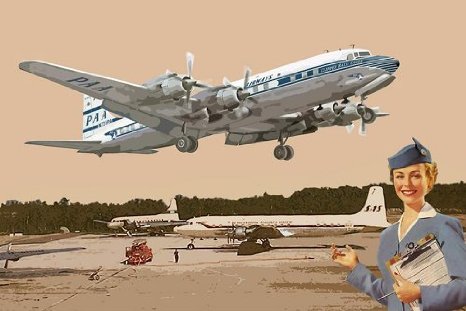 3. Remember All That (Cough!) Second Hand Smoke?
Insensitive chain smokers may lament the change, but the rest of us have to acknowledge that today's nonsmoking policies have made flying much more pleasant these days compared to the halcyon days of old. Being trapped in a chamber full of secondhand smoke for eight hours or more was horrendous. There was a time when pipes and cigars were commonly lit up in the sky, as well as cigarettes. Even if you opted for a non-smoking seat, everyone was inhaling the same fousty air. The only time smoking was prohibited back in the day was while the plane was still on the ground, as they didn't want to risk igniting fumes. Beyond that, people could puff away at whim. It's kind of shocking to remember that the smoking ban only started happening in 1988 for flights under two hours and didn't become widespread on longer-hauls until 1998. Beyond the health hazards it was just, for lack of a better word, yucky.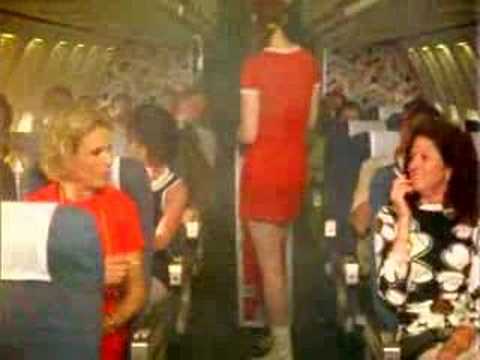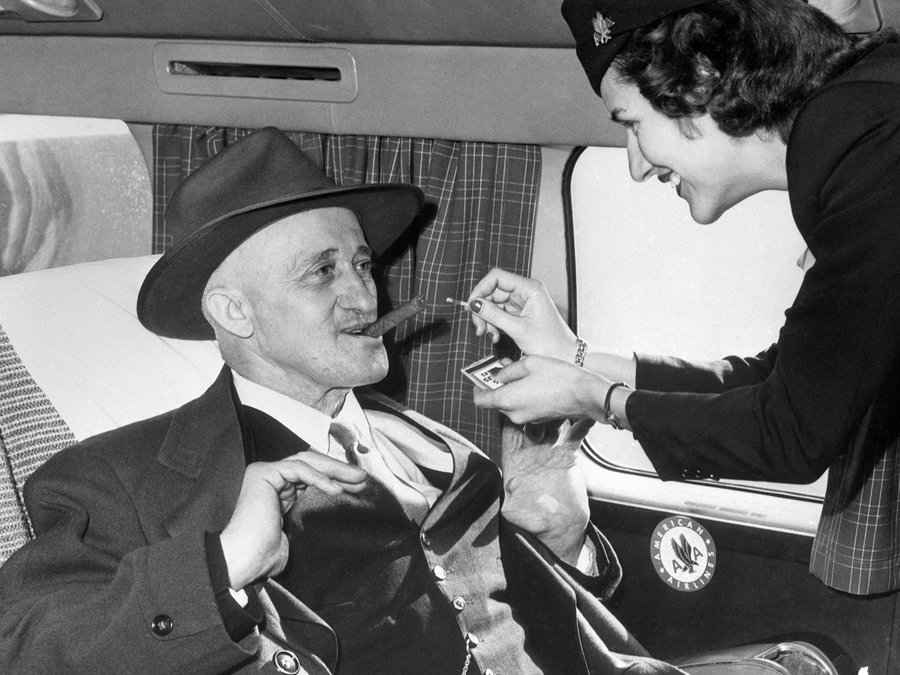 4. It Was a Party in the Sky
It sounds kind of retro-cool to think about all that sky-high boozing and schmoozing back in the golden days of aviation, but would we really want to go back to that free-flowing time? Getting hammered at 35,000 feet was more commonplace then, as there were no real restrictions or guidelines on alcohol consumption. There wasn't much else to do up there, so tossing back cocktails Mad Men style was de rigueur. On one hand, the excessive drinking didn't tend to lead to much violence or air rage, as the flights weren't that crowded back then. On the other hand, it did lead to such unpleasantness as staggering down the aisle, groping of stewardesses, loud singing, plenty of vomiting (not due to airsickness) and other obnoxious behavior. But check out those funky air lounges!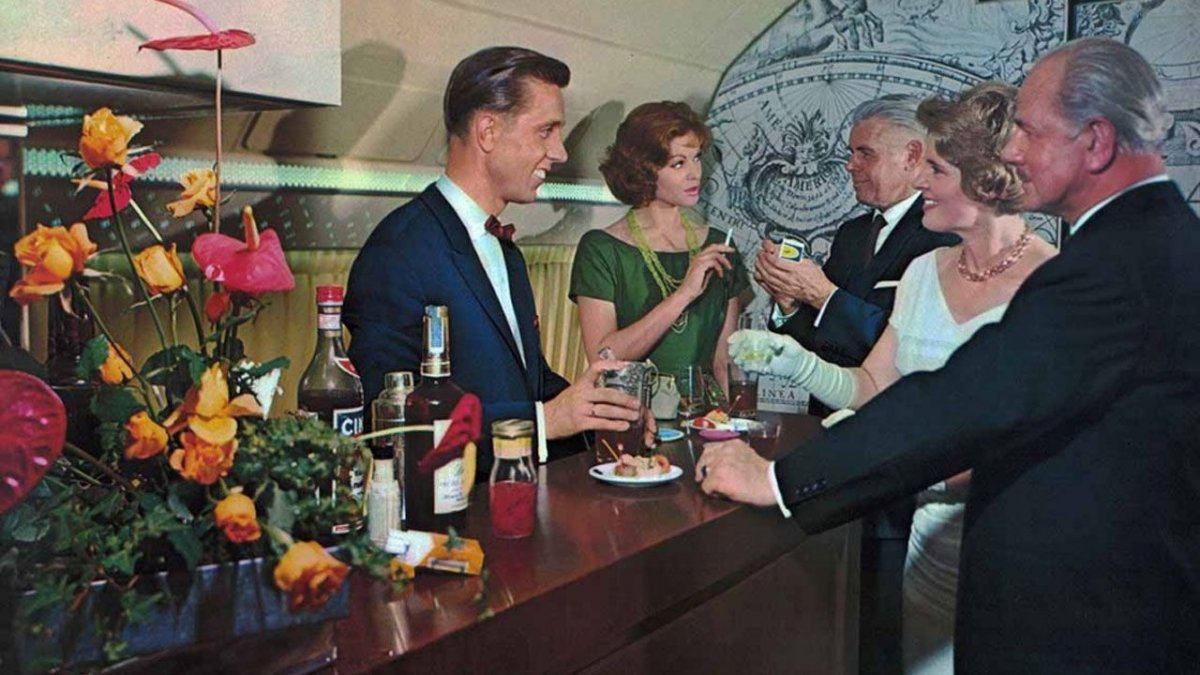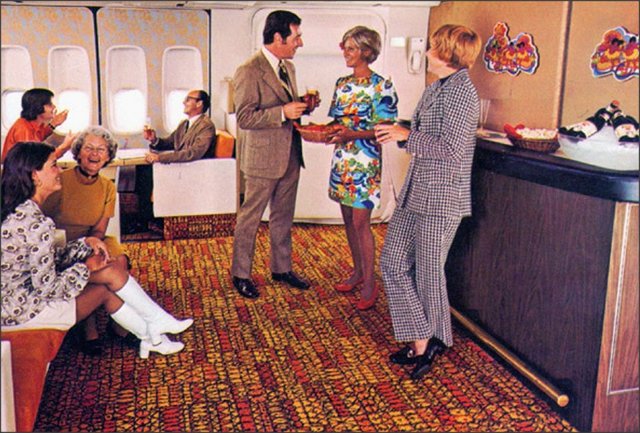 5. Extreme Boredom
Before you get all nostalgic about the good old days, remember that back then there were no movies, seatback entertainment systems or music channels to plug into. There was no WiFi or power to plug a laptop into. Nobody had iPhones or tablets or game consoles or e-readers to distract them for the duration of the flight. Once you flipped through a magazine, finished a crossword puzzle or read a book, there was not much to do (except drink, see #4). Staring out the window only goes so far, and conversation gets old when you're stuck in a seat for hours on end. Yes, these were simpler times – and maybe we were better for it. But today's attention spans probably couldn't handle going back to that era when constant distractions and amusements weren't forever at our fingertips. On a quaint note, 1950s airlines used to hand out postcards to passengers so they could write about the flight to their friends on the ground. Try giving some postcards to tween flyers today and see how long that engaging activity lasts them.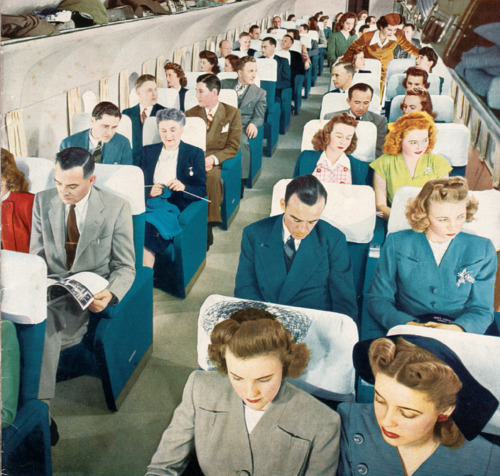 6. No ID Required for Domestic Flights
It wasn't that long ago that passengers were allowed to walk on a flight without any ID check. A ticket agent might glance at your boarding pass to make sure you were getting on the right plane, but there was little to no security verifying you were who you said you were. Passenger screenings were instilled in 1973, so before then, you could simply show up at the airport about a half hour before take-off, and friends could walk you to your gate to see you off. Times have changed.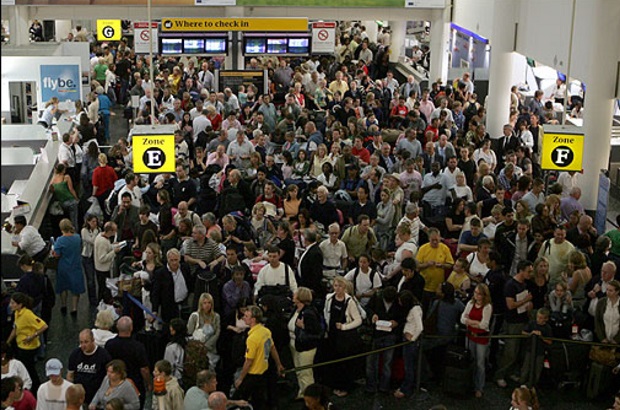 7. Rampant Racism
Before we look back to the past through rose colored glasses, remember that there wasn't a lot of diversity in the skies back in that era. The stark reality is that really only white people took airplanes, mostly due to cultural and economic barriers. With a median 1950s income of just $1,471, the average African American simply couldn't afford the luxury to fly. Even if they could, remember the 1950s and 1960s were a time of racial segregation, and if black people weren't permitted to sit next to you on a bus, they sure weren't welcome to sit next to you on a plane. Especially in the American south, discrimination was widespread and most airport facilities were segregated, so even if a "colored" person could afford to fly, most chose not to. If you saw a black man at the airport back then, chances are he was a porter. Apparently the airlines used to train their telephone operators to pick out African-American voices so they could try to keep them away from white passengers. It's disgraceful to even think about this now, but before you get all nostalgic for the golden age of travel, don't forget about this racist aspect. Things started to change in 1958 when Ruth Carol Taylor became the first black stewardess for Mohawk Airlines, and in 1965 when pilot Marlon D. Green won a suit against Continental Airlines. It wasn't until 1994 that Patrice Clarke Washington became America's first female Black commercial airline captain. The wheels of progress move slowly.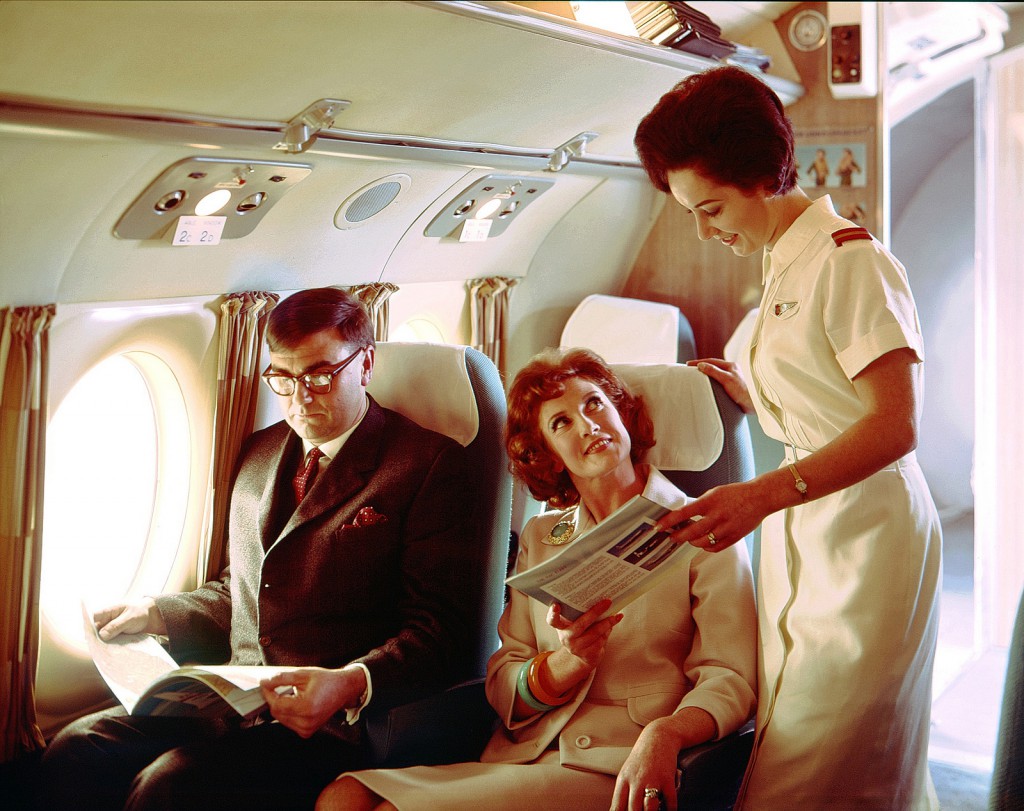 8. Stewardess Weigh-Ins, Mandatory Girdles and Other Affronts
Back in the day, being a stewardess was a highly glamorous job, almost akin to being a model or movie star today. However, airline recruitment practices for these coveted "air hostess" positions were a cringeworthy feminist nightmare by today's standards. Depending on the airline, they were looking for single women between the ages of 21 and 27, with a "neatly proportioned figure" and "pleasing appearance." Some airlines specified that their recruits be between 105 and 135 pounds, and would make them weigh-in. There would be girdle checks. Hair, makeup and nail care were part of the training curriculum. TWA bragged that they only picked 3 per cent of the applicants, due to their stringent beauty requirements. There was a whole ad campaign bragging about how the average tenure of a United stewardess was only 21 months before she found a husband (as if that's the ultimate goal for a gal).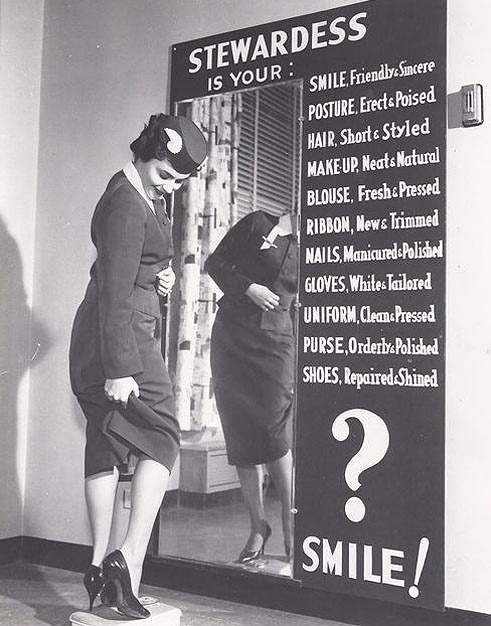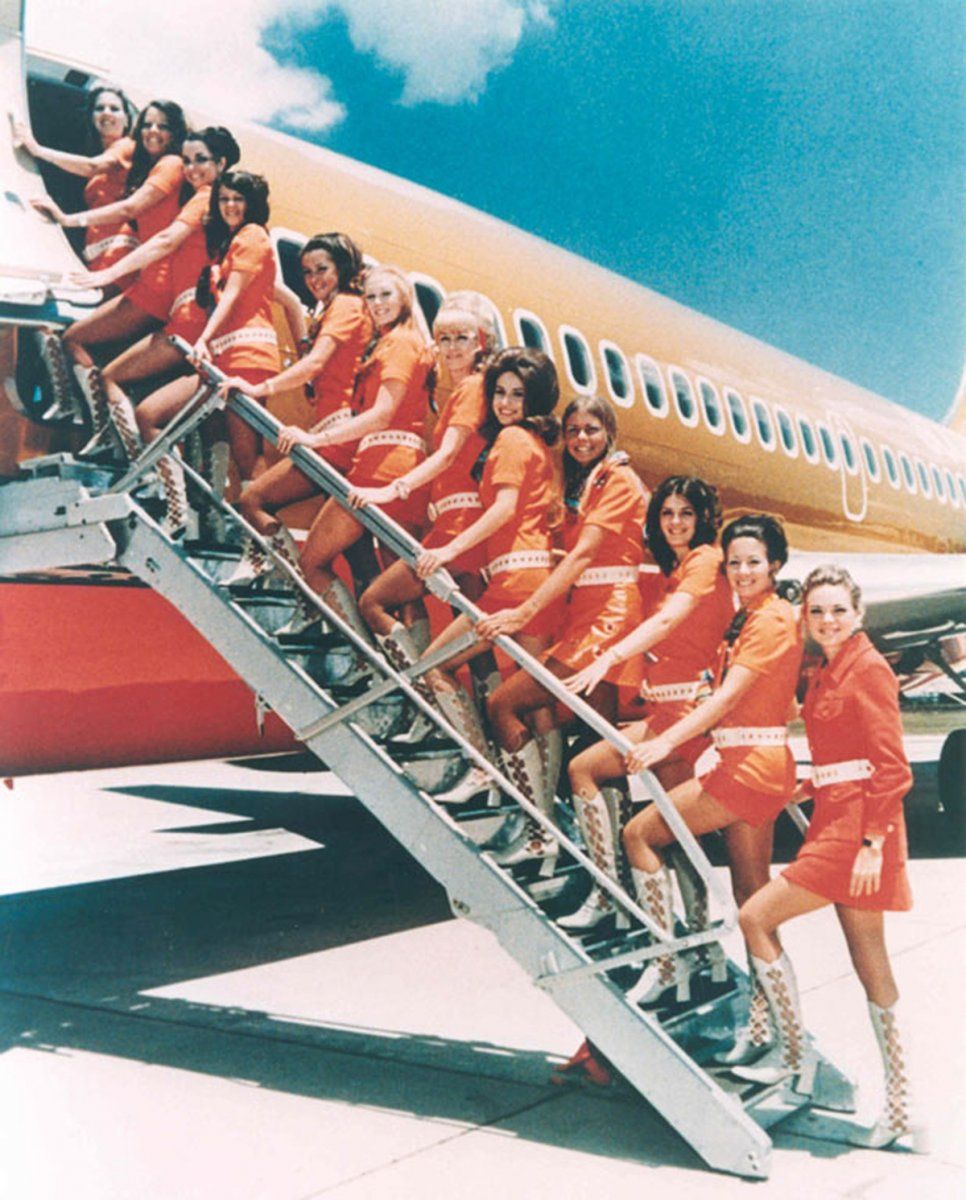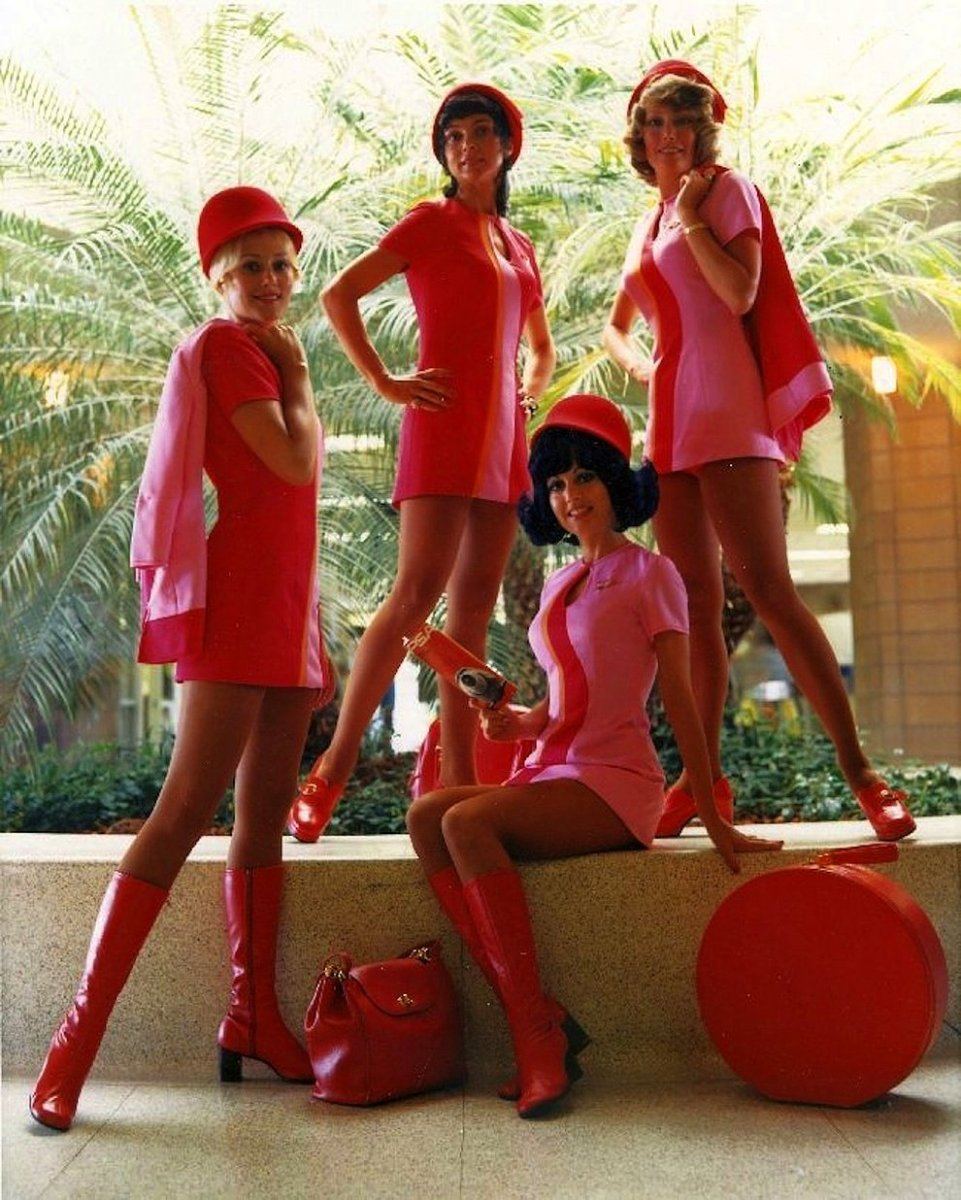 9. Sexist Ads
Can you believe some of the advertising that was put out during that so-called golden era of air travel? We all know sex sells, but they really pushed that concept back in the 1950s and '60s. Ad agencies must have grabbed hold of the idea that the majority of airline passengers were male (some estimate up to 80 per cent in the late 1960s), so they packaged up the pretty air hostesses like alluring geishas of the sky.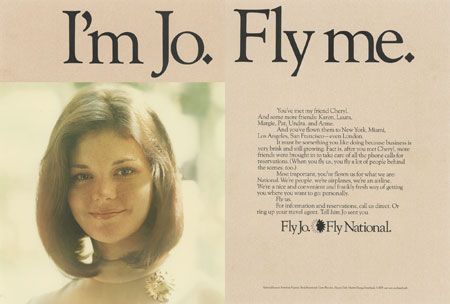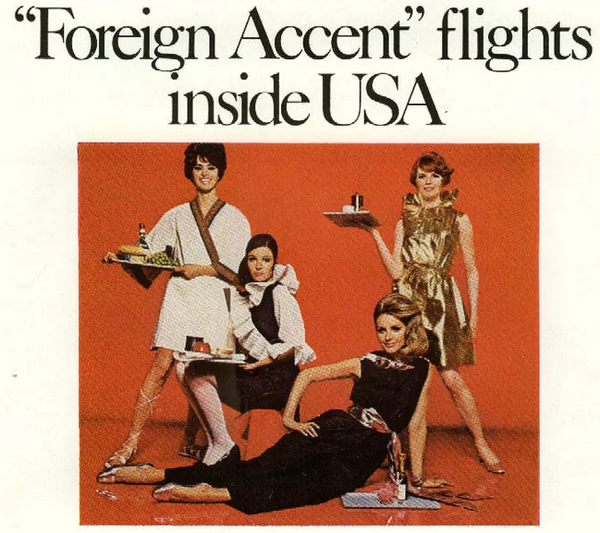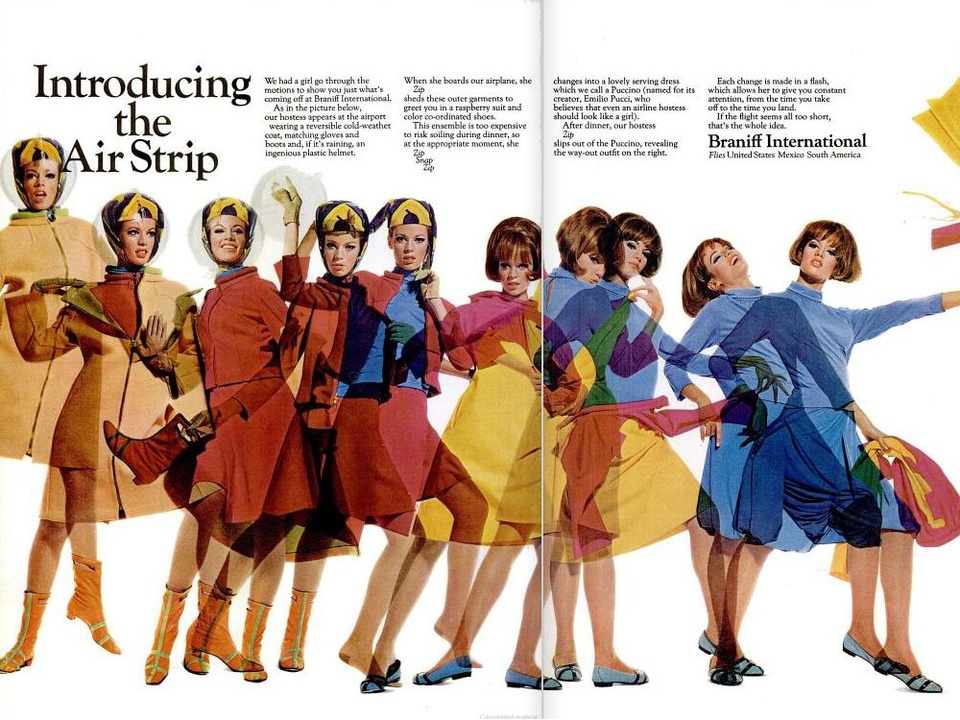 10. Damn, the Food Was Good Though
The quality of airline food has been a legitimate complaint for decades, but you have to admit some of the first class offerings back in the glory days were impressive. White glove service on crisp linens, bone china and crystal glassware. Steaks cooked to order, individually tossed salads and eggs whipped up fresh on demand. Extensive menu options with seven courses, including items like lobster thermidor, chateaubriand and table-side carved roasts. Can you imagine those carving knives on today's flights?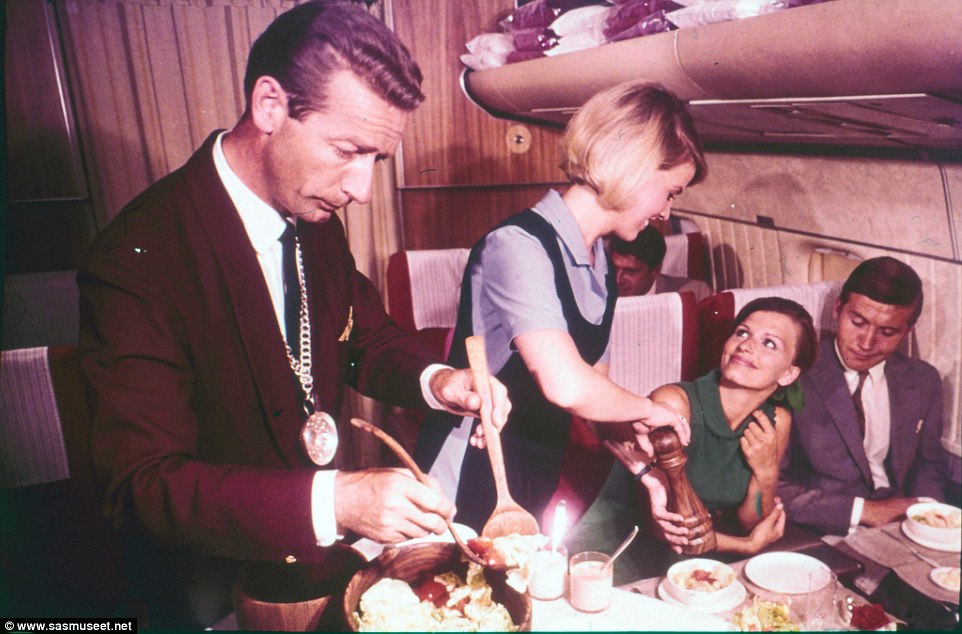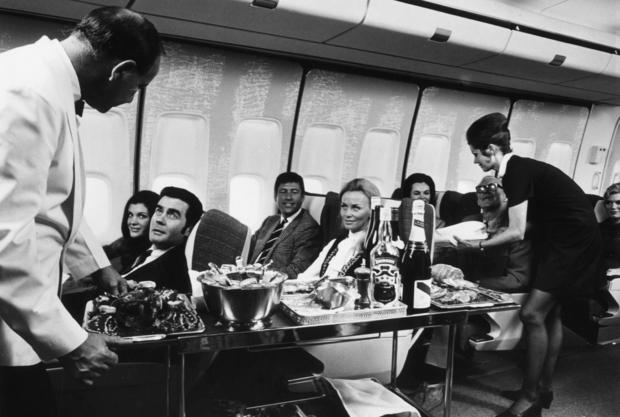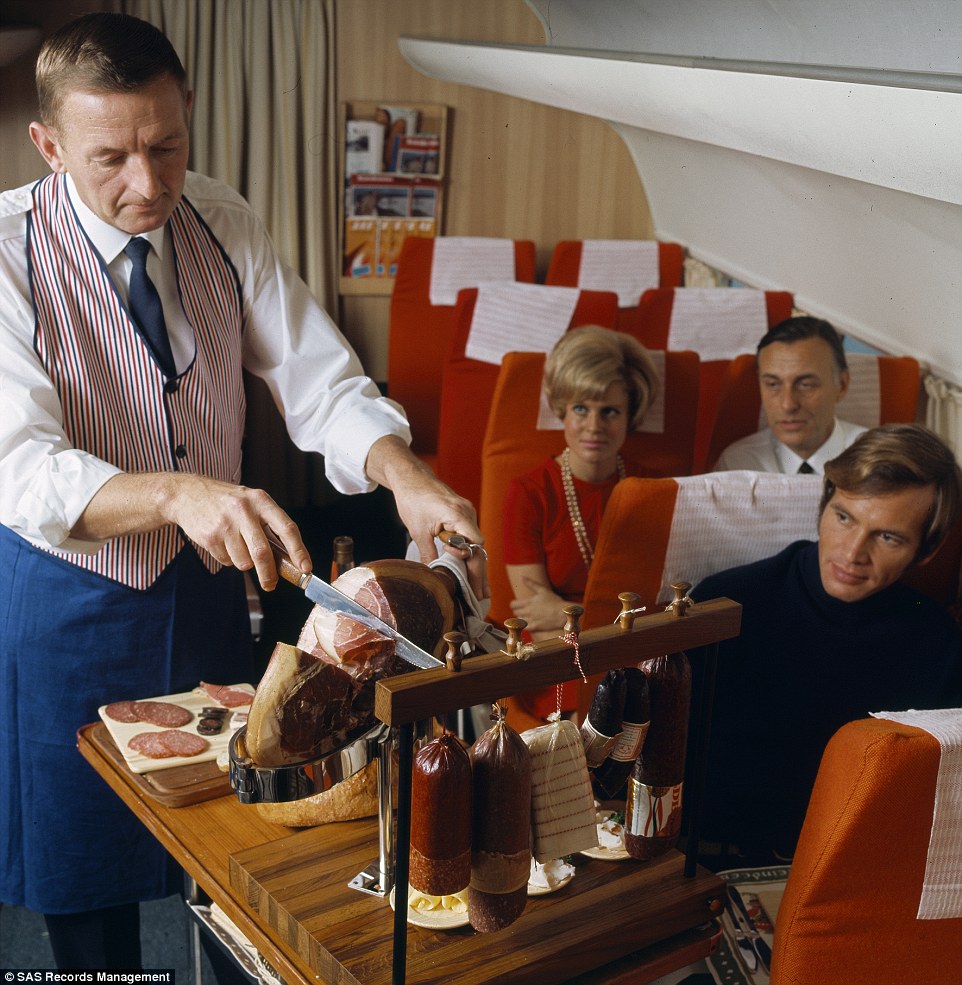 11. And Look at that Legroom!
Back in the 1950s, economy class seats had about three to six inches more legroom than today's sardine-packed planes. Coach was almost as roomy as business class is now. As for first class, that was really spacious. Today's first class offerings are still pretty swish, but coach has really gone downhill.