Fastidious flyers and general germaphobes, you might want to wash your hands with antibacterial soap before reading this. A recent study by Travelmath set out to show just what parts of a plane are particularly unsanitary. They sent a microbiologist to collect 26 samples from five airports and four airplanes. Believe it or not, the bathroom isn't the dirtiest spot on board the aircraft. While it's not possible to avoid contact with all microorganisms while you're up in the air (or anywhere, for that matter),there are some icky places in an airplane you should be a bit wary of. Here are 8 tested areas on an airplane that yielded dirty results.
1. That Tray Table is Crawling with Critters
Topping the ick list is that handy tray table you no doubt eat off of, work on and perhaps even rest your head on (shudder). The study detected 2,155 CFU (colony forming units) per square inch on the average table top. So if you drop your pretzel directly on the surface, don't think of innocently putting it in your mouth. The ten second rule doesn't apply here. You might want to bring some hand sanitizer or antibacterial wipes to sweep over the tray before using it.
2. The Drinking Fountain Could Be Contaminated
Think you're doing the right thing by hydrating before hopping on a flight? Well, if you're using the public water fountain at the airport, this might not be the best idea. The drinking fountain buttons, often found outside airport lavatories, were found to have 1,240 CFU per square inch, making it the second nastiest surface you might encounter on your journey. Please drink up or fill up your water bottle, but you might want to wash your hands after touching this festering button.
3. You'll Be Blown Away by What's on your Overhead Air Vent
We all like to adjust the air flow in the stuffy cabin, but you might want to think twice before touching that vent. It seems that little nozzle has an average of 285 CFU per square inch. Lots of germy hands touch those things, but they're often overlooked by the cabin cleaners. However, breath easy that the recirculated inflight air is actually HEPA-filtered and quite clean. In fact, it's filtered about 20 times per hour which is better than your average office building's 12 times per hour.
4. The Flush is Flourishing With Microbes
It's no big surprise that the "press to flush" button in the airplane lavatory makes the list of ickiest places in an airplane. After all, that claustrophobic germ-breeding closet is bound to be a bit funky after a flight full of usage. It might surprise you, however, that the flush was only found to have 265 CFU per square inch – positively pristine compared to the tray table. It's no doubt because the room gets a relatively thorough cleanup between flights, so extra care is taken on these kinds of surfaces. You still want to give a good soap and hot water hand washing after using these facilities, though.
5. Sorry, But Your Seatbelt Buckle is Bacteria-ridden
You have no choice but to touch this one at least twice per flight. Buckling up is required by law, even if those clasps were found to have and unsettling 230 CFU per square inch. That's not much cleaner than the toilet flush, but significantly more sanitary than the tray. Just do it and try not to think about it too much.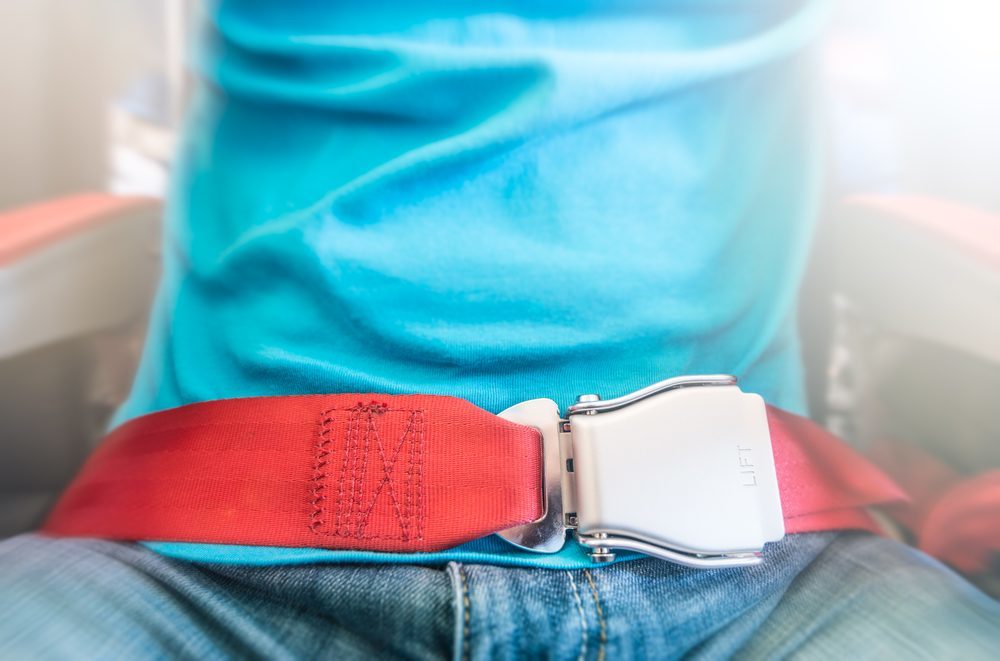 6. Lather Up After Touching the Bathroom Stall Lock
Privacy is important, but touching that lock on the airport bathroom stall will expose you to 70 CFU per square inch. Good news, the study didn't find any fecal coliforms like MRSA or E. coli in their analysis on this or the previous items on this list. You don't have to be a hypochondriac about infectious diseases when taking to the skies, but most passengers can attest that it's quite common to come down with a bug after a flight.
7. There's More than just Safety Instructions in your Seat Pocket
The following two items didn't come up on the Travelmath study, but they are known to be unclean. You never know what's lurking and breeding in that dark seat pocket in front of you. People put all sorts of junk in there, including chewed gum, snotty tissues, dirty diapers and the like. The fabric, which is only superficially cleaned at best, can cling to all sorts of germs for quite some time. Researchers at Auburn University found that pathogenic MRSA can live at least a week on a seat-back pocket.
8. Blanket Yourself in Bacteria
Complimentary pillows and blankets are rare to find on flights these days. It's a factor of courtesy cutbacks, but also a hygiene issue. Word got out that those comfort items were rarely washed, resulting in fibers that can be quite foul when examined under a microscope. Just because that they come in a sealed plastic bag doesn't mean they've been sufficiently sanitized. Bring your own pillows and blankets if you want to stay healthy.
All this being said, don't get too paranoid about virulence on a plane. If you have a reasonably healthy immune system, wash your hands frequently and stay hydrated up in the air, you should be able to handle all this germ exposure without much issue. Besides, your computer keyboard or mobile phone your using right now is probably more contaminated!