It's the intelligent traveler who always keeps their health in mind when they're in transit. On the road and in the sky, bacteria and infection are around every corner (and on every surface). Health is such a concern, in fact, that the world's largest and most prestigious science competition just awarded a $75,000 grand prize to Raymond Wang, a 17-year-old who just invented "fin-shaped devices that fit into [an] airplane's existing air inlets" redirecting the flow of air throughout the plane and considerably diminishing the spread of germs. It's a revolutionary device that may not only help you stay healthy when you're in flight, but may help stem the spread of infectious disease from country to country. Of course, application of that technology is still a few years away. In the meantime, here are a few tips to help keep you healthy while flying.
1. Don't Booze Before You Fly
When you're traveling, dehydration is your enemy, and one of the biggest mistakes people make before getting on a plane is throwing back a little booze or burning one down. Drinking alcohol and smoking marijuana increase your body's dehydration. When combined with the low humidity in most airplane cabins, your resistance to germs is lowered drastically. If you feel like a drink to calm your nerves, try some melatonin instead.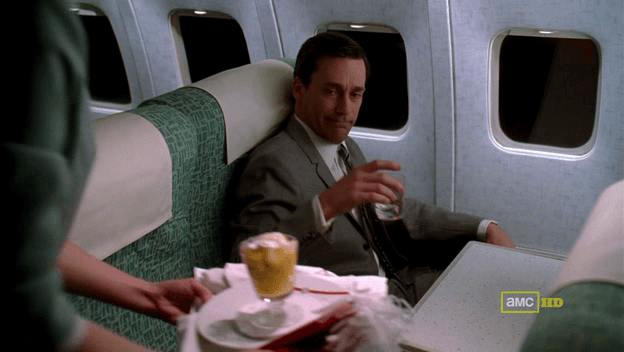 2. Take An Empty Water Bottle Through Security
The people working security at airports get real persnickety when you try to carry a bottle of water through an airport, but that doesn't mean you can't bring an empty vessel through the checkpoint and then fill it up at a water fountain once you're on the other side. Don't feel like bringing an empty bottle? Buy a bottle of H2O at a convenience store near your departure gate, because whatever you do, don't drink the airplane water (more on that in a second).
3. Wear Your Glasses
Contact lenses can dry your eyes out something fierce, so it's a good idea to wear your glasses when you're about to fly. Veteran travelers recommend wearing your contacts up until you're about to board the flight, swapping to specs for the flight, and then popping your contacts back in once you've landed at your destination. This will keep your contacts in your control the entire time, and the less time they're off your face reduces the risk of them drying out. If you must wear your contacts in flight, bring a bottle of contact solution under 100ml to make sure they stay moist.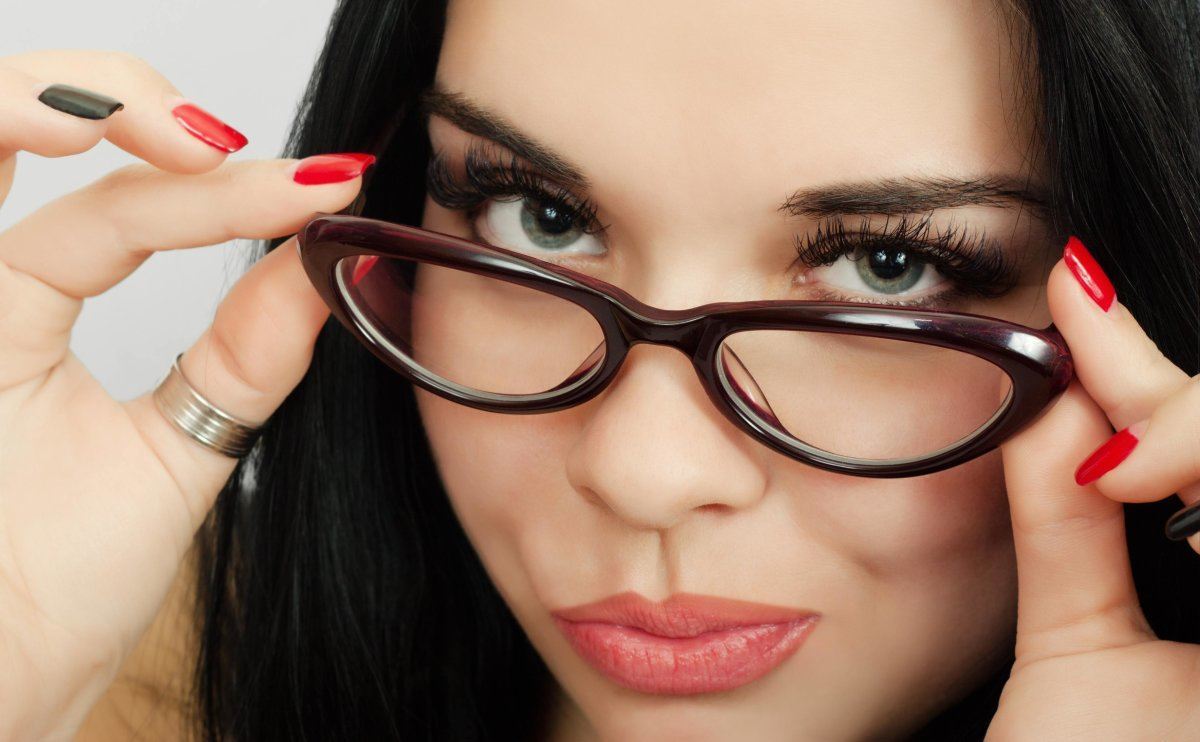 4. Pee Before You Board
If you're going on a shorter flight, get your bodily business out of the way before you board. This will minimize the risk of actually having to step foot in the airplane's bathroom which is, statistically speaking, the grossest part of the plane (because poop lives there). If you must use the airplane's facilities, it's strongly recommended that use some hand sanitizer even after washing your hands. Especially after washing your hands (yep, even the handwashing water on planes is icky).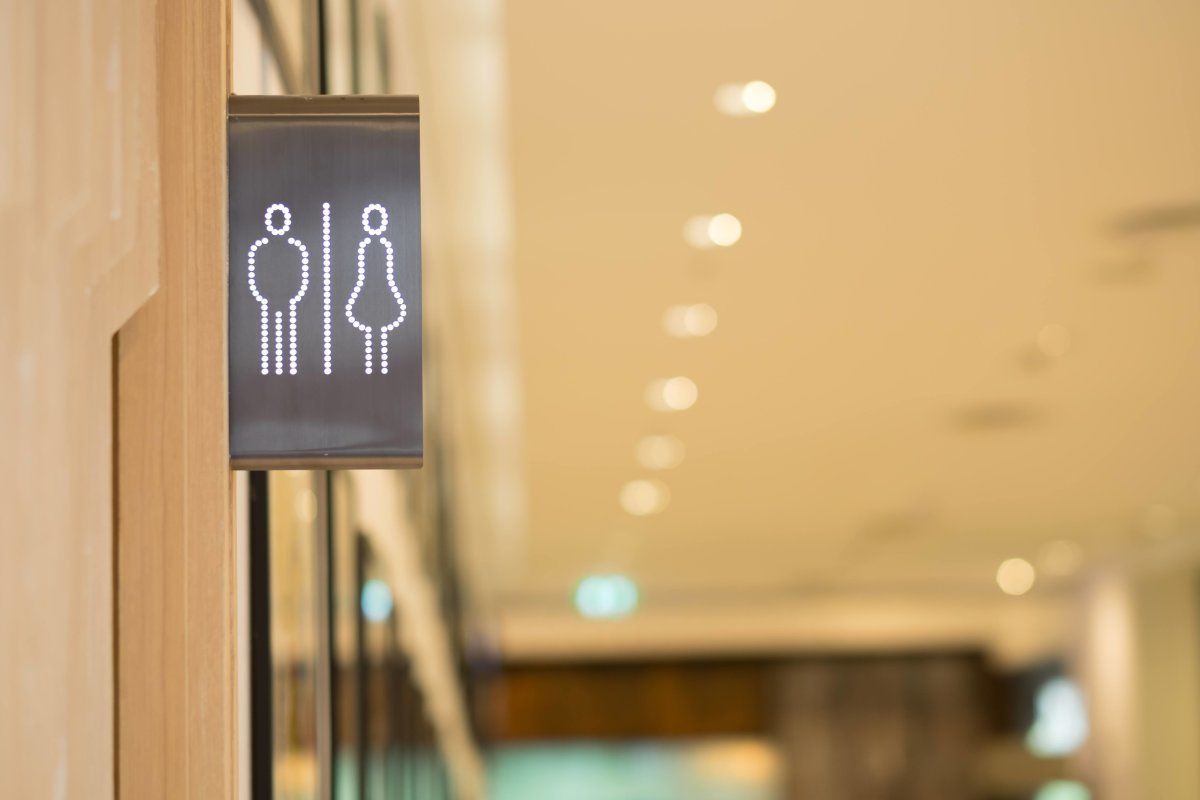 5. Wipe Down the Seat
Okay, this is a tip you can avoid if you really care what others think of you. If you're the kind of person who's above caring because you won't ever see these people again after a flight (so who cares what they think?), then bring anti-bacterial wipes on board and take a few seconds to wipe down the seat and tray table before actually sitting down. This will help kill some germs before you actually sink down into your seat. Better to be perceived as a crazy fastidious person than to get sick, right?
6. Avoid the Water
So, let's just avoid any unpleasant mentions of e. coli and just say that airplane water is nasty. When you're on the plane mid-flight, pretend like you're visiting a third world country. While the issues aboard flights have been largely addressed, it's still a good idea to only drink something that was packaged prior to takeoff (so steer clear of coffee and tea, too). The EPA says airplane water is safe to drink if you don't have a surpassed immune system … but really think about that. Should anybody be consuming that? Better safe than sorry, so stick with bottled water on a plane. An never ever take a sip from the bathroom sink as it's really not potable.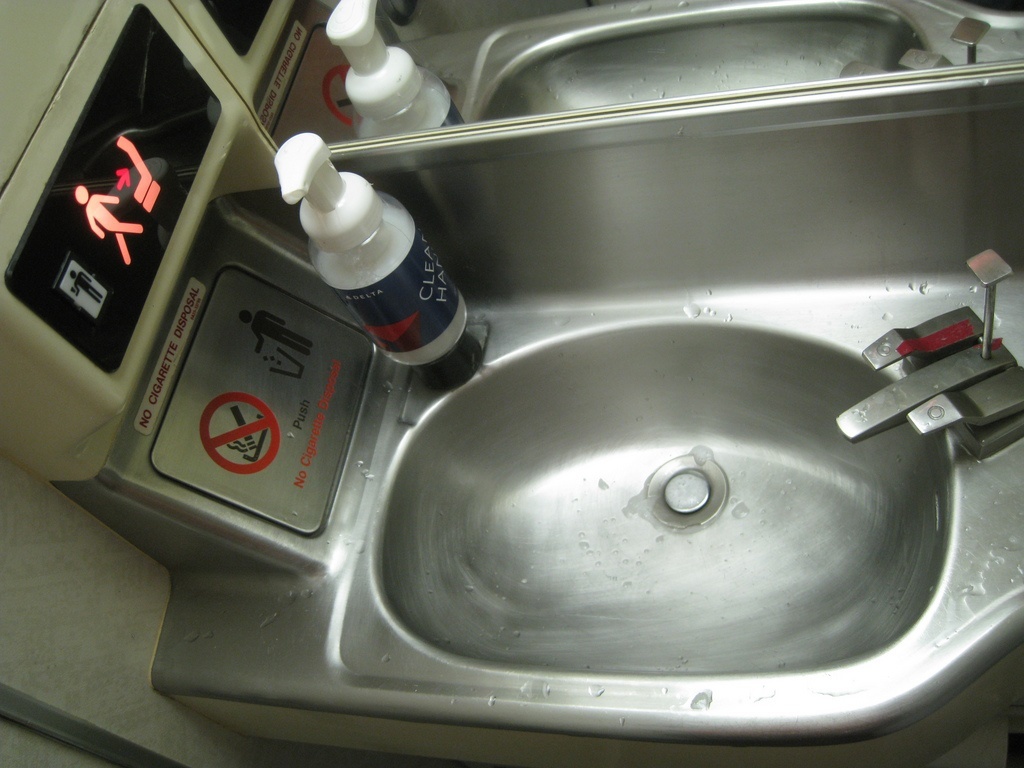 7. Keep Those Hands Clean
As we mentioned earlier, keep some hand sanitizer with you in case you're forced to use the plane's bathroom. But that tip actually works for the entire flight. Viruses like MRSA can live on plane surfaces for weeks at a time. Before you touch anything native to the plane, it's a good idea to spritz a little hand sanitizer on your hands just to be on the safe side. And, hey, while you're at it …
8. Keep Your Hands To Yourself
It's probably best just to touch as little as possible while you're on the plane. Obviously some contact is unavoidable, but do yourself a favor and keep it to a minimum. Hand sanitizer is a valuable germ deterrent, but it can't get the job done 100 percent of the time. Like a sex ed teacher would say, "The best defense is not engaging at all."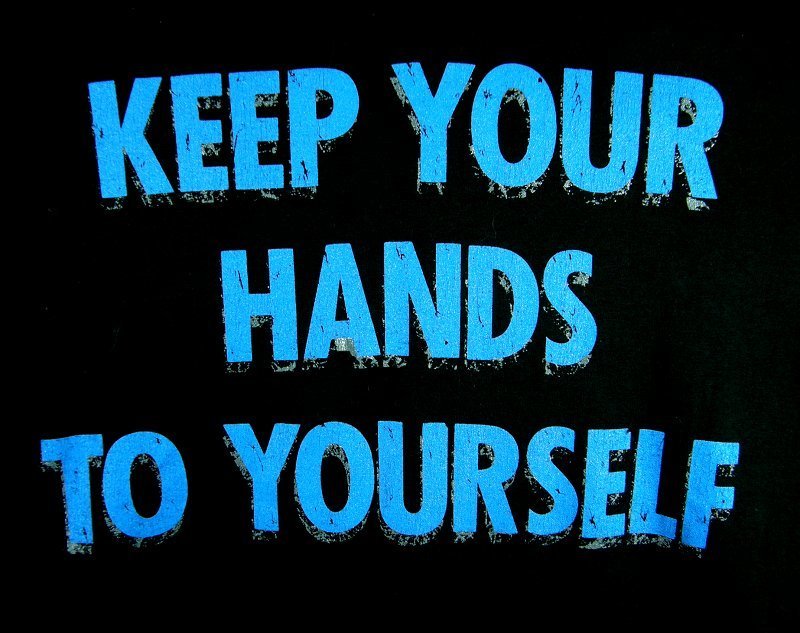 9. Don't Touch Your Face
When we say keep your hands to yourself, that also means keeping them off your face, too. Believe it or not, your skin is pretty tough. It's designed to keep contact with harmful bacteria to a minimum. Your eyes, nose, and mouth, however, are the gateway to your insides. Dry eyes are common on planes and touching your eyes ups the potential you'll catch some nasty bug.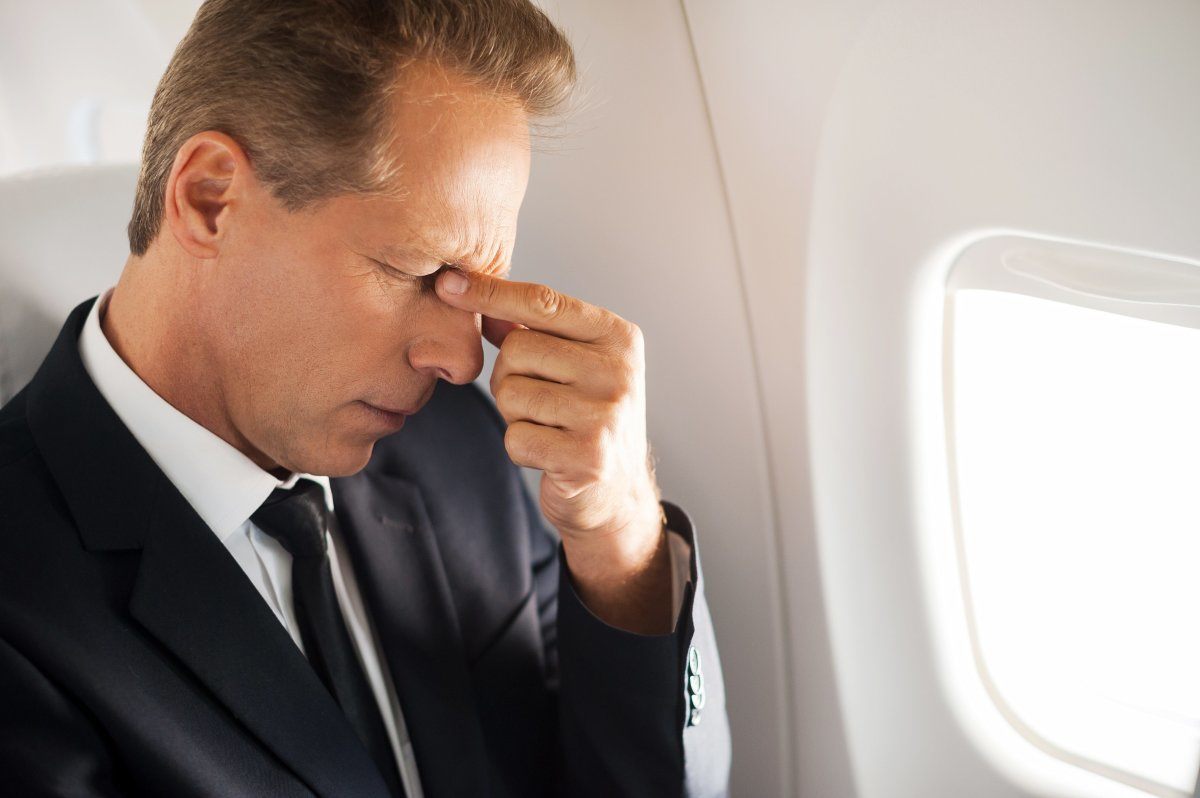 10. Use the Vent They Provide
You know the little valve of air conditioned air the airplane provides? Use it. Keep the stream of air flowing directly in front of you. You should feel it on your hands when they're in your lap. This keeps a constantly flowing stream of air in front of your face, which pushes airborne bacteria down, away from your face. This also helps minimize the spread of your own germs should you be the unlucky soul who brought a cold on the flight.
11. Pack A Pillow
If you're going to sleep, bring a pillow and a blanket (or at least one of those U-shaped neck deals). Ever since some H1N1 scare a few years back, most airlines have discontinued the practice of providing their own pillows, and the ones they do provide to travelers are nastier than a hotel bedspread. Unless the airline is offering a freshly packaged pillow (not repackaged) avoid it altogether. You can roll up a sweater or something in a pinch.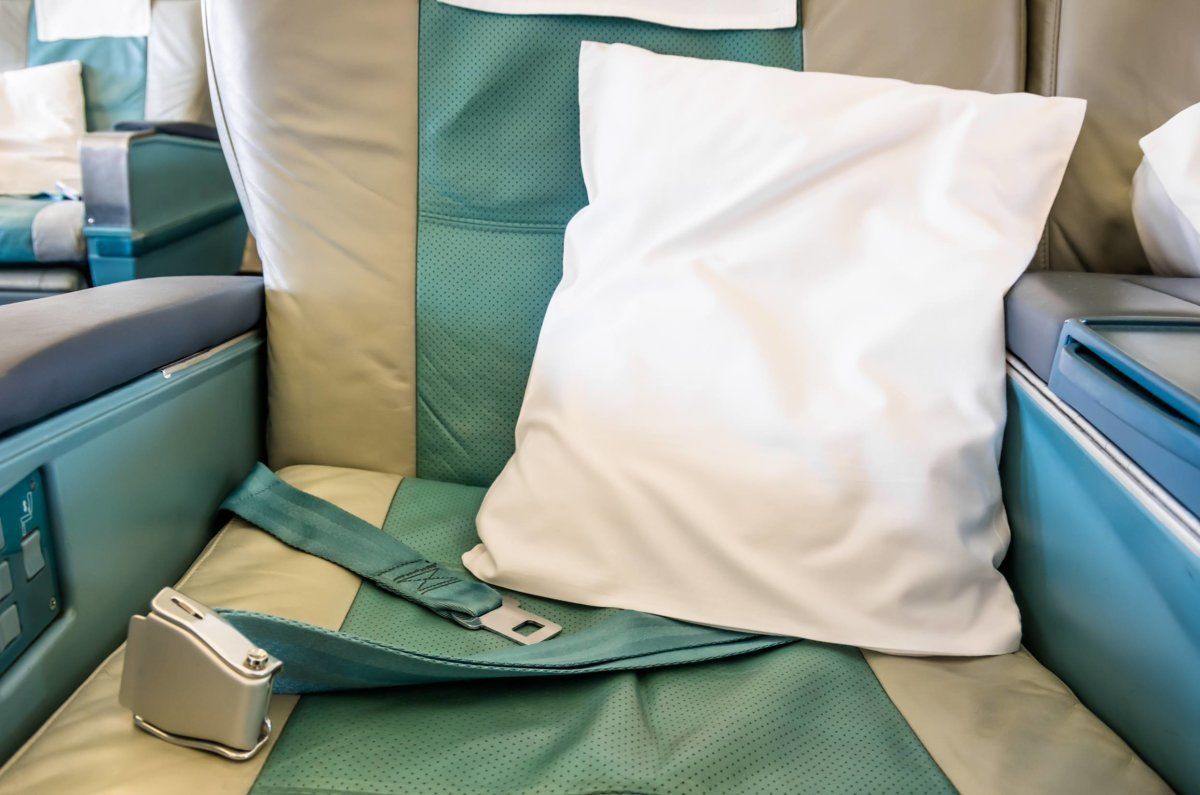 12. Avoid the Food
Eat before you get on the plane or bring your own snacks on board the flight. After the decades of stand-up material about how revolting most airline food is, that should just be common sense even if you're not trying to avoid an illness. A study found a disturbing amount of health violations in airplane food prep, including rodents, roaches, poor refrigeration, dirty cooking areas, poor employee hygiene and the like. A bag of Doritos is always a better alternative than whatever it is that passes for food on an airplane (well, those that still bother to serve anything).
13. Get Up and Walk Around
Increasing the blood flow to your entire body is a solid way to avoid infection during the flight. If you're going to be in the air for more than an hour or so, consider walking up and down the aisles and/or doing some small exercises in your seat (ankle rolls, shoulder shrugs etc…). Most airlines provide exercise information in their in-flight magazines, and here are a few moves to help prevent deep vein thrombosis on long flights. Just, uh, try not to make a ton of eye contact with the other passengers while you're airplane exercising, otherwise you risk coming off as that creepy person on the plane.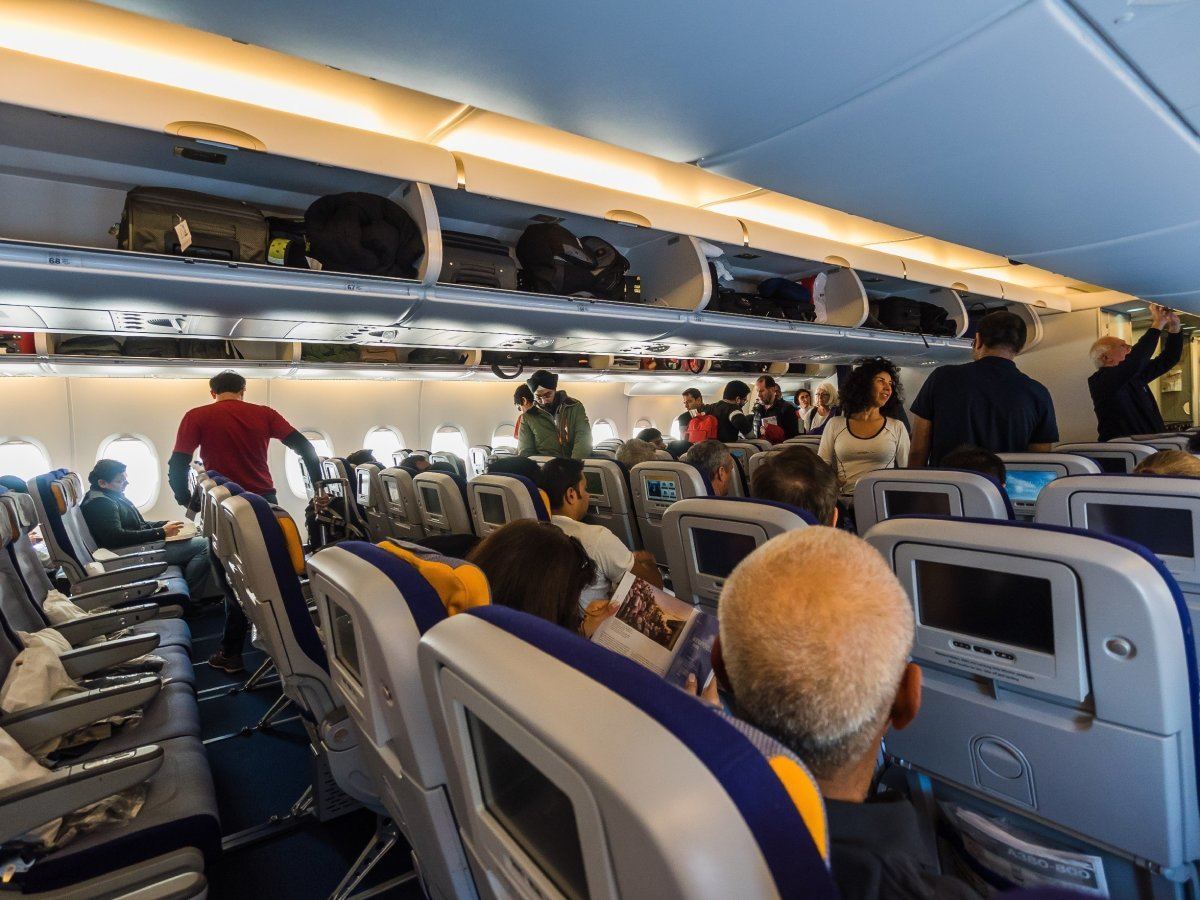 14. Sneeze Into Your Arm
This is just a good tip for life: when you're in public and you're about to sneeze, sneeze into your elbow pit (not your hand). This helps reduce the spray of germs and helps keep your fellow passengers that much safer. If you're issues persist, don't sniffle. Be an adult and blow your nose, a move that also helps reduce the spread of germs. If you're feeling extra-charitable to both your fellow passengers and your immune system, wash your hands afterwards, too (then use hand sanitizer, too – see number 7).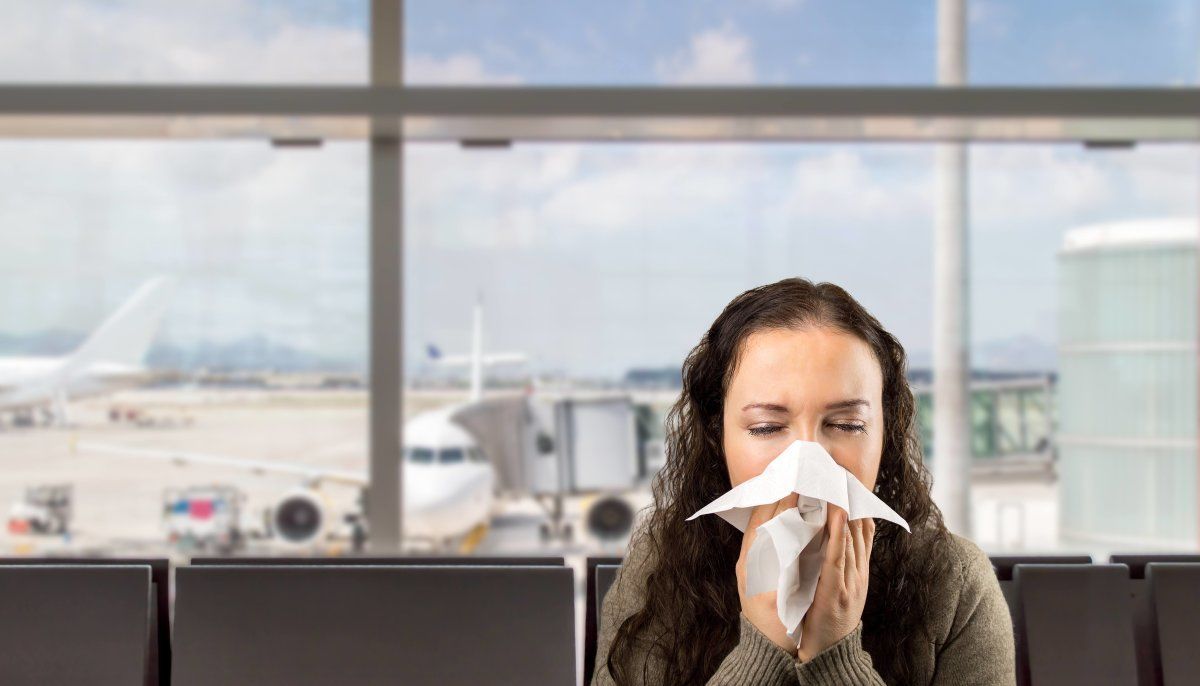 15. Don't Sleep Through Landing
Anyone who's ever been on a flight can tell you that the sudden changes in altitude involved with flying can cause a pain or pressure on your ears. The phenomenon is called "airplane ear" creatively enough, and it's easy to avoid. First off, stay awake during take off and landing. Being conscious helps your body adjust to the changing altitudes. Then, either force yourself to yawn or, better yet, chew some gum to get your Eustachian tubes (the bit of your head affected by the altitude shifts) in motion.