What's one of the things many travelers dread? Bad airplane food. Complaints have become so common over the years, that in some cases it's probably a blessing when airlines decide not to serve food at all. There is hope though, as a new movement of culinary-conscious airlines has begun to emerge. These carriers offer five-star meals that can enchant even the pickiest of eaters, and may change your negative opinions about airline food for good. Some are striving to be like a fine restaurant only in the sky. Granted, most of the best airplane meals aren't offered in coach, but not all of the following recommendations are the exclusive domain of first class. Getting hungry? Read on.
1. Get Elegantly Tipsy on Air New Zealand
Cinnamon roasted-pumpkin hummus and white beans and Moorish chicken with saffron-spiced tomato broth are just some of the delicious options on Air New Zealand. With menus created by acclaimed chef Peter Gordon, Business Class just got even better. On top of this, the airline has joined forces with Sonoma-based Linda Murphy and Beijing's Fongyee Walker, to aid in lounge and in-flight wine selections. Makes sense as over one million bottles of wine are served annually on the carrier.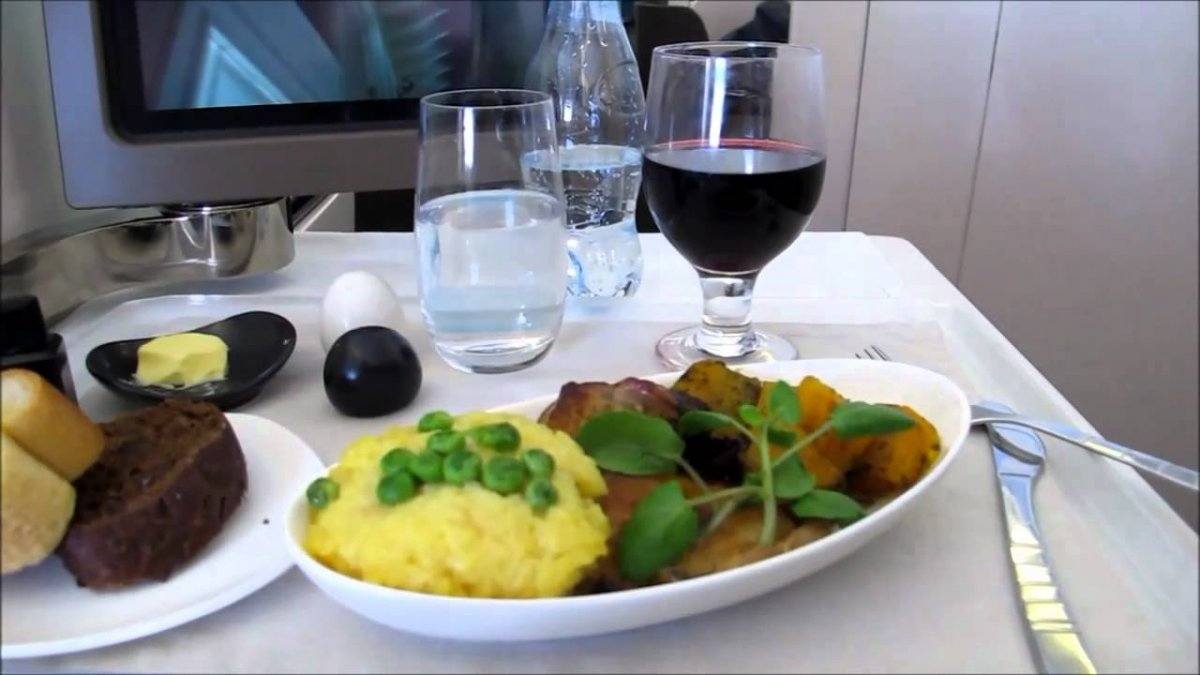 2. Wash Your Canapes Down with Dom Perignon on Emirates
Imagine a First Class flying experience where a champagne pairing menu is just waiting for you to take advantage of. Dubai-based airline Emirates offers Dom Pérignon Vintage Rosé 2003 and six delicious canapés as a starter. Teriyaki-marinated duck breast with curried apricot and apple chutney, and Persian feta, fig, and truffle honey on walnut baguette, are among the delights to make you feel you're traveling across the world in a five-star restaurant. Also available on the airline are multiple Middle Eastern-style dishes including lamb stew and Arabic meze. The menu and amenities on this airline are always well-received.
3. Chef's Table With Wine on Hawaiian Airlines Not Just for First Class Passengers
The Featured Chef Series courtesy of Hawaiian Airlines is not only a great way for local Aloha State chefs to reach a larger audience of potential diners, but it also ensure that the airline always has amazing Pacific Rim-style menus for its First Class cabins. The airline is the only domestic carrier that offers complimentary meals across classes, along with a glass of wine picked by Chuck Furuya—Hawaiian master sommelier. So even though you might not be in First Class eating from chefs like Jon Matsubara, you can be certain that your culinary experience won't fall flat.
4. Cathay Pacific Airways Brings Fine Dining from the Madarin Oriental Hotel to the Skies
By partnering with luxury hotel group Mandarin Oriental, Cathay Pacific Airways has been able to wow travelers with incredible menus. From consommé with a tea bag of dried flower petals and gold flake, American-style grilled cheese croutons with slow-roasted tomato soup, to Hong Kong-style curry chicken with steamed jasmine rice, there's something for every palate. All these custom dishes are courtesy of the hotel chain's renowned New York, Paris, Tokyo, London, Boston, San Francisco and Hong Kong chefs.
5. Living The Mint Life on JetBlue Airways
Premium cabin Mint, found on JetBlue airlines, caused quite a stir when it was first revealed. Not only did it make the airline the first domestic carrier to offer rosé wine, but the SFO and JFK to LAX flights feature Saxon + Parole's seasonal tapas menu. While the NYC restaurant may leave mouths watering in Mint, the service will take on a more Caribbean flair for flights to that region, featuring Caribbean-themed dishes and destination-inspired rum-based welcome drinks.
6. Have a Civilized High Tea on Virgin Atlantic
One airline that is dedicated to producing quality menus whether they're for First Class or Economy is Virgin Atlantic. Approximately five hundred dishes are sampled before a final menu is created, and premium flyers have English sparkling wine, while those in coach can enjoy personal-sized bottles of wine. In keeping with its British roots, passengers often enjoy afternoon tea which can feature crisps, light sandwich wraps, and handmade sweets.
7. Sample Authentic Japanese Flavors on All Nippon Airways
Want a taste of Japan at 35,000 feet? Look no further than All Nippon Airways. Their Tastes of Japan program does an excellent job of featuring the regional cuisine of the country's many prefectures, and you could find yourself with choices like chicken or . . . conger eel. There is eggs benedict with Shonan pork sausages from Kanagawa, foie gras and caramelized local pears Niigata-style, and Shiga beef sirloin to name a few. Already booking your flight huh? Even Economy fliers are treated to great meals.
8. Take Your Choice of Gourmet Meals With Singapore Airlines from Premium Economy and Up
Singapore Airlines' pressurized tasting room guarantees delicious meals at 30,000 feet, all served on Wedgewood serviceware. Their Book Your Cook service takes this up another notch, as travelers are able to choose what meals they'd like to have a day before their flight. The long-haul carrier's gourmet quality food isn't only available in First and Business class. This Book Your Cook extends to Premium Economy class as well.
9. Savor Authentic Cuisine on Thai Airways
When passengers can say they've had "royal treatment" in coach even, that's when you know something good's happening. Thai Airways' authentic cuisine is getting the thumbs-up from travelers who can't get enough of the Asian faire. Patrons enjoy local dishes like stir fried rice with pork and chili, and peanut pad noodles.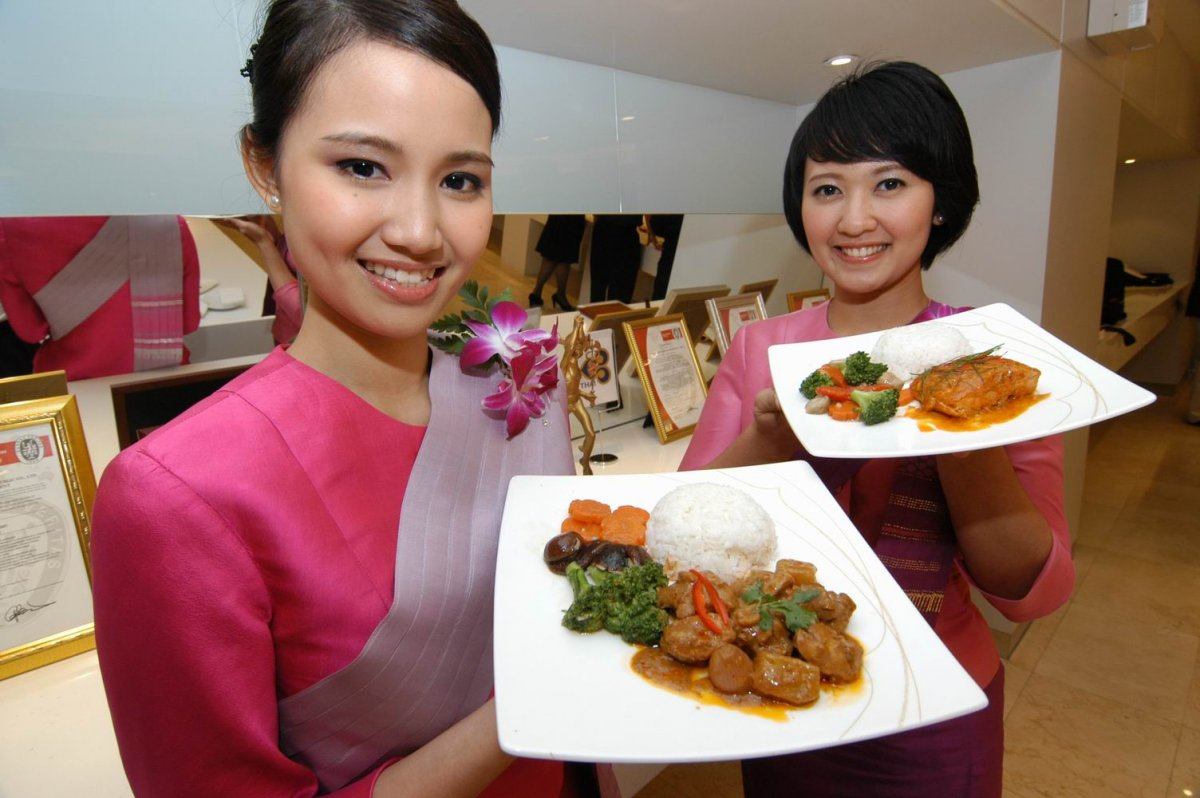 10. Indulge in Delectable Local Favorites on Korean Air
First Class travelers on Korean Air are always in for a treat. This cuisine is already delicious, so when regional specialties like Jedong Korean Ginseng Chicken Soup are thrown into the mix, it's not hard to see why the airline is considered tops for its cuisine. Prestige and Economy travelers are also treated pretty well culinary-wise, with samples of bibimbap—mixed rice—and other Korean favorites like Nongshim shrimp crackers available.
11. Order Your Preferred Meal Before Departing on Austrian Airlines
Vienna-based DO & CO. are the chefs behind the gourmet meals provided by Austrian Airlines. Viennese Schnitzel with a chocolate mousse dessert is a classic local dish that's featured on the airline, and there are many other options to choose from. Those passengers departing from Vienna Airport can place orders up to one hour before they leave, and those in economy can enjoy the gourmet delights by upgrading their meals for a small fee.
12. The Food Service on Turkish Airlines Looks As Good As It Tastes
There's just something about sipping tea poured from a Ottoman-style samovar that elevates the experience. That's one of the extra touches that puts Turkish Airlines on the list. The food is so tasty, one passenger commented that if Turkish Airlines was a restaurant they would dine there. You don't hear praise like that for many airlines these days.