If you're one of those peasants who thinks that camping is about getting back to nature and experiencing a little hardship while experiencing the vast splendor that is Nature, then you obviously don't have enough money to take the comforts of society with you when you head out into the wilderness. Thanks to some serious advances in technology, people with an unlimited pocket book can make camping something that's hardly worth the term "roughing it." Yet, as much as you might realize that these "campers" are kind of missing the whole point of camping, there's also a big part of you that wouldn't mind doing nature in style, just like the privileged few.
1. Just Forget About the Whole Manual Labor Thing
Hiking isn't work, it's refreshing. Rafting isn't work, it's challenging. Pitching a tent, building a fire, finding water, that's work, and when the rich go camping, work simply won't do. When you're glamping, all that menial stuff gets done for you. You simply ride into a complete camp that's been positioned perfectly to maximize your enjoyment without increasing your effort.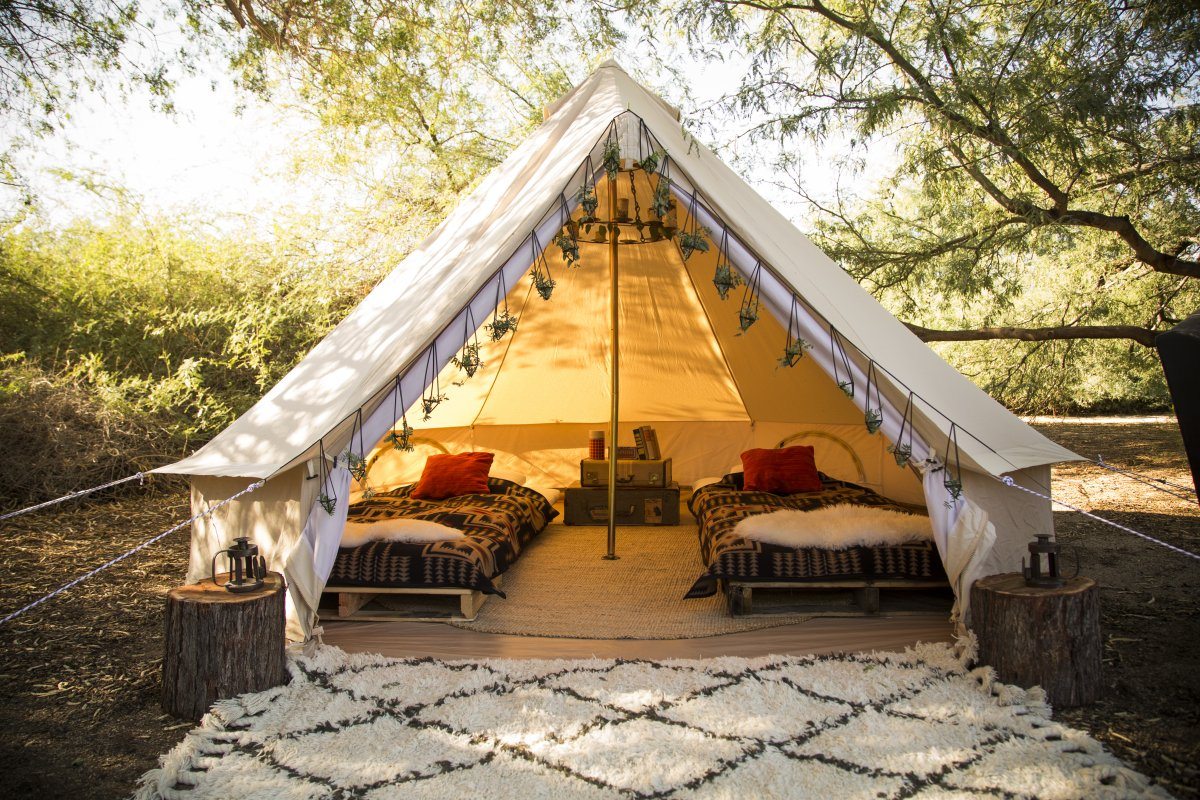 2. The Tent Is Totally Optional
Poor people sleep in a tent, on the ground. When you're camping in style, there are tons of services who can provide sleek trailers, refurbished barns and farmhouses, domes, and more. When people do go "tent" the decor is typically extravagant and can cost up to $9,000.
3. Behold the Eco Lodge
Several resorts have built brand new structures in remote areas that are made from environmentally friendly building materials. and designed to make their energy and resource consumption as scant as possible. Of course, most people realize that the ultimate way to avoid environmental impact is to, you know, just put down a temporary tent when you want to spend the night in the Great Outdoors … like a normal person.
4. Ever Wanted to Stay in a Real Treehouse?
Well, when you've got the bank, you can do that. From Jamaica to Portugal to New Zealand, more and more resorts are using modern architecture to build treehouses smack dab in the middle of nature. Not only are they beautiful, but at night, visitors are provided an up close and personal view of Nature among the trees as wildlife become much less timid under the cover of darkness.
5. Bring an Expert Along For the Ride
Some companies like American Safari Camp can actually listen to your camping requests, then head into a remote area in advance of your arrival, set up camp, and then provide an expert to lead you to activities that are accessible right from your camp. They'll do all the research and planning, you just have to show up (and sign the checks).
6. In A Word: Beds
Easily the crappiest part about regular-person camping is the sleeping part. There's no such thing as a sleeping bag or a cot that's as comfy as a bed. It just doesn't exist. So, that's why maybe the best part about glamping is that there are beds in the campsite. Even if it's not as nice as your King back home, it's still better than the dirt.
7. 'Glamping' Provides Nature in Real Privacy
Those people who have to save up for their camping trips can spend years earning enough money to, say, go on a safari in a group of ten strangers. When you're rich, there are companies that will get you up close and personal with just you and your loved ones.
8. Firelight isn't the Only Light
People who are able to afford a little extra comfort on their camping excursions know that one of the biggest drawbacks of nature is the defined day-night cycle. That's why electric lighting is a must for any glamping adventure. Once the sun is down, you can still see where you're going when you leave the fireside.
9. Everything Has Been Refined, Including the Toilet
When you're camping, your option is to bring some toilet paper and get as far away from the camp as possible so as not to disturb your camp mates. Meanwhile, glamping sites have begun to use toilets that can actually provide an odor-free option to the campsite, meaning you don't have to go wandering in the woods at night anymore.
10. Just Because You're in the Woods Doesn't Mean Cuisine Isn't a Concern
When the rich strike out into the woods, they bring first class cuisine with them. There's no packaged foods or canned last resorts. Glamping means lobster and freshly cooked steak and crisp, fresh vegetables. What's more, there are more options to the diet beyond just what the fire can cook for you.
11. Space Isn't Just For the Great Outdoors
There's no squatting-room-only three foot tall tent situation when you're glamping. The accommodations are spacious (they'd have to be to accommodate the bed) and they're all specifically designed to get the most view for your buck.
12. There's Still Ice Three Days In
You know what I mean. You know.
13. There's Always the Right Kind of Clothing
When you've got plenty of space in your campsite (and other people toting your luggage for you), there's always room to insure that your vacation wardrobe is perfectly suited to any potential occasion. Even better, because you're already in the middle of the wilderness, you don't even need to dress appropriately at all.
14. Glamping Creates Camping Opportunities Where You Might Not Expect
In Yorkshire, Humble Bee Farm has plopped a little commune-style getaway in the middle of the rolling, sprawling English countryside. It's the perfect getaway for parents, since Humble Bee Farm has a free-range farm animal petting zoo.