Glance through the recent headlines and it seems like there's no safe place left in the world. War, terrorism, zika and other crises around the globe are enough to make you want to curl up and stay home. Hmm, you might want to rethink that strategy when you find out the the United States didn't even crack the top 100 out of 163 countries evaluated for their Global Peace Index (the UK only ranked 47th and Australia came in at number 15 – oh, and not surprisingly, Syria was dead last). The Institute for Economics and Peace releases an annual study of the world's nations in terms of the their peacefulness, assessing them for indicators like number of conflicts fought, political instability, terrorist activity, degree of militarization, number of homicides, incarceration rates, ease of access to small arms and more. While not a perfect study, Jeffery Sachs, Director of the Earth Institute at Columbia University, has said, "The GPI continues its pioneering work in drawing the world's attention to the massive resources we are squandering in violence and conflict. The lives and money wasted in wars, incarcerations, weapons systems, weapons trade, and more, could be directed to ending poverty, promoting education, and protecting the environment. The GPI will not only draw attention to these crucial issues, but help us understand them and to invest productively in a more peaceful world." Looking for a pleasant place to visit this year? Using this index as a guide, here are the top ten safest, most peaceful countries at the moment.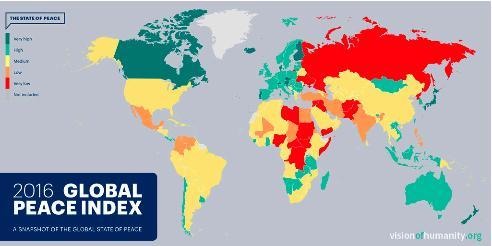 10. Lots to Love About Slovenia
If Slovenia isn't on your travel radar, it should be. It boasts snow-capped mountains, bucolic valleys, a dramatic Adriatic coastline, the charming city Ljubljana, sophisticated cuisine and cultural wonders well worth exploring.