In the early parts of the 1800s, some of the modern era's greatest artists spent hours and days exploring the rivers and streams of the wilderness in search of the perfect swimming hole. Thinkers and artists like Samuel Taylor Coleridge and William Wordsworth considered these still pools to be in perfect artistic proportion to their surroundings. As such, swimming holes were thought to be great places to get in touch with the natural element within yourself. Whether or not any of that is true is probably up to the swimmer, but swimming holes are still beloved the world over for their beauty. For freshwater swimming that simply can't be beat, nourish your inner philosopher and check out these fabulous, hidden swimming holes from around the world.
1. Tinago Falls, Philippines
On days when the powerful Tinago Falls is slow enough, one of the Philippines most stunning waterfalls is also home to two accessible swimming holes. Around the falls is a thriving rainforest that make for the perfect adventure.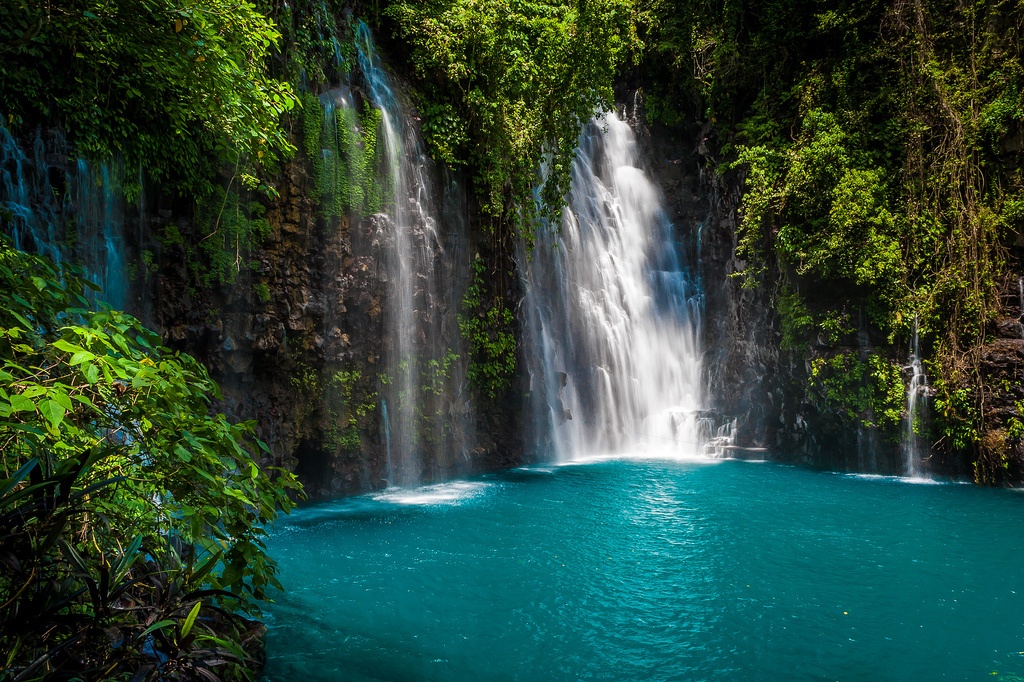 2. Cyprus Lake Grotto, Canada
Located in Bruce Peninsula National Park in Ontario, Cyprus Lake Grotto, or just "the Grotto" to locals, is a fun 30-minute hike off the beaten path, but the easy, breezy walk is well worth the view when you arrive.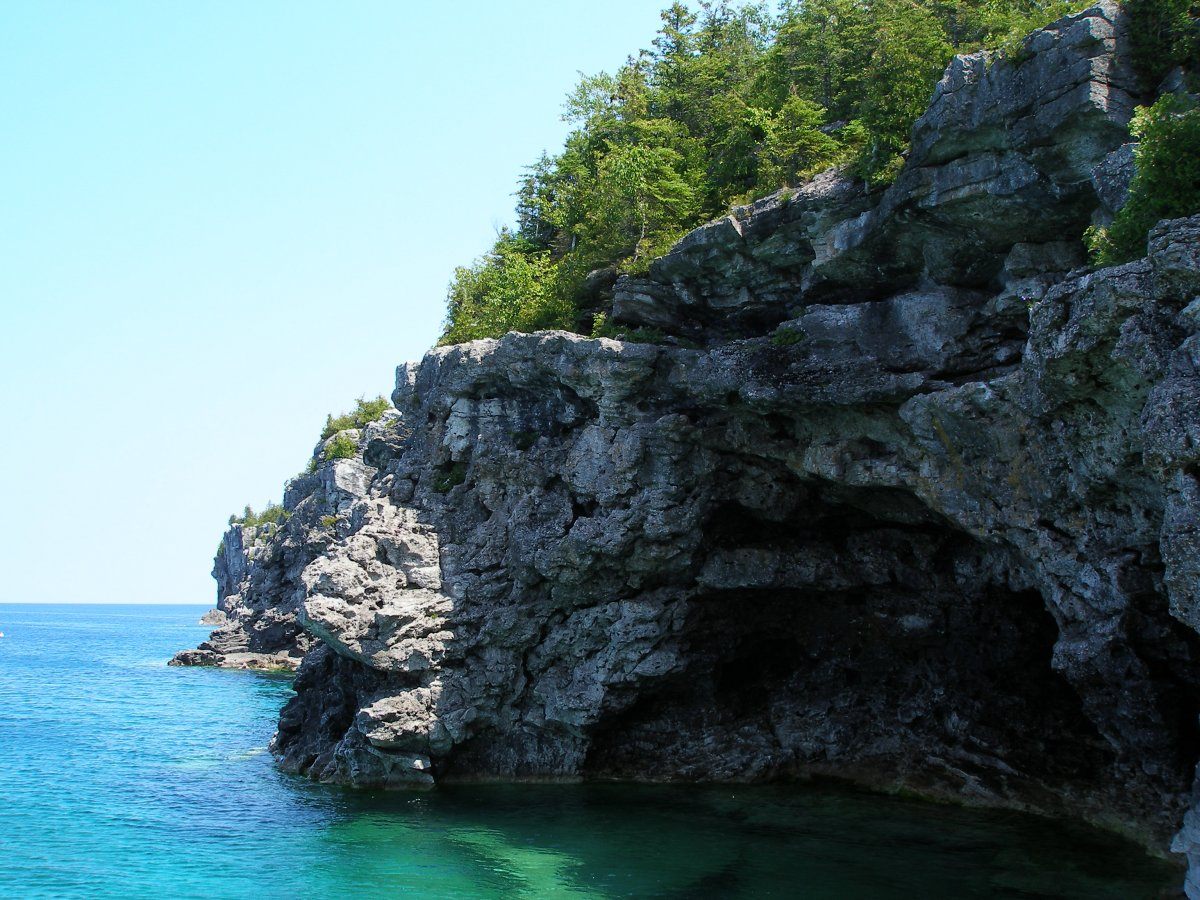 3. Redfish Lake, United States
Stanley, Idaho's Redfish Lake is the scenic home to some beautiful salmon fishing. It's also home to a quiet, little beach on the north shore that provides incomparable views of the nearby Sawtooth Range.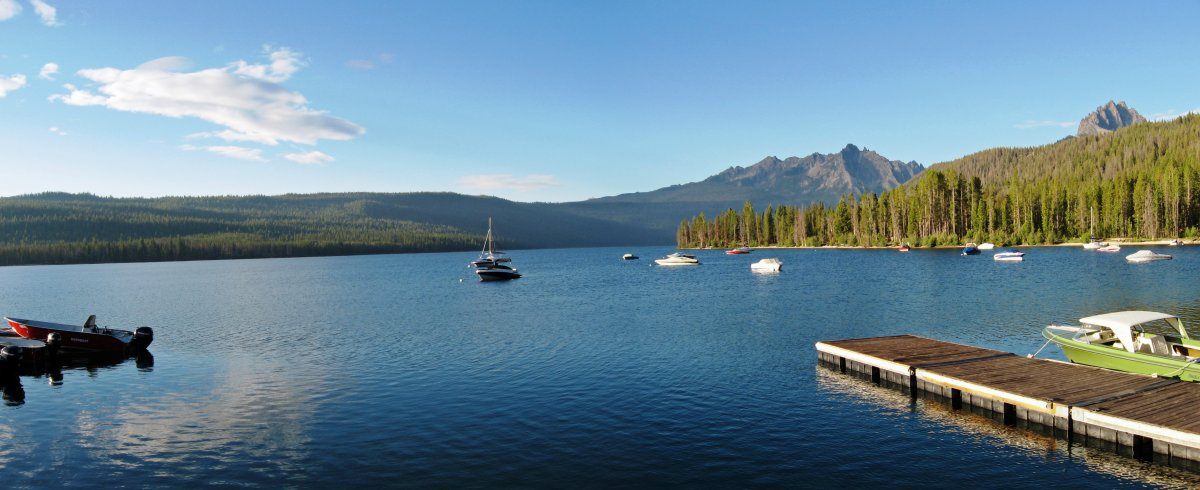 4. Jellyfish Lake, Palau
Over the course of 12 millennia, the jellyfish living within a remote lake in Micronesia have lost their ability to sting in self defense. As a result, people venturing to the aptly-named Jellyfish Lake have perhaps the world's only opportunity to swim with non-harmful jellyfish.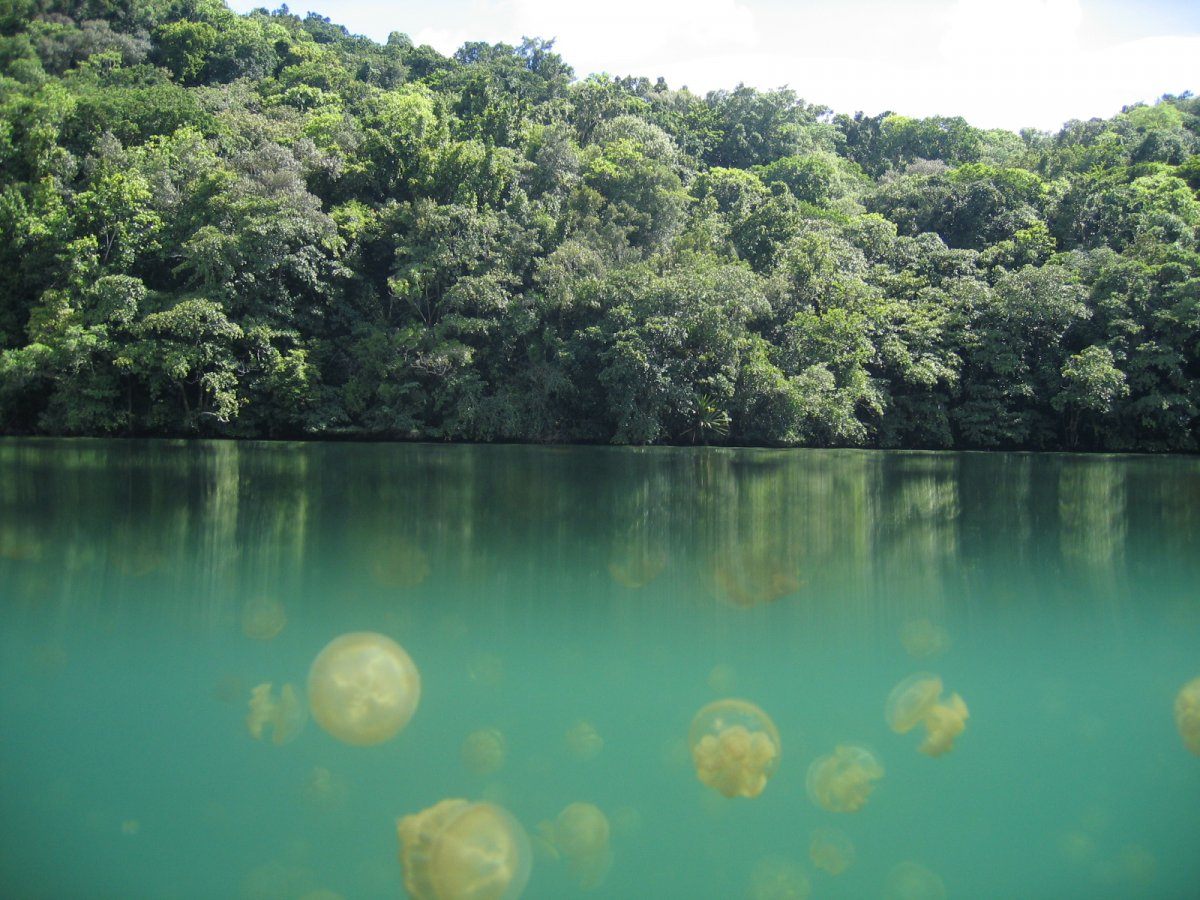 5. Sliding Rock, United States
For those people who think that swimming holes are just a little too contemplative, there's North Carolina's Sliding Rock, which is exactly what it sounds like. Nestled in Pisgah National Forest, this slanted rock is a favorite for tourists wanting a little thrill and a reprieve from the summer heat.
6. Cenote Ik Kil, Mexico
Take a swim in a Mayan holy spot, the Cenote Ik Kil in Yucatan, Mexico. The popular tourist destination comes with a restaurant and a shop, so you can commemorate your dip in the 115-foot-deep pools with a meal and a souvenir.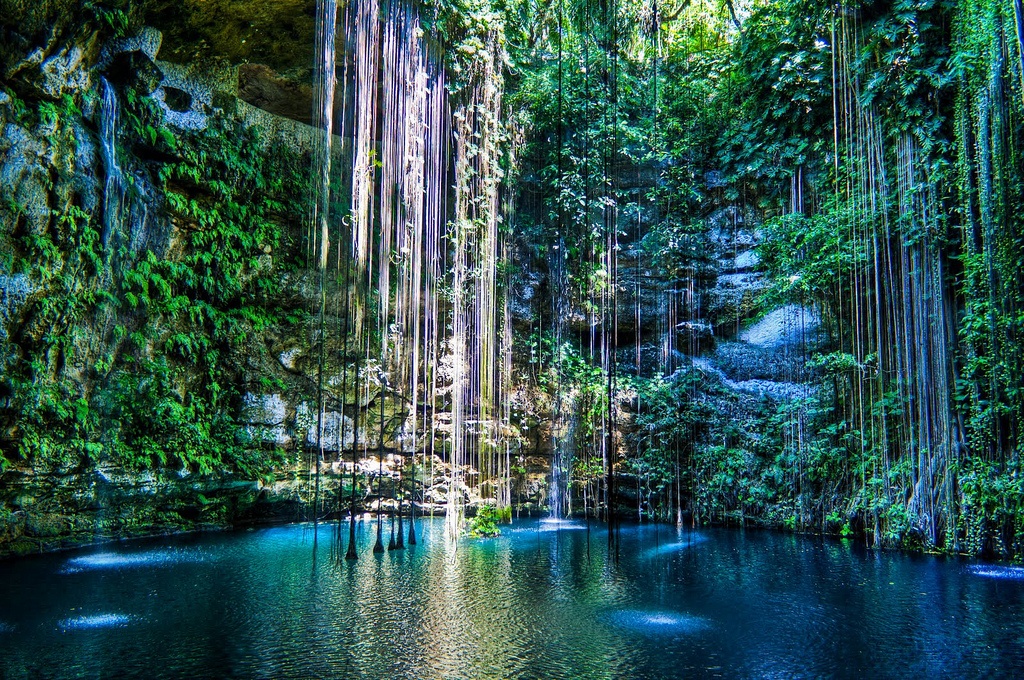 7. Little River Canyon, United States
Tucked away in northeastern Alabama, the Little River drops into the 600-foot-deep Little River Canyon and flows across 12 miles of beautiful terrain. There are swimming hole options in this Alabama hot spot, so just bring the sun screen.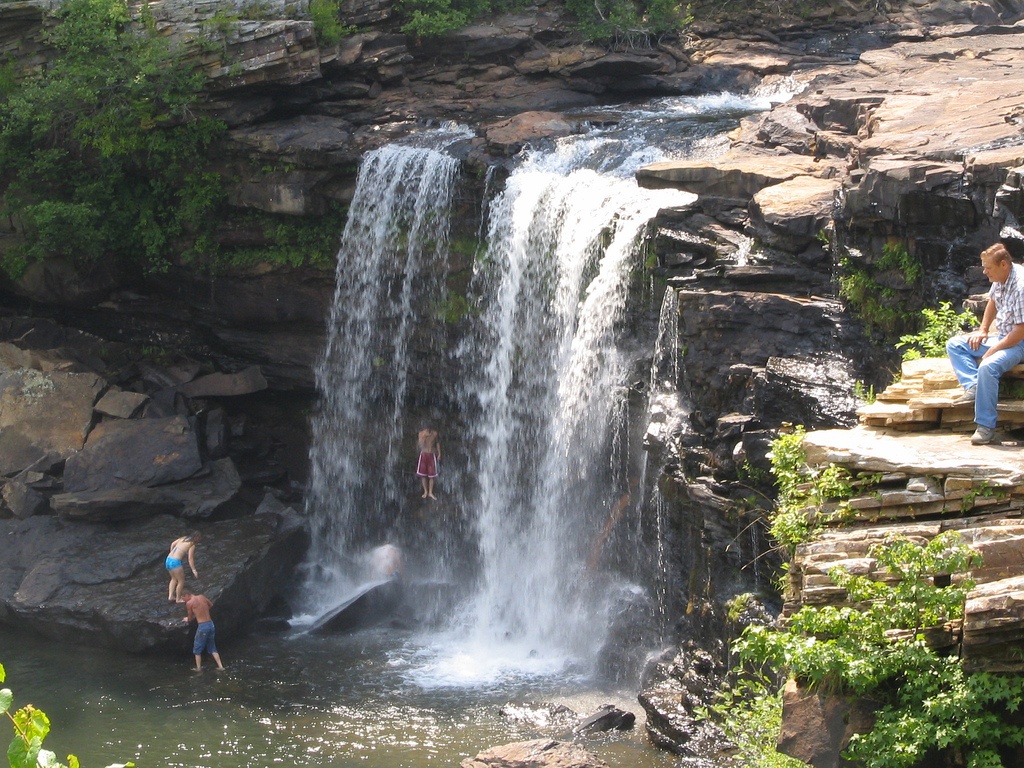 8. To Sua Ocean Trench, Samoa
The 100-foot-deep pool on the southern coast of Samoa's Upolu island is just one of the attractions on hand. In addition to To Sua (which literally translates to "big swimming hole"), the village of Lotofago has a vibrant food market, a white sand beach, and plenty more to see and do.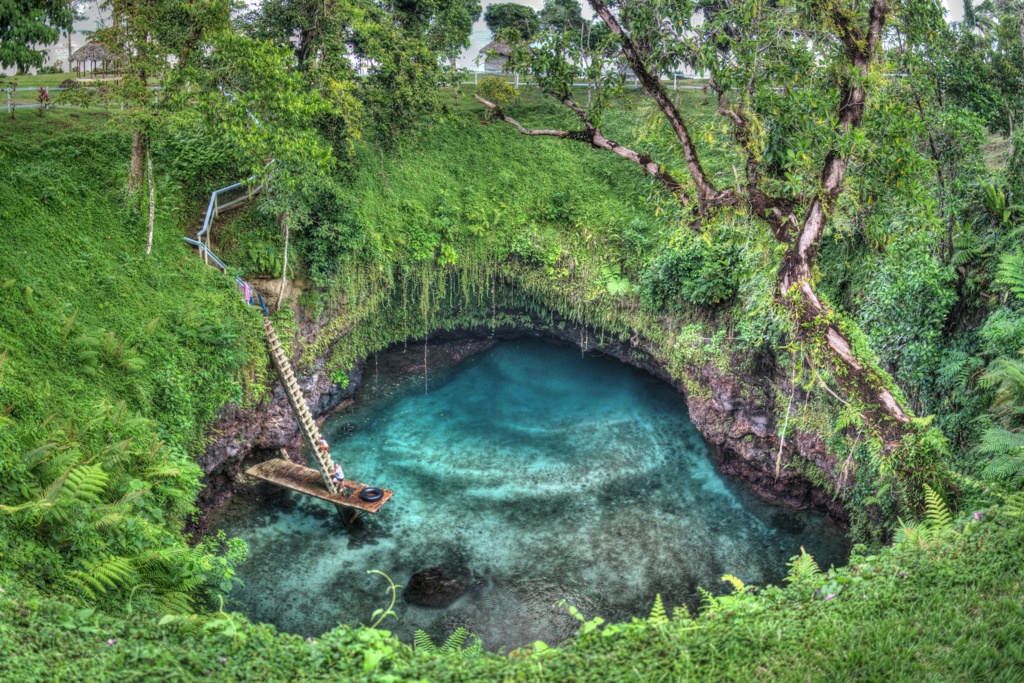 9. A Firveda, Spain
If you're not an avid appreciator of Spain's natural beauty, then A Firveda will make you a believer. This idyllic swimming hole is tucked in the Serra do Cando mountains. A rough rocky path will lead you through the beautiful Spanish region of Galicia as you wind your way toward this dual pool at the bottom of two active waterfalls.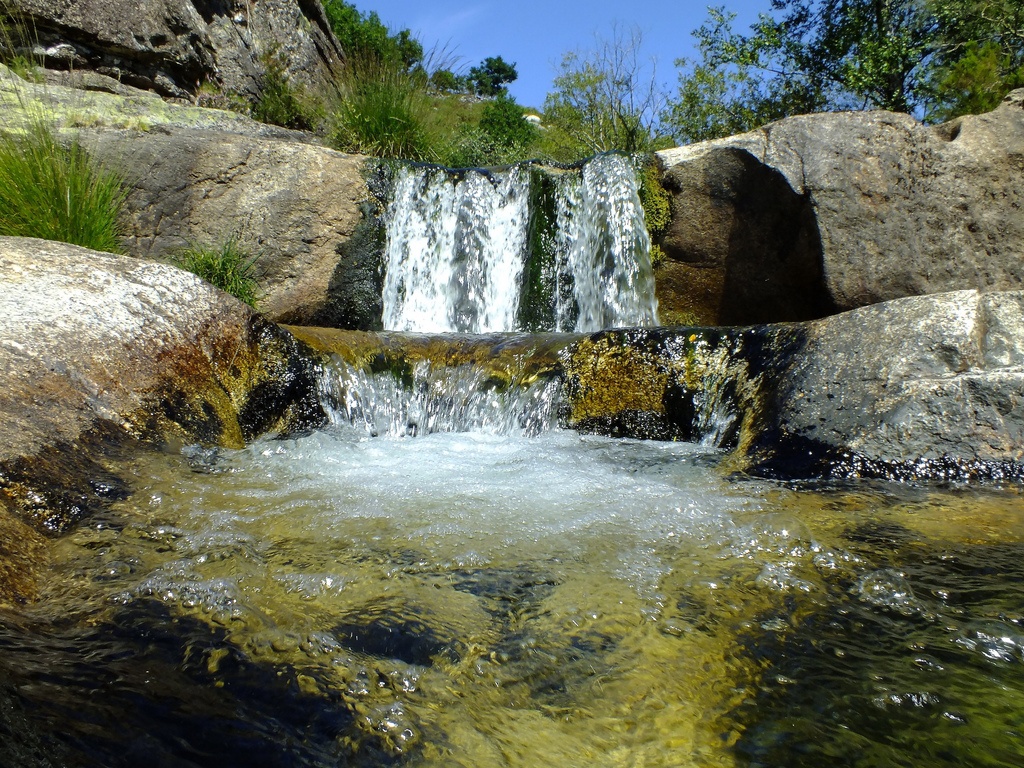 10. Kuang Si Falls, Laos
A series of sterling blue pools are formed as the water rushes down multi-tiered Kuang Si Falls, an unbelievably beautiful location south of Luang Prabang, Laos. The picturesque waterfalls are a must-see if you're visiting the area, which is also home to several ancient temples and thriving marketplaces.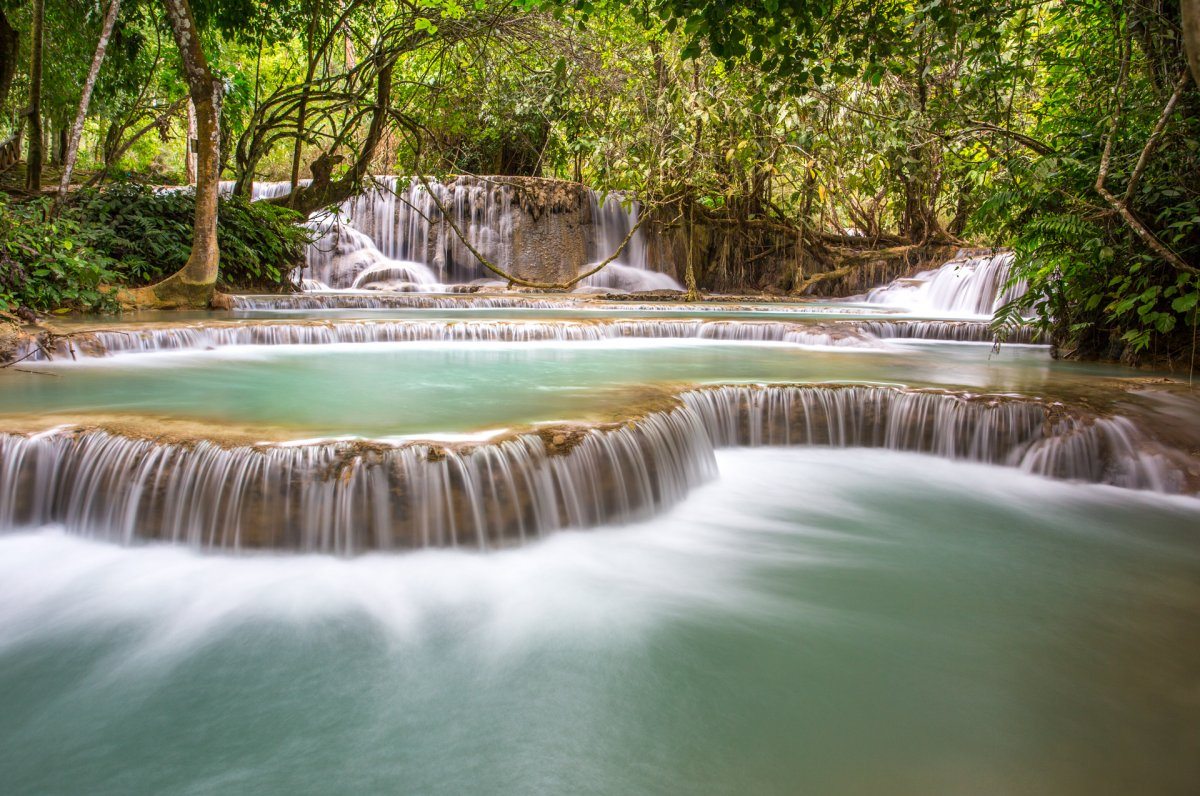 11. Johnson's Shut-Ins, United States
It may not be truly "hidden," but more's the merrier at Johnson's Shut-Ins State Park, a cascading collection of small rapids and swimming holes that are formed by volcanic rock. A two-mile paved walkway means you'll never be too far afield, which makes this Missouri location a great place to bring the kids.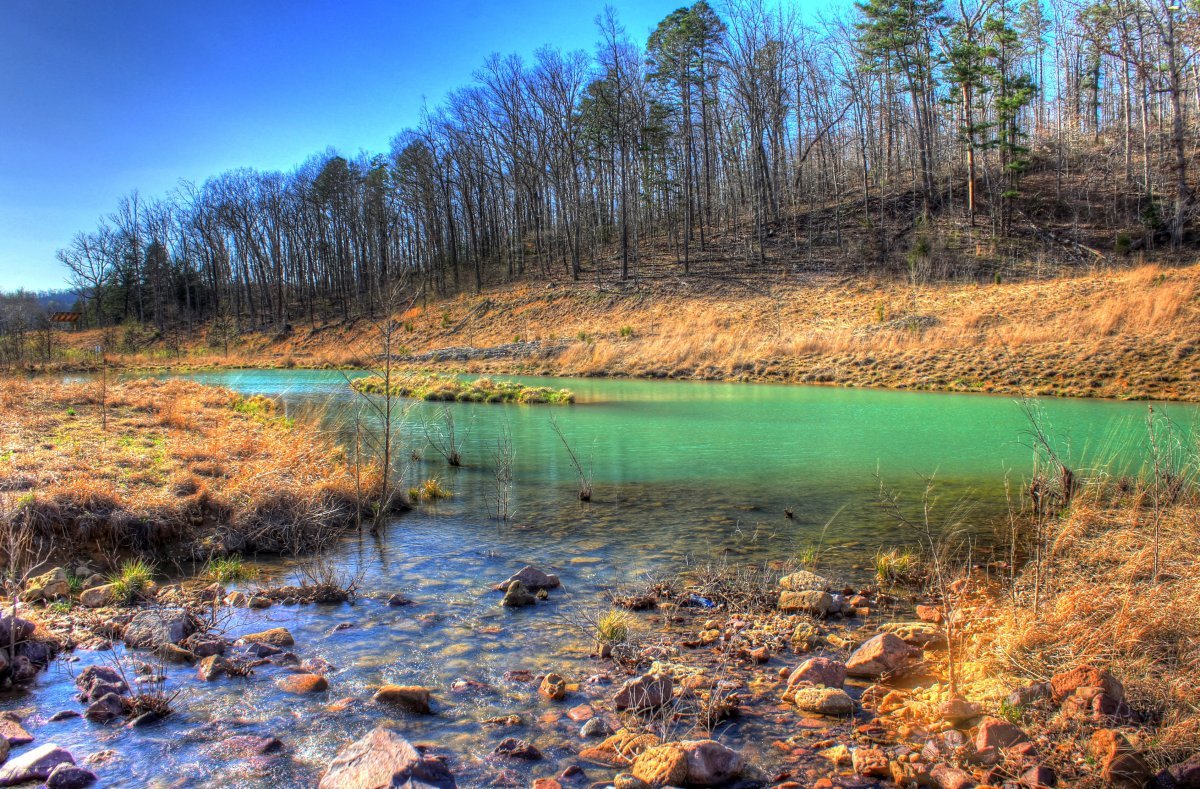 12. Jean-Larose Waterfall, Canada
You won't need to climb Quebec's iconic Mont Saint-Anne, but you will need to descend the 400-step incline to get to the base of the mountain where some world class swimming awaits. Water-filled basins sit beneath a 224-foot waterfall. Even if you don't swim, the view alone is worth it.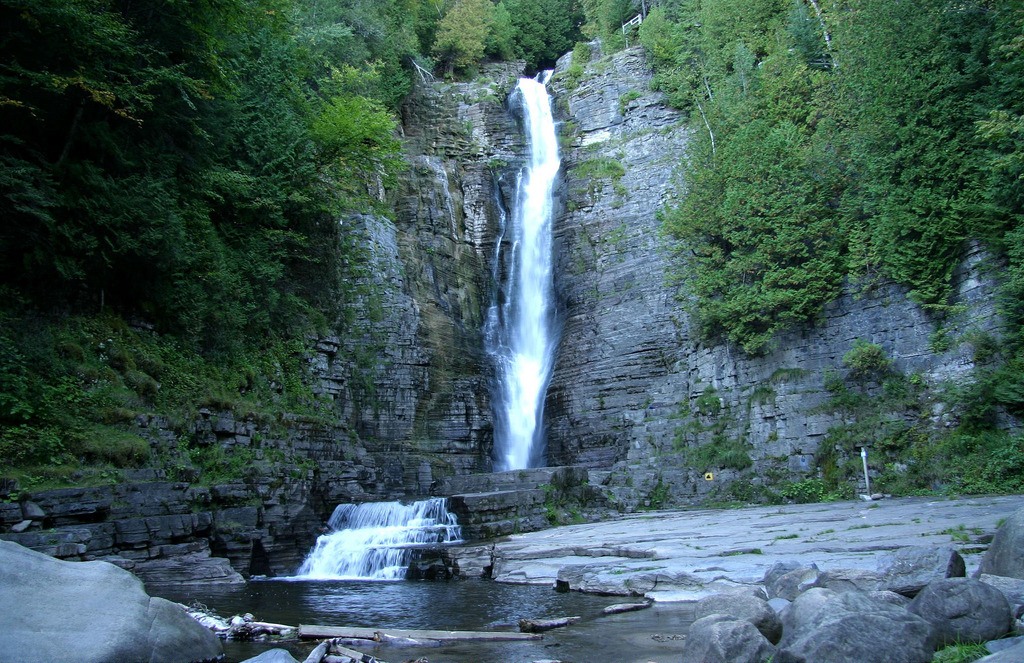 13. Opal Pool, United States
To get to Oregon's Opal Pool, you'll need to hike three-and-a-half miles through the verdant beauty of Willamette National Forest, an otherworldly landscape of old-growth Douglas firs. The destination is worth the effort however, as you'll be greeted with gorgeous, brisk water all year round.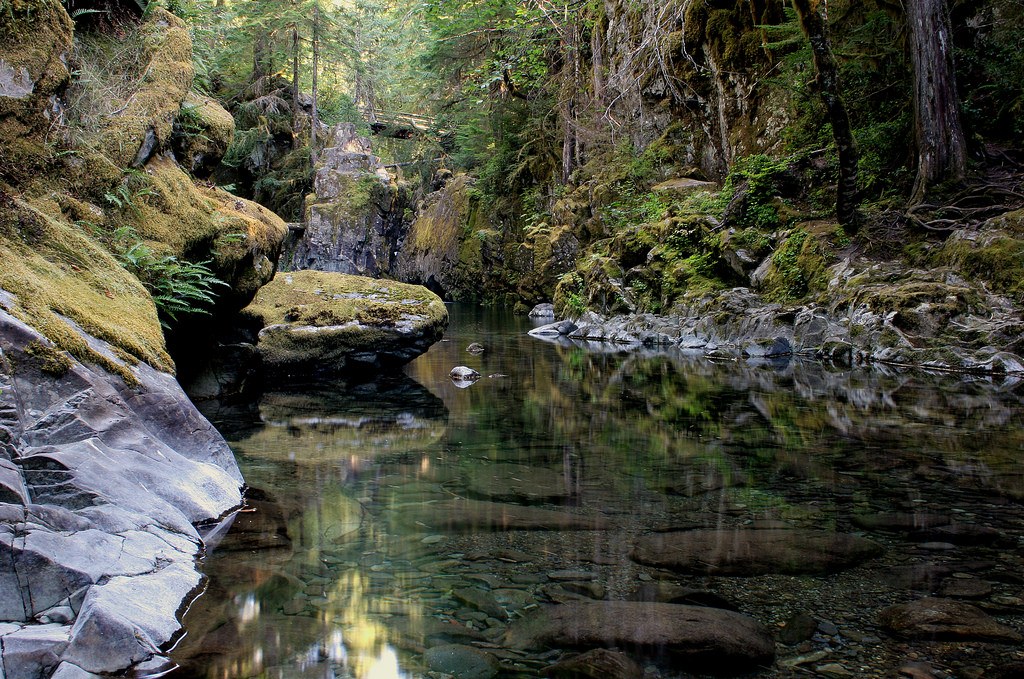 14. Devil's Pool, Zambia
Of course you know that Zambia's Victoria Falls is the largest waterfall in the world, presiding over an intimidating 354-foot drop. What you may not know is the location of a swimming hole on the very edge of Victoria Falls. Steely-nerved travelers can take a dip in a swimming hole that runs right along the edge of the tremendous drop.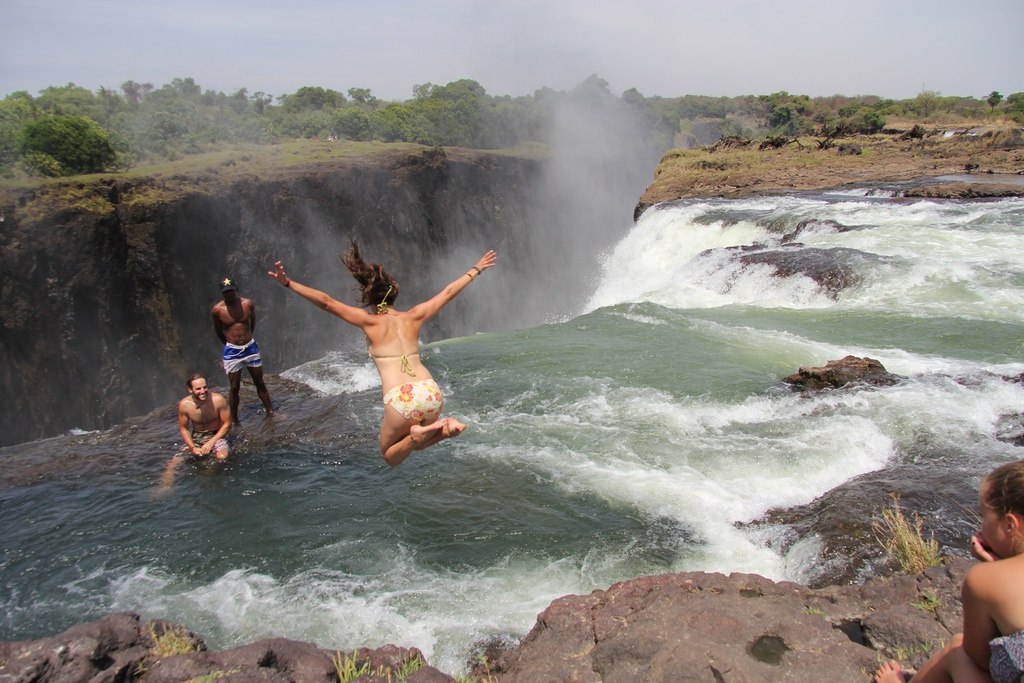 15. Dudu Blue Lagoon, Dominican Republic
Keep an eye out for divers ascending to the top of this gorgeous clearwater lagoon in Cabrera in the Dominican Republic. Dudu Blue Lagoon is the only place in the world where a diver can go from one freshwater lake to another through a series of spectacular sea caves.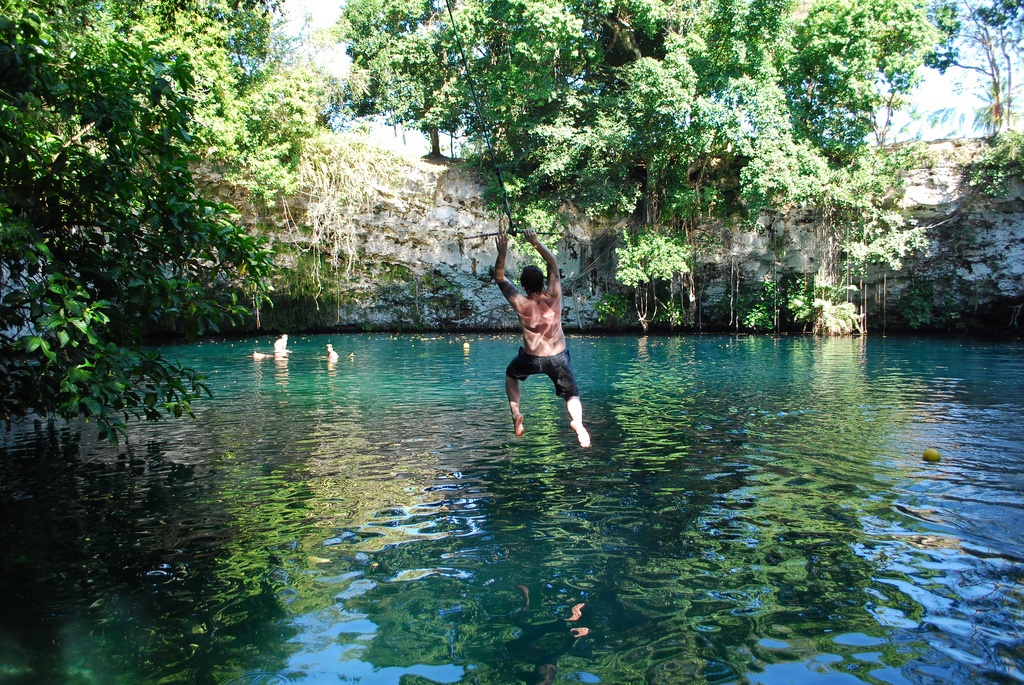 16. Giola Natural Pool, Greece
Only the most adventurous explorers need travel to the small village of Astris on the Greek island of Thassos in search of the Giola Natural Pool. Once you arrive, however, you'll get the opportunity to take a dip in a natural swimming pool carved into the rocks of the Aegean Sea's historic coastline.