Thailand is often called the "land of smiles", and the Thai people are known to be some of the most welcoming and hospitable people in the world. However, that does not mean that you shouldn't be versed in some of the local customs and proper etiquette before visiting. There are a number of things NOT to do in Thailand to avoid disrespecting the local culture. Read on to become an informed and sensitive traveler.
1. Don't Hug Monks
Monks are highly respected in Thailand and therefore it is forbidden to stand over or be positioned higher than a monk. Monks aren't not even allowed to touch women. If a monk comes in contact with a woman, he often won't even hand her something. Rather, he'll place the item down for the woman to pick up for herself. Even on the bus monks are not allowed to sit directly next to a women. So, if you're a female and see a seat open next to a monk, do not sit down and force him to stand. Men, however, are allowed to come in contact with monks, but most will still keep a respectful distance.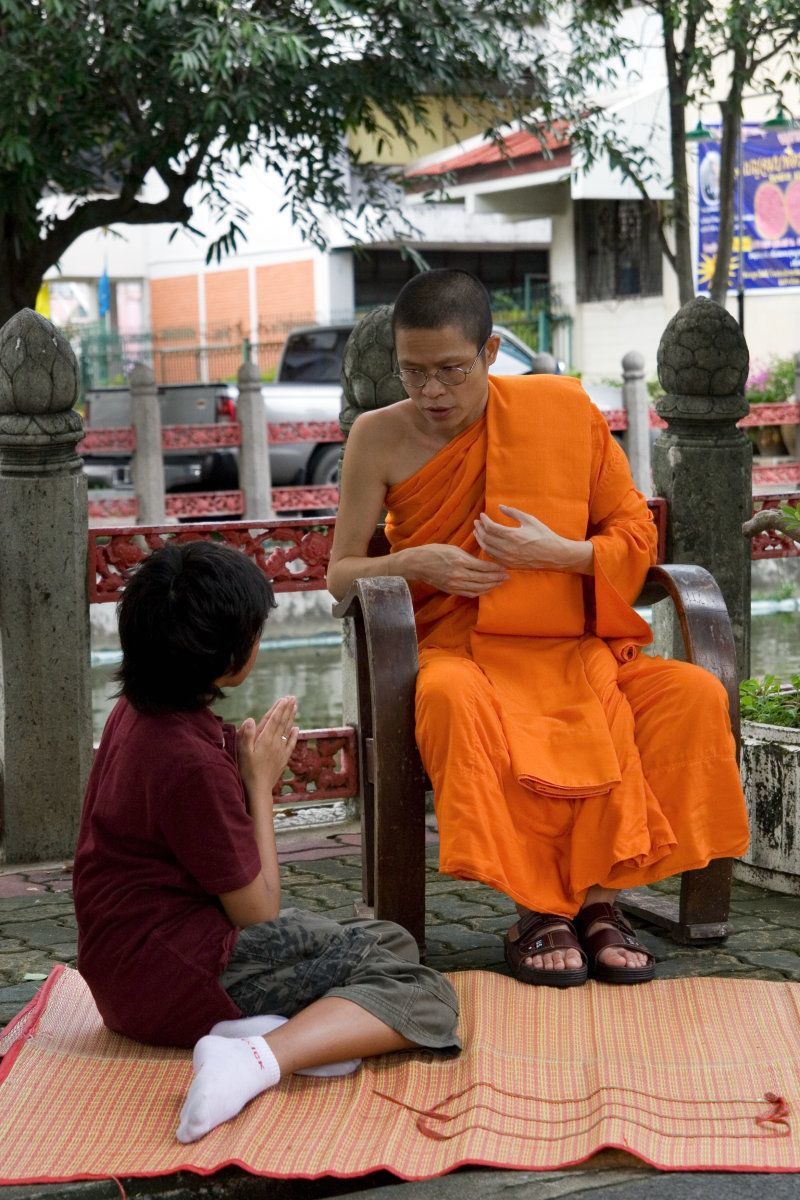 2. Don't Keep Your Shoes On
It is very disrespectful to keep your shoes on while entering homes, temples, shops and even some restaurants in Thailand. So it's no wonder why light-weight sandals are so popular, as they can be easily removed. If you notice a big pile of sandals by the door, we'd recommend removing your own.
3. Refrain from Public Displays of Affection
Most Thais will not even hold hands or hug in public, so we advise that you do not go overboard with your public displays of affection while visiting Thailand. Touching tongues is forbidden, so save your intimate moments for when you're alone in your hotel room or on a deserted beach.
4. Never Use Your Feet
Of all the things not to do in Thailand, pointing with or using your feet is one of the biggest faux pas. Feet are considered the lowest, dirtiest part of the body in many Asian cultures and the head is the highest. Pointing your toes or the bottoms of your feet towards someone or something is extremely impolite. Hence, do not hold doors open with your feet, point your feet towards the Buddha images or angle your feet towards the monks.
5. Don't Disrespect the Royal Family
The King and the Royal family are highly regarded in Thai society. You will see many pictures commemorating the Royals throughout the country. Therefore, it is very disrespectful to say anything or act in any way negatively towards Royal family. Even stomping on a Thai coin as it rolls away it considered impolite as coins display images of members of the Royal family and past relatives. Remember, Thais find it insulting to be touched by your feet.
6. Don't Take Your Clothes Off
Yes, Thailand is a tropical country and most days are sunny and warm, but walking around town in beach attire is considered impolite by the local people. Many tourists assume that because of the warm climate it is acceptable to remove their clothing in public, but that is not the case. Beach attire is acceptable on the beach, in some beachside bars/restaurants and in one's hotel room. Otherwise, men, keep your shirts on and ladies, wear your cover-ups. Be extra-conscious of your attire when visiting temples. Dress conservatively (preferably in white), and women particularly should wear long skirts or trousers and have their shoulders covered.
7. Avoid Pointing with Your Fingers
When hailing for a taxi, otherwise known as a tuk-tuk, on the street or beckoning a waiter in a restaurant, do not point your fingers up. Make sure that your palm is facing downward and you fingers are straight with an up and down movement. Never clap, snap your fingers, or whistle to get someone's attention, as this considered is very rude in Thai culture. Thais believe you call a dog in this way and not a human.
8. Try Not to Touch a Thai's Head
Do not touch a Thai person's head or ruffle their hair, as this is seen as very disrespectful. If you happen to touch someone's head by accident, apologize immediately. Thai people will sometimes pat a child on the head, but as a Westerner it's best not to do this to any child to prevent any embarrassment. Thais see the head as the highest part of the body.
9. Can't Take Buddha Pictures Out of Thailand
It is highly illegal to take or send any pictures of Buddha out of the country, unless special permission has been granted. Many shop owners will still try to sell you pictures, but they will not tell you about the regulations of taking them home. Also, standing on a Buddha statue to have your photograph taken is one of the most disrespectful things that you can do in Thailand, because you are placing the lowest (the feet) upon the highest (Buddha).
10. Don't Lose Your Temper
Thais have a philosophy of keeping their cool and not losing their temper, also known as jai yen (cool heart). Most Thais avoid confrontation and see raising one's voice as not a good form. Staying calm and smiling often goes a long way in Thailand. It does not mean that you won't encounter one angry person on your trip, but Thais are generally very hospitable, welcoming and tolerant. Don't get frustrated, "mai pen rai" as the locals say.
11. Don't Eat with a Fork
Dining is a social affair in Thailand. There are no specific dining periods so visitors can enjoy cheap yet delicious food all day and all night from local restaurants, street side vendors and hawker stalls. Thai food is eaten with a spoon and a fork, but it is the spoon that touches one's mouth. You use the fork to push the food onto the spoon. Thai food is often cut into small pieces and served soft enough that a knife is not necessary. Chopsticks are only to be used when eating Chinese dishes.
12. Never Whistle at Night
Here's one of the things not to do in Thailand you might not be aware of. You'll notice that Thais will become very uneasy if they hear a whistle after dark. This is because Thais are very superstitious and believe that whistling at night is bad luck because you're calling the evil spirits. So even if you're feeling like whistling a tune on your evening stroll, please restrain yourself.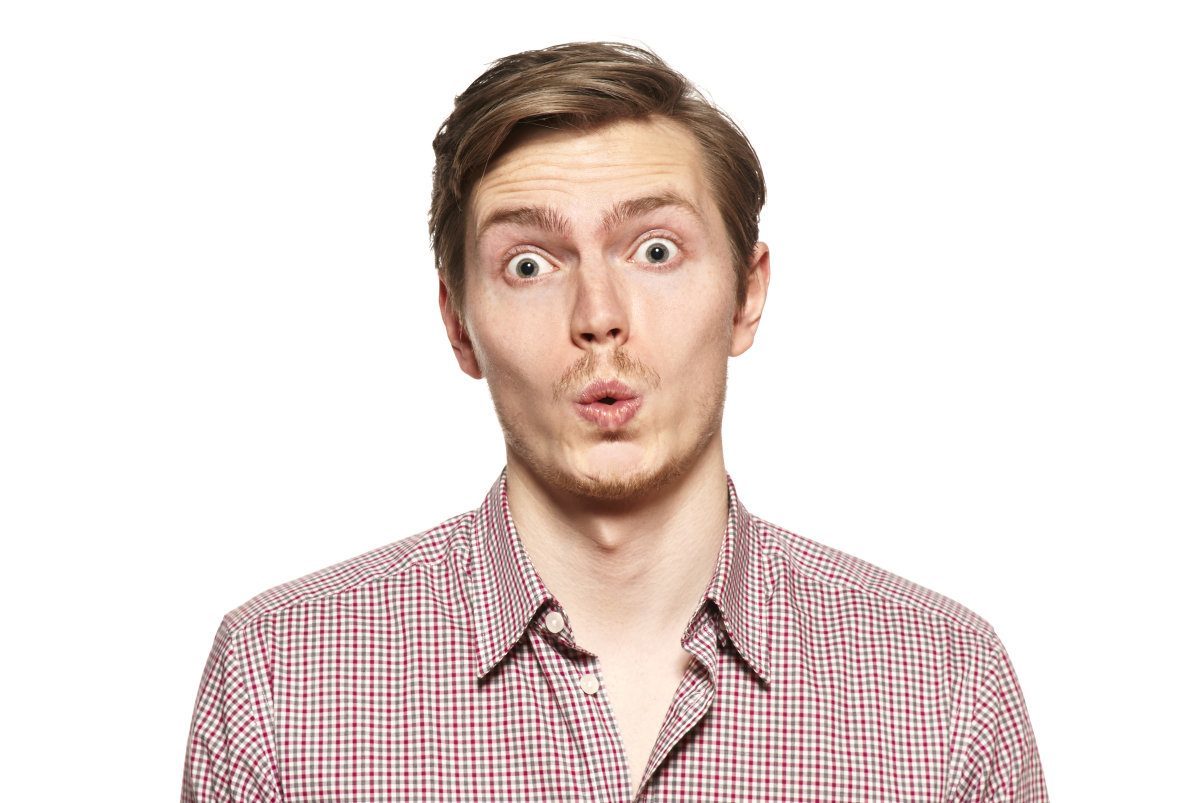 13. Don't Let a Tuk-Tuk Driver Take You To a Gem Shop
This is one of the biggest scams in the tourist areas of Thailand. Tuk-tuk drivers will try to persuade you to visit a special gem shop. Some will even go so far as to say that your intended destination is closed or under repair and try to convince you that they know where the best deals are. Inside these kick-back shops, tourists are usually harassed, possibly drugged, and told that they can buy hand cut jewels and sell them at home for a large profit. However, most victims are cheated out of a lot of money in exchange for costume jewellery.
14. Just Say No to Recreational Drugs
Yes, we're sure you've heard of the wild nightlife that Bangkok offers and the Full Moon parties that take place on Koh Phangan, but that doesn't mean that illegal drug use is overlooked by police. In fact, Thailand has some of the strictest drug penalties in the world. Some offenses are even punishable by death. Even if you're caught in Thailand with a small amount of an illegal substance, you are guaranteed to spend time in jail or pay an exorbitant fine or both. So we advise that you do not partake in any illegal extracurricular activities while you're visiting this country.
15. Don't Shake Hands
Thais do not greet each other by shaking hands because they do not like to have personal contact with strangers. Rather, they place both their open palms together at chest height and bow slightly. This is called wai. It would be wise to practice this greeting before you visit. Do not bow to children or a person of lower status however, as you would only be embarrassing them. If you are greeting a person of high importance, bow slightly deeper.