Ibiza is an idyllic island in the Mediterranean that boasts sun-drenched beaches, UNESCO-listed heritage, watersports galore and mellow waterfront cafes – but let's be honest, most tourist flock there for its epic party vibe. The local population is only about 132,000, but over six million visitors descend upon this small Balearic Isle each year (particularly from the end of May to the beginning of October) to experience its legendary bar, nightclub and music event scene. It's the place to rub shoulders with jetsetter celebrities, dance to world renowned DJs and stay up way beyond the spectacular sunsets. Although there is plenty to see and do there beyond the club culture and beach parties, you might want to choose a different island if that's not your scene. But for those that do go, here are a few tips of things NOT to do in Ibiza.
1. Don't Buy Tickets at the Door
That's a rookie mistake, especially when it comes to the hottest clubs and popular events. Not only will buying tickets at the door cost you more, but you'll probably have to stand in line for at least an hour or more (and sometimes you just don't make it past the velvet rope). Why waste all that party time? You can buy packages online through companies like Spotlight or Together Week. Prearrange some VIP tickets and get the red carpet treatment, if you can afford a splurge. Check local flyers for deals, or score some wristbands from the many promoters trolling the streets (check their ID to make sure they're legit). Another tip is to sign up for the social media accounts of the super clubs, as you never know when they are going to announce a promotion.

2. Don't Skip the Beaches
Sure, the clubs are the main attraction, but the beaches rock too. Chilling out on the sand and in the waves is the best way to recuperate from the night before and rest up for the coming night's action. Plus the beaches are also the scene of some great daytime outdoor parties too. There are over 80 beaches around the island. If you want to relax, try Cala Jondal or Cala Olivera. If you want a livelier scene, try Las Salinas, Ocean Beach or Playa d'en Bossa. Or if you really want to get away from the crowds for a day, head to Cala Salada, Es Xarcu or Pou des Lleo.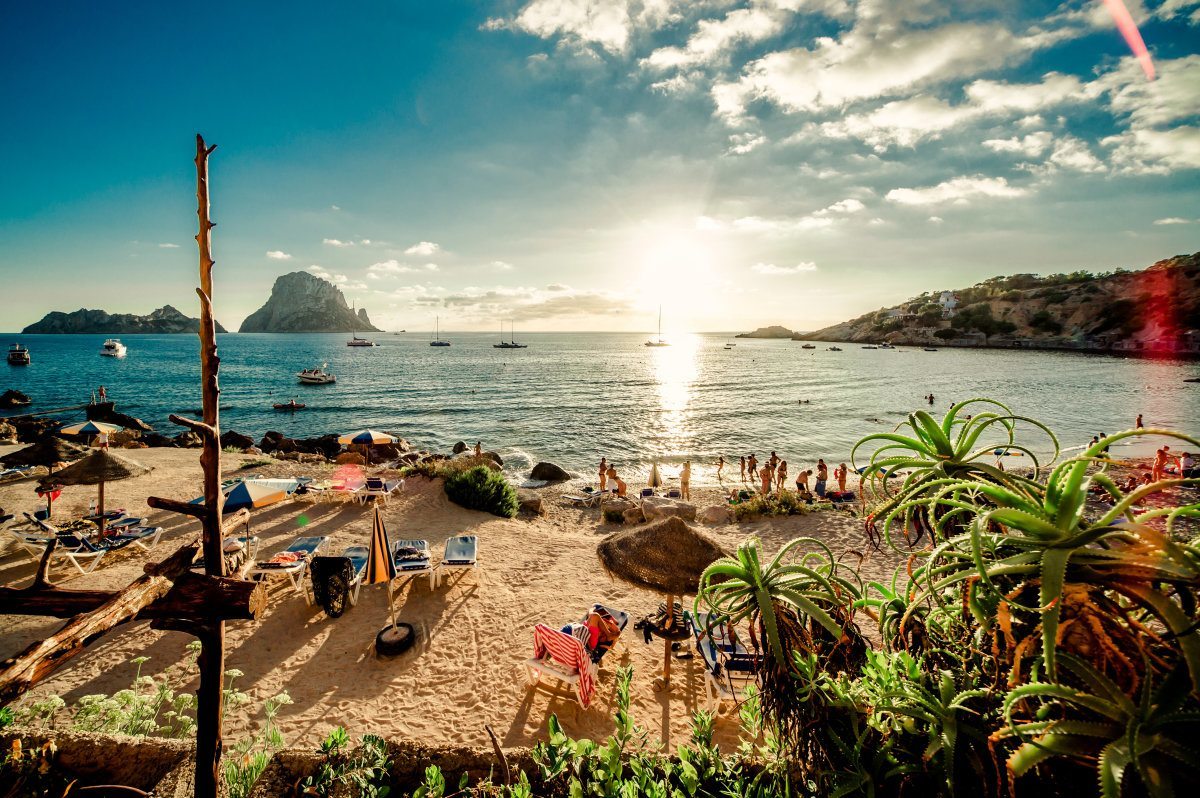 3. Don't Miss the Day Parties Because of a Hangover
Pace yourselves, people. Don't get so sloshed during the evening bashes that you have to nurse a killer hangover all day. The daytime pool and beach parties, not to mention the party boats, are half the fun and appeal of Ibiza. Party while you soak up the sun at the Bora Bora beach club, Blue Marlin or countless other venues. They're not hard to find. Try chugging a little coconut water to help keep up your stamina.
4. Don't Wear the Wrong Shoes
This is mostly a tip for women: wearing comfortable footwear is key when you're dancing on your feet (or standing in a line) all night long. Sure, heels may look cute, but they're just not practical here. None of the hip fashionistas wear sky-high stilettos here – it's just not done. Flip flops are probably on the "too casual" end of the fashion spectrum, and would be kind of painful if/when you get stepped on on the crowded dance floor. Aim for some sexy flats, summery sandals or maybe comfy low wedges if you want to achieve a balance of style and comfort.
5. Don't Show Up to the Clubs Before Midnight
Most nightclubs and party venues start opening around 10:00 pm, but things don't really kick into gear until the stroke of midnight (and, frankly, that's usually when the coolest clubs open). Granted, there are some places that offer drink specials and discounted entry fees to entice you there earlier, but midnight is the time super clubs like Space, Pacha, Privilege and Eden open their doors.
6. Don't Forget Your Hand Fan
It may seem old fashioned and kind of dorky, but having an old-school hand fan to cool you down on the packed dance floor is an essential tip. You can't count on the air conditioning or sea breezes to keep you comfortable in that mosh pit of sweaty gyrating bodies. Forget those battery operated hand fans, as you'll probably just ensnare an innocent bystander's hair.
7. Don't Leave Your Photo ID in the Hotel
You'll need to show ID at the door to every bar, club and party on the island, so make sure you have some identification with your picture on you. If you're reluctant to take your passport or driver's license out on the town with you for fear of losing them, you might try bringing a clear photocopy of the document (some places are stickers for the real thing, though).
8. Don't Sneak Drinks into the Clubs
Just don't. Commercial venues don't take kindly to booze smuggling, and it's not worth it if you get caught. They'll throw you out and probably ban you from the premises. If you're really on a tight budget, see the tip #14.
9. Don't Try to Walk Home from Amnesia or Privilege
Playa d'en Bossa is technically in walking distance from Ibiza town (about 40 minutes), so after a night of reveling you might be tempted to stroll back to your hotel or villa from Amnesia, Privilege or other clubs in the area. However, this is not recommended. That stretch of motorways has a reputation for being dangerous. It has been nicknamed "the road of death" as many stumbling partiers have taken their last steps that way. Hop one of the frequent night buses instead, or wait it out for a taxi. Be safe!
10. Don't Drink the Tap Water
This isn't to imply that the tap water in Ibiza is not potable, like in, say, India or Mexico (or Flint, MI for that matter). It is safe, but it's really not very palatable. People complain about high salt and calcium levels, and it also has a high chlorine content and taste. You can safely brush your teeth, wash fruit, and consume iced drinks made with it, but you'll probably be better hydrated if you shell out for tastier bottled water on this island.
11. Don't Avoid Local Transport
Don't feel you have to rent a car or take taxis to get around in Ibiza. The local transportation system is cheap and efficient, and can take you just about anywhere you'd want to go. The Ibiza Bus costs only about €2 and can get you from one side of the island to another. Consider a shuttle pass or the Disco Bus if you want to get around to various nightclubs and beach venues (note, it's a music-filled party on wheels). If you want to get from San Antonio to Playa D'en Bossa during the day, take the #3 bus to Ibiza Town station, then hop on the #14 to Playa D'en Bossa. It's easy and efficient.
12. Don't Miss a Sunset at Café Mambo
Ibiza is world famous for it's spectacular sunsets, but if we have to pick our favorite spot to be mesmerized by that golden ball dropping into the sea, we'd go with Café Mambo on the San Antonio "sunset strip". The place launched in 1994 and has since built up a reputation of being "the" place to watch the sky turn all kinds of crazy hues while you sway to some killer beats. It's a popular pre-party restaurant/bar before heading over to the super clubs (you gotta hang somewhere until midnight, right?). If you're watching your budget, you can sit out in front of Café Mambo without actually going in. You never know when a famous DJ will be spinning, so you just might catch a free show.
13. Don't Sleep on the Beach
It can be tempting for a budget traveler to want to save some party money by simply crashing on the beach under the stars. You're not going to spend much time snoozing in a room anyways, so why not just sleep on the sand? Well, for starters, it's illegal. The police do patrol the coastline for this, so don't bother trying to camp out for the night. However, if you plan to party all night and catch a nap on the beach during the day, that's another thing, (but where are you going to stash your backpack?) Best to get a room. Although Ibiza is becoming more and more upscale, there are still cheap hotels and rooms to be found.
14. Don't Forget to Pre-Drink
It's a cost-effective partier's strategy everywhere, but especially in pricey places like Ibiza. Drinks at the nightclubs are notoriously overpriced (for example, a bottle of water can set you back €8-10, a beer can cost €10 and a vodka coke around €20). Bars and restaurants are slightly more reasonable, but it's still expensive. So you can save a bundle if you get the ball rolling before you head out on the town (or beach). Bottles of wine, beer and spirits are relatively cheap from the supermercados (you can find a liter of no-name vodka for around €5). Bolster yourself with a few pre-cocktails so you don't need to imbibe so much at the expensive clubs. Keep an eye out for the promotional reps out there hustling 2 for 1 drink specials, free shots and the like, too.
15. Don't Go to San Antonio If You're Over 30
Hey, you're free to go wherever you want whatever your age, but honestly, you'll probably feel a little out of place among the teens and twenty-somethings that dominate San Antonio. It's a wild and crazy young person's scene, with all the good and bad that rowdiness implies. Of course, some people in their thirties, forties and beyond will fit right in (one legendary partier is still going strong in his eighties!), but generally speaking, you might have a better time elsewhere if you prefer music and a crowd that reflects a more "seasoned" lifestage. Ibiza is becoming increasingly gentrified with gourmet restaurants, five-star resorts, sophisticated yachts and VIP lounges that your average youth can't afford. There are plenty of places for the more mature traveler to enjoy in Ibiza. The San Antonio scene isn't really it.