Looking for a little touch of the Caribbean on your next vacation? Don't head to a secluded island in the middle of an ocean, head to the lush South American paradise of Guyana. The predominately English-speaking country is nestled right on the northern coast of the continent in between Venezuela and Suriname. There are plenty of reasons to visit Guyana. It's cheap; the exchange rate is around $200 of theirs to one of ours. It's gorgeous; there are plenty of beaches and forests to explore. Even the locals are genuinely lovely people. From the bustling streets of Georgetown to the country's beautiful stretches of untamed wilderness, Guyana is filled with places to fill a full trip (and then some). Here are some of the best.
1. Georgetown Light
Why not kick things off by getting some perspective. A trip to the Georgetown Light, with its jaw-dropping views of the Winyah Bay and the Tom Yankee Wildlife Center. If you want to soak up the country's visual beauty in one swallow, then the Georgetown Light is a good place to start.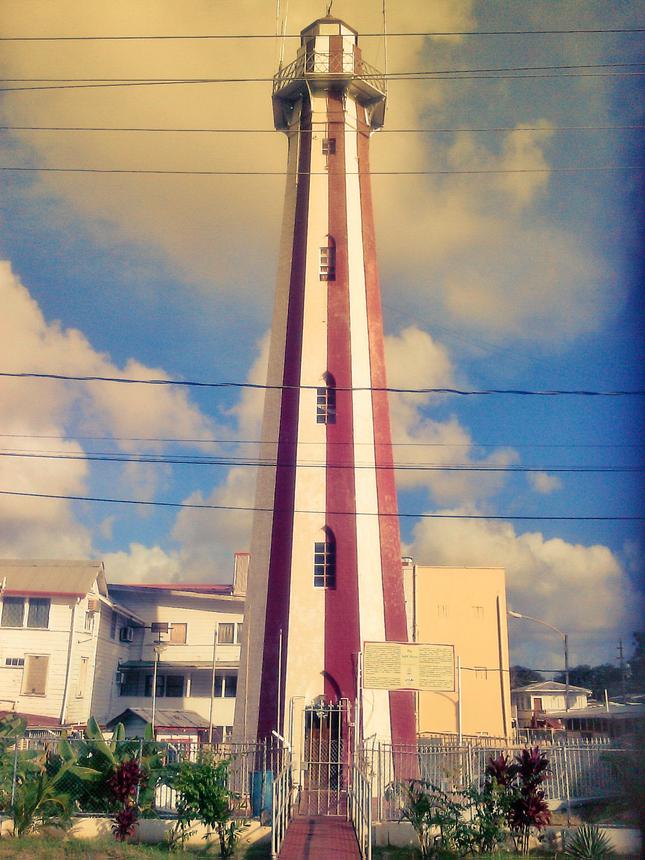 2. Guyana National Museum
For more than 100 years, the Guyana National Museum has worked to diligently catalogue Guyana's rich cultural history. In addition, the museum is home to a robust collection of the nation's flora and fauna, too.
3. Gluck Island
This little island is near the historic mining settlement of Linden (much more interesting than it sounds). Gluck Island if perfect for an amateur naturalist. It's home to a ton of fauna like red howler monkeys and a variety of tropical birds.
4. Kaieteur Falls
At a height of 741 feet, Kaieteur Falls is the world's largest "single drop" waterfall. It's five times higher than Niagara Falls. It's also surrounded by a huge national forest that's filled with some of the world's most beautiful vegetation.
5. Kissing Bridge
If you can take a few moments to steal away with your SO, the kissing bridge is a great spot for a little wholesome nookie. When you want to find the perfect spot to get that perfect vacation couple picture, then there's nowhere more romantic than this cute little bridge.
6. Iwokrama Canopy Walkway
A walk through the jungle can be extremely interesting and soothing, but you might find that most of the action is happening above the ground, in the jungle canopy. Even if you're nervous about heights, it might be worth overcoming your fear for a trip through the Iwokrama Canopy Walkway, a series of suspension bridges that are fixed 100 feet above the ground.
7. St. George's Cathedral
You don't have to be a fan of Jesus to appreciate the marvel that is St. George's Cathedral in Georgetown. This beautiful, centuries-old cathedral was finished in 1894. Today, it is one of the tallest wooden churches in the world.
8. Kanuku Mountains
There's no bad reason to hit the Kanuku Mountains. The beautiful region is home to an incredible diversity of plants and animals. There's so much life in the Kanuku Mountains, that more than 60 percent of the nation's birds and 80 percent of its mammals are found in and around the Kanuku Mountains.
9. Bartica
Want to get out of the city and experience a little bit more unpolished perspective of Guyana? Then head to Bartica, a small town that's got a historical penchant for entertaining tourists. Even if you're only there for a few hours, grabbing a meal at one of the town's mouth-watering Brazilian restaurants is an experience you'll remember forever.
10. Pandama Retreat & Winery
There's no need to feel guilty about stealing a few hours of your vacation to relax in the idyllic surroundings of Pandama Retreat & Winery outside Georgetown. If you have the occasion to spend an evening, you absolutely should. The cuisine is local (and delicious), the swimming is second to none, and the titular house wine is worth a trip in and of itself.
11. Orinduik Falls
If you want to avoid the inevitable crowds at Kaieteur Falls, head to Orinduik Falls, a huge swath of territory that provides a much more intimate portrait of Guyana's beautiful natural experience. Experienced hikers can find plunge pools for swimming and trails for exploring for days and days.
12. Parliament Building of Guyana
If you want a glimpse into Guyana's colonial past, just swing by the Parliament Building in Georgetown. Designed by Joseph Hadfield, the building was finished in 1834 and has been maintained with an excruciating eye on historic faithfulness. A trip to the Parliament Building is like walking through the past.
13. Parika
On Sundays, the streets of Parika come alive as local residents descend on the town and hold a weekly market. People haggling, hawking their wares, and simply gossiping between stalls offer a truly wonderful people-watching experience. It's a good idea not to buy a parrot, though. Customs wouldn't be pleased.
14. Shell Beach
There are plenty of gorgeous beaches in Guyana where you can wile away days simply lounging and listening to the waves. Shell Beach isn't one of those beaches. It's bustling with wildlife, like its annual sea turtle nesting period in which turtles of all shapes and sizes arrive at Shell Beach to lay their eggs.
15. Mount Roraima
There really is no other place in the world like Mount Roraima, a mountain formation known as a tepui. It's essentially a big square rock that's been forming for about two billion years. If you can figure out your way to Mount Roraima's summit, you'll find some of the world's rarest creatures, a series of plants and animals that have managed to thrive in an unusual environment. It also happens to be insanely beautiful.