As a counterpoint to our post on the 15 Worst Airlines in the World, here's the flip side. While many people complain about plane travel these days, there are some carriers who are getting it right. Airline quality review site Skytrax recently released a list of the best airlines in the world for 2016. Results were based on an extensive survey of over 19 million passengers from 104 countries. They contributed feedback on 41 key performance indicators such as seat comfort, in-flight entertainment, cabin cleanliness, meal quality and service excellence. The following carriers were honored at the World Airline Awards. Many of the winners have long been regarded among the best airlines in the world, but some may surprise you.
15. Swiss International Air Lines Will Take You to the Alps in Style
It's an impressive feat for Swiss International Air Lines to be recognized on this list of best airlines in the world as this offshoot of defunct Swissair has only been in operation since 2002. It has a young fleet of wide-body jets and is renowned for its award-winning food and friendly customer service. Boredom is never an issue on Swiss International, which has all the on-demand in-flight entertainment you could want. Catering to skiers heading to the Swiss Alps, this airline also has generous allotments for transporting sports equipment.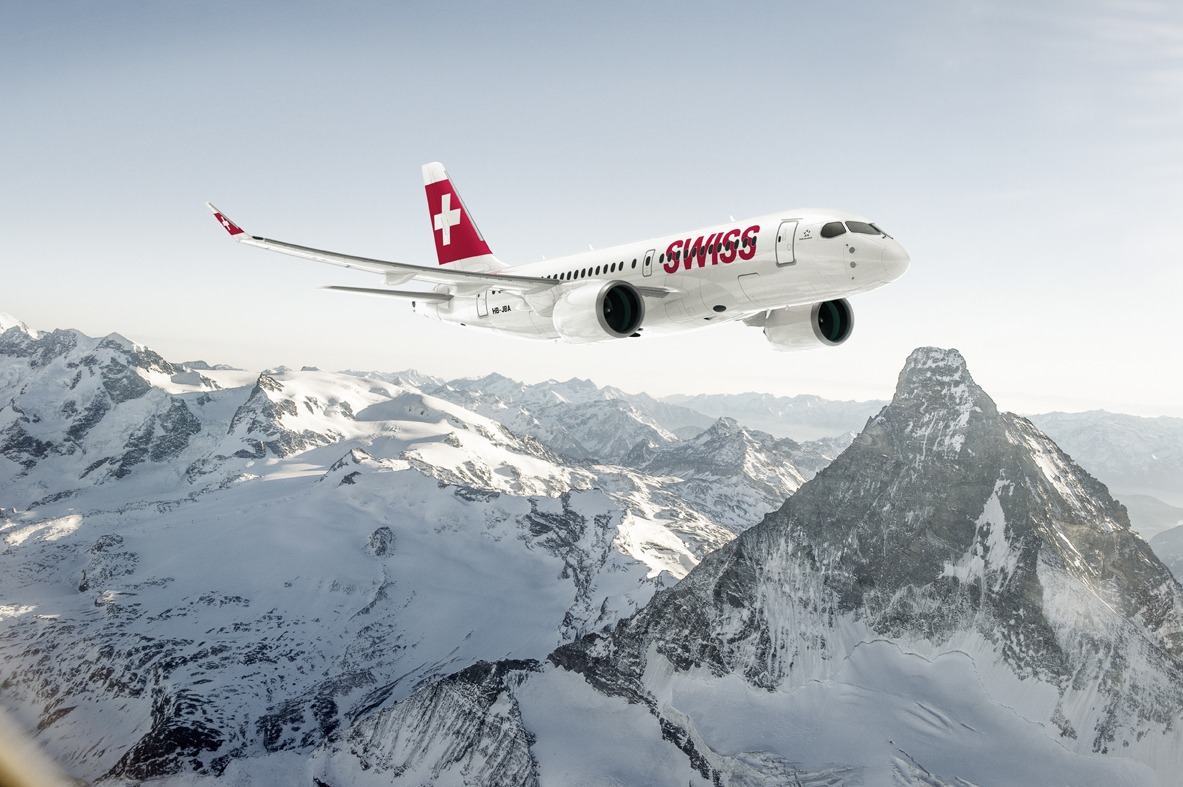 14. Air France Brings a Certain Je Ne Sais Quoi to the Skies
Last year Air France won the award for World's Most Improved Airline, as it shot up the ranks 10 places. This year it lands in the impressive number 14 spot, despite having undergone some labor and financial turbulence. They unveiled some new offerings such as their très bien "La Premiere" first-class suites which put them in good standing. This year, Air France also won for Best First Class Airline Lounge Dining and Best First Class Comfort Amenities.
13. Epicureans with a Taste for Asian Cuisine Will Love Thai Airways
Thai Airways, the flagship airline of Thailand, has long been praised for its quality service. Their business and first class service is exceptional but its spacious economy service holds its own as well. Thai Airways is particularly renowned for its delicious cuisine, which includes a wide range of Asian and Western dishes. Extra touches like toys for young passengers, airport lounge spas and generous baggage allotments helped give Thai Airways a nod as one of the best airlines in the world. This year they were singled out as World's Most Improved Airline as well as a nod for World's Best Airline Spa Facilities.
12. Hainan Has Earned a Coveted Five-Star Rating
Hainan is the only Chinese airline to earn Skytrax's five-star rating, no small feat for an airline that has only been around since 1993. They have a spanking new fleet of over 160 Boeing and Airbus jets, and are rapidly expanding their service throughout Asia, Australia and Europe. Reviewers give them high praise for attentive flight attendants and top-notch business class amenities.
11. Garuda Indonesia Has Really Turned Things Around in Recent Years
Garuda Indonesia may be the most surprising entry on the 2016's best airlines in the world list considering it was deemed unfit to fly in EU airspace from 2007 to 2009. However, the company set an ambitious goal to turn things around these past few years, and it seems they have succeeded. The fleet has been refurbished and the service standards have been improved significantly. The airline considers itself an ambassador of Indonesian hospitality, and in that light they focus on pampering passengers five senses at all customer touch points, pre- and post-flight. Offering comfy seats, delicious southeast Asian meals and audio-video on-demand entertainment, Garuda Indonesia has now become part of the Skyteam alliance.
10.Budget Cuts Haven't Meant a Loss in Quality for Lufthansa
The flag carrier of Germany and Europe's largest airline has been subjected to budget cuts in recent years (who hasn't), but they have somehow managed to maintain top-notch service and quality. The fleet's newer A380 superjumbos and 748-8 Intercontinentals are particularly impressive, but you'll no doubt be pleased with any of their aircraft. Passengers report friendly flight attendants, comfortable cabins and decent in-flight entertainment options. Lufthansa's LGS Sky Chefs take pride in preparing environmentally responsible culinary experiences for their passengers.
9. Qantas Airways Proves That 'Historical' Doesn't Mean Irrelevant
Affectionately known as The Flying Kanagaroo, Qantas is the world's second oldest airline. It has always had a top reputation for its airport lounges, service excellence and special amenities. For example, first class suites on international flights have a 6.5 foot long flat bed complete with sheepskin mattresses, making for one of the comfiest sleeps above the clouds. For an added touch of sophistication, their "Sommeliers in the Sky" help you pick from an award-winning wine list to accompany the fine food offerings. Its in-flight entertainment systems include seatback video on-demand screens and streaming to your own devices.
8. EVA Air Is Still Leading the League When It Comes to Luxury Seating
Taiwan's EVA Air receives high praise for its friendly and efficient cabin crew. All cabins feature satellite phones, audio video on-demand entertainment and SMS service. Its Royal Laurel class cabins feature lie-flat bed seats in a reverse herringbone configuration and convertible pod-style lie-flat seats in Premium Laurel business class. EVA was one of the first airlines to introduce a "premium economy class" as well as having an economy class, so you can choose your amenities and price-point accordingly. EVA also has a high safety rating with no major incidents ever reported. It also gets good reviews on its quality international meals.
7. Turkish Airlines Never Heard That Airline Food Was Supposed to Be Bad
The flag carrier of Turkey, headquartered in Istanbul, flies to more than 200 cities in 100 countries throughout the world. It has been given the nod as Skytrax "Best Airline in Europe" award for four years running, so they must be doing something right. With economy, comfort and business class offerings, they present "Turkish hospitality" to all their passengers. This includes welcome drinks and restaurant-quality fresh food featuring both international and Turkish delights.
6. Etihad Airways Aims to Give You a Vacation From Your Vacation
If you have a chance to treat yourself to a flight on Abu Dhabi-based Etihad Airways, you won't be disappointed. The flag carrier of the United Arab Emerites travels to about 100 destinations in style and comfort. Special touches include noise-reduction headphones and mood lighting to help passengers rest and combat jetlag. Their exquisite luxury first class suites have raised the bar, but food and service quality rate high whether you're flying first class, business class or economy. State-of-the-art entertainment and WiFi connectivity will help you pass the time on board. Got kids? Family travelers are well catered to on Etihad Airways with their Flying Nannies.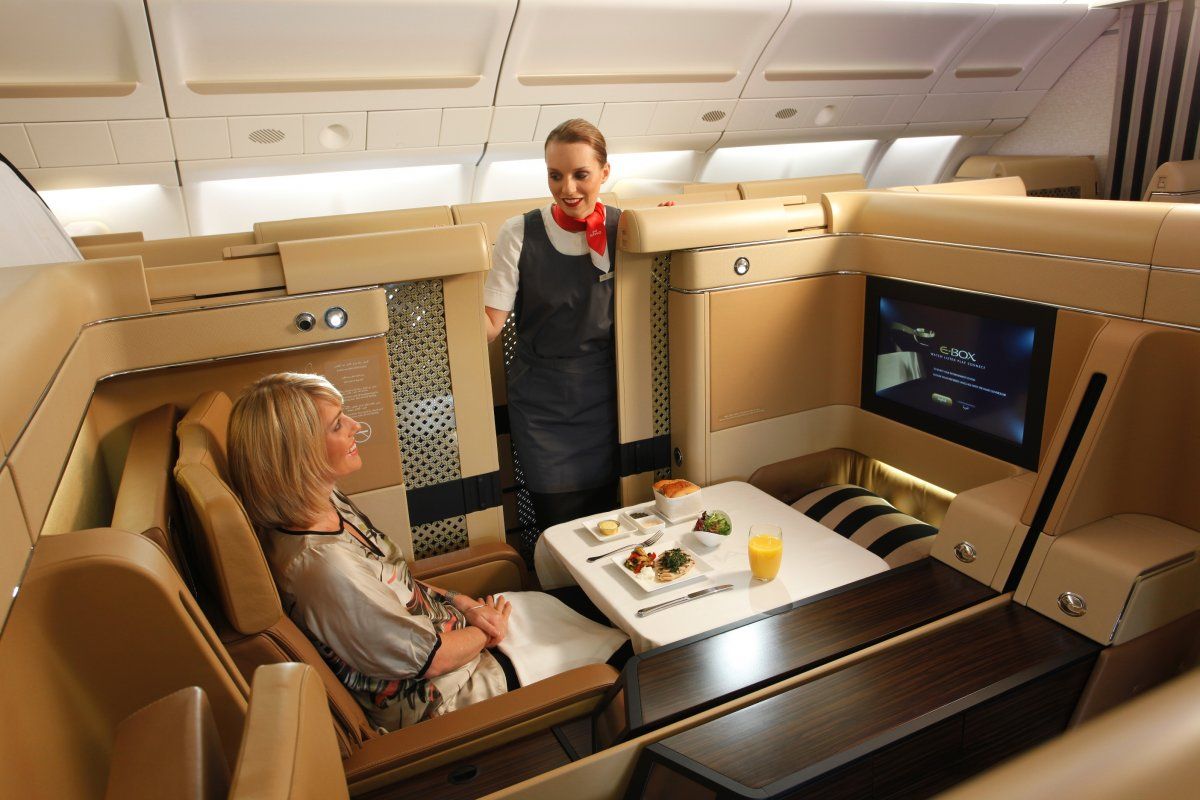 5. ANA All Nippon Airways Provides a One-of-a-Kind Service Even Skywalker Would Love
Japan's largest international airline has the biggest fleet of Boeing 787 Dreamliners in the world. ANA's cabin crew and comfort gets high praise from passengers. Most planes have reclining seats that slide-forward for more privacy, including some cushy lie-flat privacy pods for long haul flights. They offer first class, business class, premium economy and economy service, each offering different amenities and perks according to price. Most seats are equipped with power ports and Wi-Fi, and if not, they even offer laptop battery rental on select flights. Priding themselves on their "Connoisseur" dining experiences, All Nippon Airways has been given a coveted 5 star rating from Skytrax. You gotta love them for their recent Star Wars promo, too.
4. Cathay Pacific Offers Luxury to Every Passenger, No Matter What Class You're Sitting In
Cathay Pacific may not be number one this year, but that's a rarity. The Hong Kong based airline has received this top honor in 2003, 2005 and 2009. It has won the top spot more than any other carrier. Cathay Pacific received high ratings in all levels, from economy to first class. It boasts the world's most modern wide-body fleet that services close to 190 destinations in 46 countries. Cabins and lounges have been recently refurbished to the highest standards, in a move to secure its superior position in the competitive aviation market.
3. Singapore Airlines Knows How To Keep You Entertained From Take Off to Touch Down
Coming in at number three on the list of best airlines in the world for 2016 is Singapore Airlines. It was particularly praised for its in-flight entertainment offerings and friendly, responsive customer service. Hot towel service before take-off is a much appreciated touch, even in economy class. Their premium suites feature a standalone bed as opposed to a convertible seat, for the ultimate slumber in the sky.
2. Qatar Airways' Cabin Crew Is Second to None
Although number two this year, Qatar Airways was at the top spot of this list in 2011, 2012 and 2015. The elite airline flies to over 124 destinations around the world, linking Doha with direct routes to business hubs like Los Angeles, Dallas and Miami. It set out to offer an unparalleled level of service excellence with social/environmental responsibility, and has exceeded expectations. Attentive cabin crew, superior cabin comfort, top-notch cuisine, state-of-the-art entertainment systems and WiFi connectivity – even in economy – are all highly rated. In the luxury levels, pampering touches include Ferragamo Attimo's amenities, Italian Frette linens and designer sleepwear.
1. Emirates Offers an UnParalleled Flight Experience
The Dubai-based airline is considered one of the premium long-haul airlines in the world and has the largest fleet of Airbus A380 super-jumbos and Boeing 777 wide-body jets around. In particular, Emirates was singled out for having the top cutting-edge in-flight entertainment system, with a wide selection of music and video on-demand options. Emirates flies to over 140 international destination, and boasts exquisite lounges, chauffeur service and award winning food and beverage offerings. They have sumptuously appointed first-class suites and even on-board shower spas!