The world's focus is on Ebola right now, but there are plenty of other health concerns that are a more realistic threat to travelers. Some are deadly, some debilitating and other just downright annoying. This is not meant to scaremonger or make you never want to leave the house. However, you should be aware of some of the risks out there so you can take steps to avoid or prevent them. Depending on where in the world you roam, here are 12 travel health hazards to watch out for.
1. Chikungunya
Sounds like a new offering at KFC, but this mosquito-borne illness is becoming a widespread risk across the Caribbean and is now in 74 countries, including the US. The virus causes high fevers, headaches and severe arthritis-like joint pain, particularly in the hands and feet. Symptoms can last for weeks, but it's usually not deadly. Day-biting Aedes aegypti and Aedes albopictus mosquitoes are the carriers, so cover up, use plenty of repellent and be vigilant around stagnant water.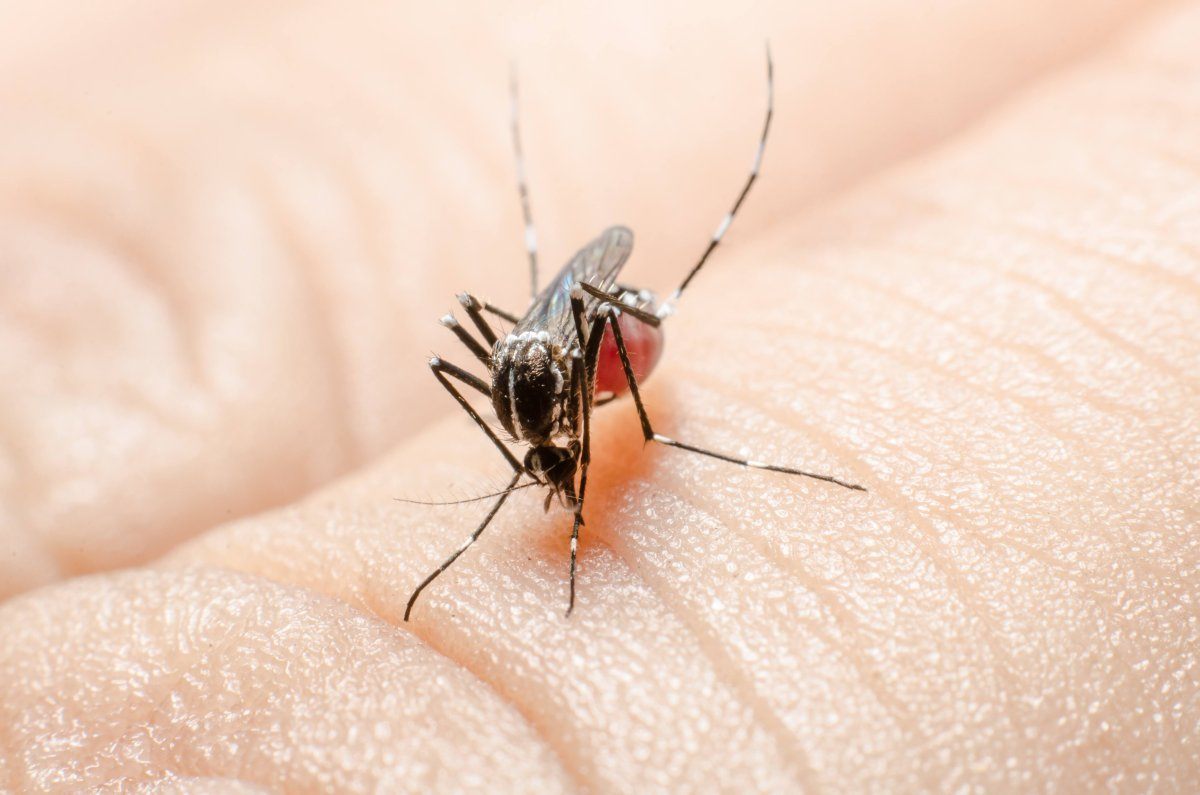 2. Leishmaniasis
Pesky sandflies can be more than just annoying, they can be serious travel health hazards. The parasitic disease of leishmaniasis is spread by phlebotomine sandfly bites. It is a concern in tropical and subtropical regions of South America, East Africa, Asia, the Middle East and southern Europe. There are several different forms, including lesion-causing cutaneous leishmaniasis, and internal organ harming visceral leishmaniasis. Around 12 million people have the disease today, and 20 to 50 thousand die from it each year. Prevention is better than cure, so use repellant, wear long sleeves and pants, and sleep under nets in affected areas.
3. Schistosomiasis
This is more than just a mouthful, it's the most common human freshwater parasite in the world and is spread by flatworms carried by snails. If you happen to wade, swim, bath or wash in contaminated water where these snails and worms thrive, you could join the over 200 million people who are infected with schistosomiasis. Most people are not symptomatic at the early stages of infection, but may develop an itchy rash. Within a few weeks the parasites mature into adult worms that produce eggs. The worms themselves are not a problem, it's the eggs that cause symptoms like fever, chills and muscle aches, and can lead to liver, intestine, lung or bladder damage. Schistosomiasis is common in parts of Africa, South America, the Caribbean, the Middle East, South China, and Southeast Asia. There is a treatment called praziquantel, but it can take 3 months to get a proper diagnosis. Stick to ocean swimming and chlorinated pools in those areas.
4. Leptospirosis
This bacterial disease is most commonly spread by the urine of rats, and can affect humans and animals alike. The lengthy list of early symptoms include fever, headache, chills, muscle ache, red eyes, jaundice, abdominal pain, vomiting, diarrhea, rash and hemorrhages of the skin and mucous membranes. Later stages may develop kidney or liver failure, respiratory failure, meningitis or sometimes even death. In other words, you don't want to mess with this one. The Leptospira interrogans bacteria that causes it is found worldwide, but most commonly in temperate or tropical climates. Try to limit your exposure to freshwater rivers, ponds or lakes, especially if you have an open cut, and stay clear of sewers, stagnant water, farms and stray animals.
5. Dengue Fever
Dengue is also called "breakbone fever", which gives you an idea of how it feels. This Aedes aegypti mosquito-spread virus is a leading cause of illness and death in the tropics and subtropics, affecting as many as 400 million worldwide each year. It is a public health risk in many tourist destinations in Latin America, Southeast Asia and the Pacific islands, but cases have cropped up in Europe and the United States as well. It usually starts out with a severe headache, high fever, pain behind the eyes and a rash. A more severe form can lead to internal bleeding and organ impairment. Again, preventing daytime mosquito bites in the first place is your best defense.
6. Cutaneous Larva Migrans
This one's not particularly life threatening, but it is common and unpleasant. In fact, CLM is the most frequent skin disease among travelers in the tropics. It's an infection caused by the hookworm, often picked up by barefoot humans on beaches where cats and dogs roam (yes, you are inadvertently stepping on their feces). Children tend to pick it up more frequently, probably because they spend more time playing in sand and dirt piles. It occurs mostly in tropical and subtropical areas of the USA, Central America, South America, the Caribbean, Australia, Africa, Southeast Asia and Europe, but it's not unheard of in the UK. It presents as a creeping eruption, where itchy red lesions form where the parasite craws beneath your skin. Again, not deadly, but definitely preferable to avoid. Keep flip flops on when at the beach, and avoid areas where stray animals roam.
7. Cholera
Who wants a severe case of the watery runs? Unfortunately, cholera is an all-too-common disease in some parts of the world where sanitation is an issue like Africa, south Asia and Latin America. About 3 to 5 million people suffer from cholera each year, with 100,000 dying of the disease. It is caused by consuming food or drink that is contaminated with the Vibrio cholerae bacteria. In many cases, stomach cramps, diarrhea and vomiting leads to extreme dehydration and its related health complications. Some people only present mild symptoms, but then unwittingly spread it to others and contribute to an outbreak. Follow the travelers creed of only drinking or brushing teeth in water that has been boiled, chemically disinfected or bottled. Avoid iced drinks plus fruit and vegetables that have been washed in contaminated water. It's best to stick to produce you peel yourself, just to be safe.
8. Mesothelioma
Mesothelioma is a rare form of cancer primarily caused by exposure to asbestos. It might seem obscure to be concerned about this toxic mineral in this day and age, but it is still in wide used around the world including India, Russia, China and Brazil. While some 50 countries have restricted or banned the use of asbestos since the 70s, many developing nations continue to use it in building material like floor tiles, roof shingles, exterior siding, cement and insulation. Why? Because it provides cheap shelter and creates jobs – the long term health risks aren't the most immediate concern. It's hard to know when you might breath in some microscopic asbestos dust or fibers when traveling, though. When these particles get inhaled, they get embedded in the lungs which over time can lead to asbestosis scarring and mesothelioma. There is only a 5 to 10% survival rate with this form of cancer. Be especially wary of construction sites and demolition zones when traveling in countries that still use asbestos.
9. Altitude Sickness
Many travelers are blindsided by altitude sickness when visiting high places. Some experience mild symptoms at 5,000 feet but it commonly occurs around 8,000 feet above sea level. This includes tourist destinations like Mexico City, Machu Pichu, Switzerland, Tibet and many ski resorts. The higher you go, the thinner the air. Go too high too fast, and your body doesn't get the oxygen it requires. Headaches, nausea, dizziness, insomnia and exhaustion are the main symptoms. More severe cases involve fluid in the lungs, swelling of the brain, a gurgling sound in the chest, coughing up pink froth, clumsiness, disorientation and unconsciousness. Many people try to rationalize their symptoms away as jet lag or a hangover, but that's a mistake. If you're in a high altitude destination and feel any of these symptoms, get plenty of rest, keep hydrated and don't go any higher. If your symptoms get worse, descend immediately. It usually takes a few days for the body to get used to a change in altitude, so plan a few days of rest and acclimatization before any exertion.
10. Heatstroke
We all like to hit the beach and catch some rays on a holiday, but sunburn and heatstroke can be serious consequences. Overheating to a core body temperature greater than 105 degrees Fahrenheit combined with dehydration is a medical emergency requiring immediate intervention. In extreme cases, it can cause brain damage, internal organ failure and even death. Symptoms can include headache, nausea, seizures, confusion, disorientation, unconsciousness and coma. Heatstroke mostly affects older or infirm people, but even the young and fit can succumb to it, or those who drink excessive alcohol. Overexerting during exercise in the heat can bring it on. So take it easy in the sun, wear a hat, stick to the shade, drink plenty of water and take action at the first signs of overheating.
11. Motion Sickness
This is a common illness that can affect anyone at anytime in a car, plane, boat or ride. You'll experience unpleasant sensations of dizziness, headache and nausea. In extreme cases, it can lead to excessive vomiting, which can lead to dehydration and its related complications. Motion sickness seems to affect some people more than others, and may have something to do with an inner ear imbalance or anxiety over anticipating its affects. There are some medications and herbal remedies (ginger) that can help prevent it, but these don't work for all.
12. Malaria
Malaria, the scourge of the tropics, has probably killed more people than any other single disease. It is a top concern when traveling to Africa, South and Central America and southeast Asia. It is transmitted to humans through bites of the Anopheles mosquito. Non-immune travelers from malaria-free areas are particularly at risk for developing this serious illness. Symptoms occur 12 to 14 days after infection, and can include chills, sweats, abdominal pain, fever, headache, vomiting and diarrhea. Although there are drugs that may prevent you from developing the disease, it has evolved resistance to them in recent years. Not all drugs work in all geographic areas, and many of the remaining drugs have serious side effects. The best way to protect yourself is to not get bit by mosquitoes in the first place – especially at dawn, dusk and night. Wear long sleeves, sleep under bug nets and use insect repellent.