Traveling through Cambodia can be a welcome spiritual experience. The ancient country is home to myriad religious sites, a warm and hospitable people, and breathtaking scenery as far as the eye can see. However, like so many nations across the world, Cambodia is still recovering from a violent and damaging past. As a result, elements of danger still exist throughout the country. While it's becoming an increasingly popular and safe tourist destination, travelers to Cambodia still need to be wary when they head to the beautiful country. If you want to make the most of a trip to Cambodia, here are some simple tips and suggestions to help make it the journey of a lifetime.
1. A Quick Note on Cambodian History
For the last quarter of the twentieth century, Cambodia was alternatively besieged and ruled over by a real jerk named Pol Pot and his organization the Khmer Rouge. Without enumerating all the horrible things done by these awful human beings, their presence in the country has stuck around. As a result, most Cambodians live in abject poverty. The average income is less that $3 a day, which is something to keep in mind when you visit. A generous tip, or patronizing a local shop can potentially make a huge difference to a resident.
2. Don't Help the Children
Okay, that sounds wickedly insensitive. However, as a tourist your most common contact with a country's children will be when they're approaching you on the street. These kids are likely being forced into begging or selling or even asking for basic needs like milk and books. Those children aren't getting that milk, or that book, or even the cash value of those items. If you'd like to help out, donate to a legitimate charity that will lend a hand.
3. Think About What You're Wearing
Tourists are regularly approached while they're wandering the streets of Cambodia, especially in urban areas like Phnom Penh. If you want to reduce your appeal to street vendors, travel light. Keep your valuables (like your cash and your camera) securely in your pocket until you absolutely need to use them. Don't carry a backpack or a purse. Leave the jewelry at home. Generally try to affect an appearance of having little to no cash on your person.
4. Don't Donate to Orphanages That Solicit Donations
Cambodia has several orphanages, some of which think nothing of parading their charges through tourist-heavy locations in order to beg for donations. These kids are just being used as shills; most of that money isn't going to them, so you're best donating to legitimate establishments.
5. Keep That Left Hand in Your Pocket
Just like in a lot of Asian countries, the left hand is considered to be unclean (because it's the hand you wipe with). So, it's best to avoid indicating objects, greeting people, eating, or basically touching anything with your left hand.
6. Keep Your Head on a Swivel at the Bar
If you happen to hit one of Phnom Penh's bustling night spots, you're bound to have a good time, provided you take a few precautionary steps to avoid getting targeted by a pickpocket. Take as few valuables as possible. Make sure that you sit with your back to a wall so no one can slink up behind you and be sure to keep a close eye on your cash.
7. Don't Exchange Your American Dollars For Riels
The currency in Cambodia is the riel. It takes about 4,000 riels to equal a dollar. For those of you who aren't economists, that means the riel is super weak. As a result, even Cambodians don't particularly care for the riel. Most establishments will happily accept US dollars in exchange for goods and services, which means you don't need to waste your cash paying to exchange your US dollars for Cambodian riels.
8. Remember That Angkor Wat Is a Temple
Cambodia is home to the largest religious monument in the world, Angor Wat. The complex actively welcomes visitors, but it's also a functioning religious site. When you visit (and you should, because it's stunning), make sure you treat the place with the respect it's due.
9. Practice Not Speaking English
The most popular language in Cambodia is English, which is great when you're in a restaurant or asking for directions. However, it also means that con artists and criminals will not hesitate to approach you and strike up an English conversation. If that happens, rather than respond to any probing questions in English, pretend you speak German. Or French. It'll likely make any undesirables go away that much faster.
10. Think Twice Before Riding in a Tuk Tuk
These easily identifiable forms of transportation are essentially just carriages strapped to the back of bikes or motorcycles. While the appeal to ride in one is pretty evident, the drivers may very well be looking to scam a little extra cash off you. Some drivers will take you far out of the way and then charge to get you back on the right course. Others might be accepting money to drop passengers off at specific bars, hotels, etc. regardless of where you asked to go initially.
11. Don't Point at Anything
In Cambodia, it's pretty easy to make a mistake while gesticulating. Pointing is considered extremely rude. Instead, indicate directions and the like by holding out your open right hand.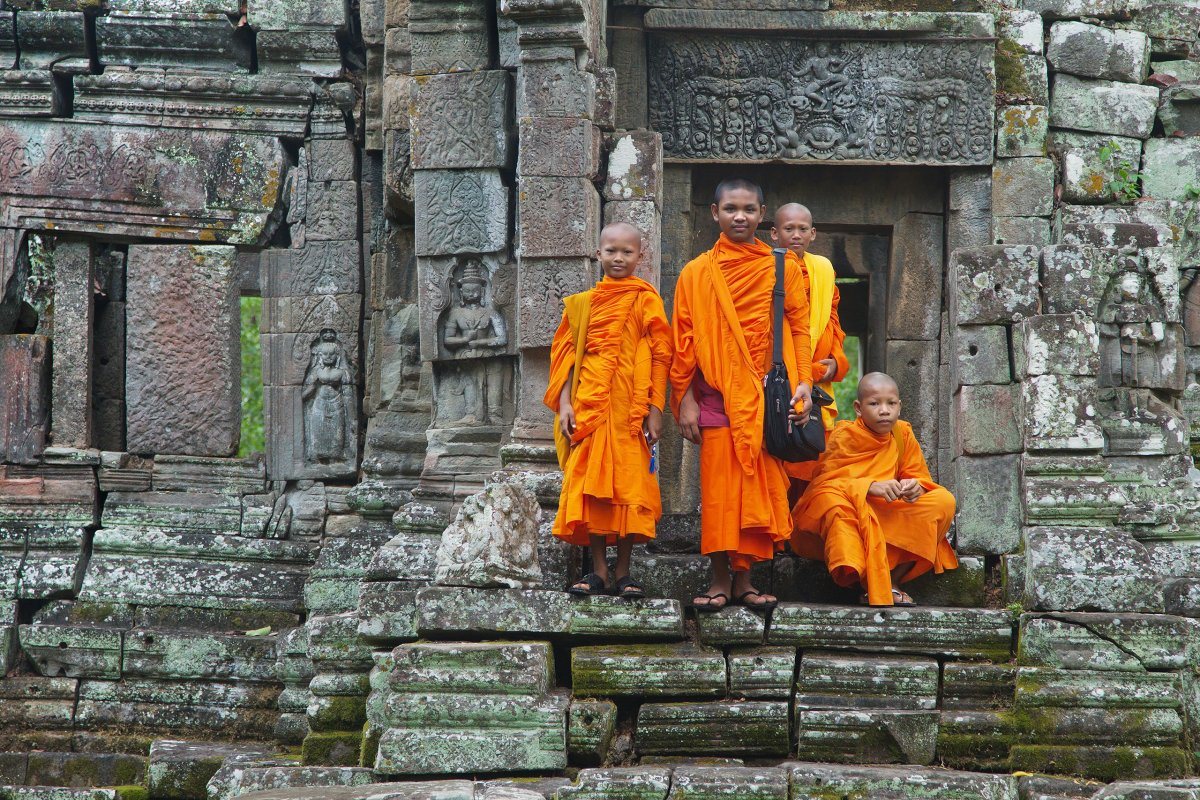 12. Think Twice Before Getting a Massage
Cambodia is home to a lot of massage parlors that hire the country's blind citizens as masseurs. Some of these establishments are legit and you have nothing to fear but the loss of your tension. Others, however, exploit their workers and treat them as virtual slaves. So, if you head to a massage parlor, make sure you're going somewhere that deserves your business.