The civil war in Syria and its escalating refugee crisis is being called the worst humanitarian disaster of our time. About 11 million Syrians – almost half of the population – have been displaced since the Arab Spring began in March 2011. Conflicts between the regime, rebels, ethnic groups, secular fighters and Islamist jihadists make this one complicated mess. The war has killed more than 220,000 people, over half of them civilians. Cities are being bombed, innocent families are being traumatized and basic human needs are not being met. No wonder more than four million Syrians have fled their homeland seeking asylum around the world. You would too, under similar circumstances. While America is the largest financial donor to Syrian relief efforts, our willingness to accept refugees onto our soil has paled in comparison to other nations – a mere 1,500 since 2011 as compared to, say, Germany's 800K. These people need more than money. They need a new place to call home, to raise their families and forge a future with hope and dignity. America needs to put aside fears and prejudices and welcome their fair share of Syrian refugees, because, first and foremost, they are human beings. If that's not enough for you, here are a few other reasons.
1. America Has a History of Welcoming Refugees, and the Country is Richer for It
Historically, America has been one of the world's safe havens for those escaping deplorable conditions. After World War II, hundreds of thousands of "displaced persons" were relocated here and became contributing members of society. Remember the uproar over Vietnamese "boat people" in the 1970s? At the time, some people were concerned the influx would negatively impact the fabric of American life. About 800,000 Vietnamese and South-East Asians fled their home and sought a new life here. Considering the U.S.'s role in the conflict that displaced them, it was the right thing to do. Today, the Vietnamese-American community is well-integrated into American life. Similarly, various waves of Cuban immigrants have resettled in the States. Many were seeking asylum from the Castro revolution, but even in the 1980s, over 125,000 Cubans made their way to these shores to escape communism. They have assimilated into America just fine, and have contributed to the rich diversity of the multicultural nation.
2. Nobody Wants to See More Dead Babies Wash Up on Beaches
It's hard not to go numb when you hear figures like 7.6 million people displaced and 4 million living in crowded refugee camps. It's too many to comprehend. But when this crisis distills down to one image of one tiny child, it kind of drives the dire reality of the situation home. Images of the lifeless body of three year old Alan Kurdi washed up on a Turkish beach circulated around the world media, and brought this tragedy down to its most basic level. We have to do something about this urgent issue, or images like this will become commonplace and history will look back on us as cold-hearted monsters.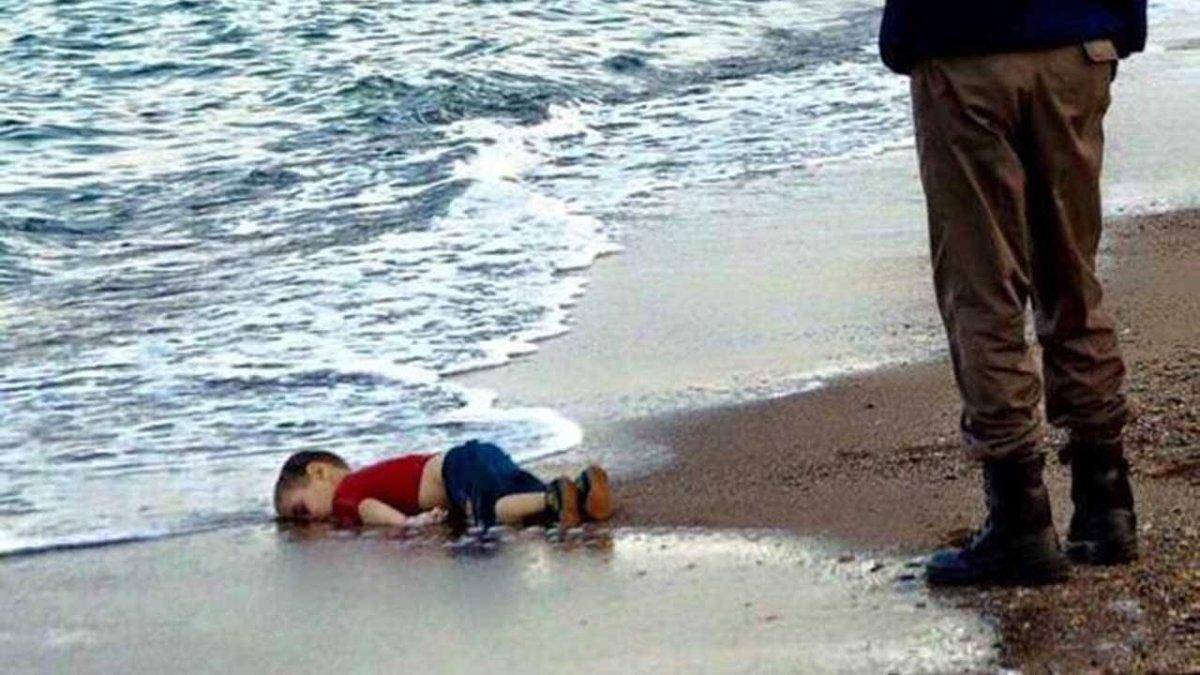 3. Other Nations Have Stepped Up
Syria's neighboring countries have absorbed millions of refugees. Turkey has taken in 1.9 million, Lebanon 1.1 million, Jordan 629,000, Egypt 132,000 – even Iraq has taken 249,000. European nations have stepped up, with Germany agreeing to take 800,000. Sweden has taken almost 65,000, Denmark over 11,000, and even Iceland, with a tiny population of only 323,000, had 11,000 residents voluntarily offer up their homes to desperate Syrian refugees. The UK has taken 7,000 and has agreed to 20,000 over the next five years. Australia has absorbed 4,500 refugees over the past year, and even Venezuela plans to take in 20,000. And the good ol' U.S. of A? Just 1,500 Syrians have been resettled in this vast, wealthy, immigrant-built nation since the crisis began. It would be a disgrace if American's didn't step up do more.
4. America Helped Destabilize the Region, and Now Has a Moral Obligation to Assist in the Aftermath
The United States has openly and covertly contributed to instability to the Middle East. American aid to Mujahideen Islamic radicals in Afghanistan to combat the Soviets in the '80s helped spark al-Quaeda. The post 9/11 invasion of Iraq and the War on Terror led to a more militant incarnation of al-Qaeda, and now that has splintered off into the even more brutal ISIS. What began as a peaceful anti-Assad protest in the Arab Spring has spiraled into a violent government crackdown which has led to various factions of rebels to engage in a full-blown civil war. Both America and Russia (and their respective allies) are supplying political, military and logistical support to various sides, and so many convoluted agendas have emerged, it's difficult to discern the who, whats and whys. But having trained and equipped Syrian insurgents, America has had a hand in the conflict that has created this refugee calamity. We need to offer more than just money to help the human "collateral damage" caught in the crossfire of this political quagmire.
5. If We Don't Step Up, It'll Just Escalate Extremism
Nothing breeds resentment like a disenfranchised population with too much time on their hands. Letting refugees rot in inadequate tent cities will no doubt lead to more animosity and extremism as desperate people are more susceptible to radical ideas. Turning our backs on these deserving human beings is not in our best interests. The sooner we can relocate them, settle them in, welcome them and integrate them into our communities, the better for everyone.
6. These Immigrants Aren't Freeloading Criminals
There's a misguided perception that Syrian immigrants will be a drain on our social systems and add to our crime rates. That's just not supported by facts. Any refugee lucky enough to get a fresh start in America will be grateful and supremely motivated to make the most of the opportunity. Many are hardworking, skilled, educated professionals that will contribute more to our economy than they'll take from it. Statistics show that immigrants are much less likely than the native-born population to commit crimes (despite what Donald Trump says). People who take an arduous journey on foot or overcrowded boats risk their families lives to escape violence and extremism, not spread it.
7. Check out These Famous Americans of Syrian Descent
Here's just a partial list of some celebrated Syrian-Americans. You never know what a hardworking immigrant or their descendants might contribute to this great nation:
Steve Jobs, founder of Apple
Jerry Seinfeld, comedian
Rosemary Barkette, federal judge
Paula Abdul, singer/dancer
F. Murray Abraham, Oscar winning actor
Callie Khouri, Oscar winning screenwriter for Thelma & Louise, director/writer/producer of TV's Nashville
Paul Orfalea, founder of Kinko's
Terri Hatcher, Desperate Housewives actress
Kelly Slater, champion surfer
8. Fears of Importing Terrorists are Just Xenophobic
Lumping all Syrians together and labeling them "terrorists" is beyond ignorant. America has its fair share of homegrown extremists, but you wouldn't label all Americans as terrorists because of the heinous acts of a few, would you? Oklahoma bomber Timothy McVeigh, Harvard-educated Unabomber Ted Kaczynski, Atlanta Olympic Park bomber Eric Rudolph not to mention countless school, church and cinema shooters don't represent the majority of Americans, and we're quick to be defensive about that when the world looks at us with disdain. White House press secretary Josh Earnest has assured that all Syrian refugees will undergo rigorous security checks, interviews and screenings by counterterrorism, Homeland Security, FBI and intelligence officials. "Refugees go through the most robust security process of anybody who's contemplating travel to the United States," he said. "The reason for that process is that the safety and security of the U.S. homeland comes first."
9. We Can Afford It
By most assessments, America is one of the richest nations in the world. It has the largest economy by far not to mention the most millionaires and billionaires. It has less than 5% of the world's population yet around 30% of its wealth. Granted, there is alarming income inequality within the country, but with all this moolah, surely we can take on our fair share to help resettle these refugees in their critical time of need.
10. We Just Need to Rejig Our Priorities
The US spends more on its military than the next seven countries combined. Almost twenty percent of all federal spending goes to defense. Granted, America faces greater security threats than many other nations, but surely some of the $610 billion dollar defense budget could be reallocated to assist with this colossal humanitarian effort. We certainly managed to cough up a cool $29 trillion a few years back to bail out the banks. We spend more on big pharma and the prison system (egads, we spend more on that than the GDP of 133 nations!). Ethically speaking, shouldn't helping out our fellow mankind warrant a little spare change?
11. It's On the Statue of Liberty
The plaque on the pedestal of the Statue of Liberty displays the famous Emma Lazarus poem, The New Colossus, which reads:
Give me your tired, your poor,
Your huddled masses yearning to breathe free,
The wretched refuse of your teeming shore.
Send these, the homeless, tempest-tossed to me,
I lift my lamp beside the golden door!
Countless immigrants have passed by Lady Liberty en route to Ellis Island to begin a new life in America, land of the free. This mass exodus of Syrian refugees are as tired, homeless and tempest-tossed as can be. It would be un-American for us to turn our backs on them. Let's rise to this opportunity and show the world that we really are the global good guys we claim to be.